Understand Shopify Capital for Financing Growth
Lower costs & higher funding limits for your Shopify store
Kickfurther funds up to 100% of your inventory costs on flexible payment terms where you don't pay until you sell. We fund your entire order(s) each time you need more inventory, so you can put your capital to work growing your Shopify store without adding debt,giving up equity or locking up cash in inventory orders.
Often 30% lower cost than alternate lenders

Quickly fund $5,000,000+ in inventory for your Shopify store

Create your payment schedule (1-10 months)

Sell new inventory before paying for it
Get Funded
Need Capital To Grow Your Shopify Store?
See how much you can access with Kickfurther!
"Tough Times Call For Creative Funding — Check Out
Kickfurther's Clever Model"





What To Know About Shopify Capital for Financing Growth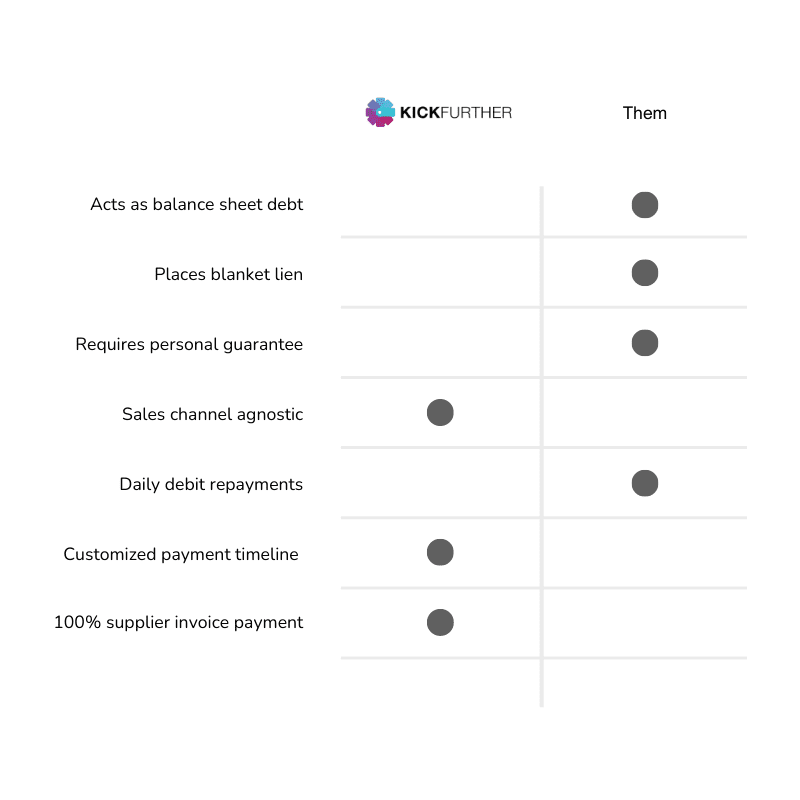 How does Shopify Capital Financing Work?
Kickfurther connects you to a private marketplace of capital. Here's how it works:
Create your online account
Create a business account, upload your business information, and launch your deal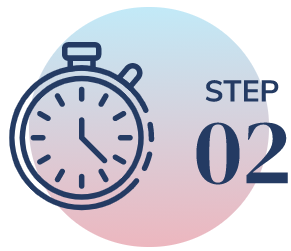 Get funded within minutes to hours
Once approved, our community funds most deals within a day, often within minutes to hours, so you'll never miss another growth opportunity.
Control your payment schedule
We pay your manufacturer to produce inventory. Make the introduction and you're off and running! Outline your expected sales periods for customized payment terms. At the end of each sales period, submit sales reports and pay consignment profit to backers for each item sold.
Complete and repeat!
Complete your payment schedule and you're done! Often once the community knows you, you're likely to get lower rates on your next raise.
We fund inventory for direct-to-
consumer & major store brands






What is Shopify Capital?
The launch of Shopify Capital ties in well with Shopify's mission to make commerce easier and more accessible for everyone. Shopify understands that it's often difficult for businesses to access additional growth funding, which is why Shopify Capital offers two main types of funding: short-term business loans and merchant cash advances. Many sellers report the two function similarly, but there are differences to note:
Short-term business loans – Shopify grants the borrower with a lump sum that should be paid back in full plus a flat borrowing cost. Like most loans, payments are broken up into installments.
Merchant cash advances – With a merchant cash advance, the lender (in this case Shopify) essentially purchases a share of future sales. The borrower receives a lump sum from Shopify Capital that they'll then repay via deductions from your daily revenue until the loan plus costs are repaid. On days without sales, MCA loans often will not deduct from your account.
Shopify loans can be used for a variety of purposes, including purchasing  additional inventory and equipment, investing in additional marketing and advertising, launching new products, as well as hiring more employees.
How do Shopify Capital loans work?
According to the official Shopify website, a Shopify Capital loan is a lump sum that businesses receive with a fixed borrowing cost. What does this mean? Simply put, businesses that qualify for a Shopify Capital loan would need to pay back the total amount borrowed plus the fixed borrowing cost, equaling the total amount owed.
Shopify also makes paying for loans simple. Shopify Capital loans are repaid by taking a percentage of a business' daily sales until the total owed is paid at the end of a 12-month term. The loan's 12-month term is then divided into six 60-day repayment cycles called milestones. Each milestone has a minimum payback amount that must be met by the end of a 60-day cycle. If for some reason, you are unable to meet the minimum payback amount, then the difference between the amount you have paid and the minimum payback amount will be debited from your account.
Who can apply for Shopify Capital loans?
The biggest downside about Shopify Capital loans is that business owners must wait to be deemed eligible by Shopify before viewing their Shopify Capital offer. This means sellers cannot proactively apply as they might with other finance options until they receive an eligibility notice within their accounts… However, Shopify promises it is continuously assessing stores and making offers of funding, so if your store hasn't received a notice of eligibility of funding yet, be aware you may still receive an offer in the future. Please also  note that Shopify Capital loans are currently limited only to stores located in select US states, whereas Shopify Capital merchant cash advances are available in all US states and Canada.
How do you qualify for Shopify Capital loans?
How do you know if you're eligible for a Shopify Capital loan? Shopify sets an alert within your account when you've been selected for funding. However, Shopify provides fairly transparent details about their criteria for eligibility, which includes:
Located in the United States or Canada
Low risk profile
Have Shopify Payments or another third-party payment provider enabled
Currently processing a certain amount of sales
How do I apply for Shopify Capital loans?
If you think you're eligible for Shopify Capital funding after reviewing the qualifications, the next thing to do is to prepare your loan request. What sets Shopify Capital apart is that users can view personalized funding options and request a loan directly from their Shopify account. For those wondering, here's what the process looks like:
Check if you're eligible to receive Shopify Capital
After exploring the funding offers Shopify presents, compare the terms and the funding options offered to you
Review the terms for each option, including the amount received, total owed, and the daily repayment rate that will be deducted from your daily sales
Carefully review the terms and conditions before accepting the loan terms
Allow 3-5 business for Shopify to review and approve your application and, once approved, your loan will be deposited directly to your business bank account
Two days after receiving your loan, Shopify Capital will begin charging your daily repayment rate set by the percentage indicated on your loan terms.
How should I use the funds from Shopify Capital?
As a business owner, you likely know where you'd spend additional capital to grow your brand. And consider this: Shopify wouldn't be offering you additional funding if they believe you wouldn't be able to repay their investment. Here's how you could put Shopify small business loans to good use:
Operational expenses – Operational expenses are the daily costs of running your business. You can use Shopify Capital loans to pay rent, purchase additional inventory, invest in promotions, and cover emergency expenses. You can even use your additional funding to explore new or expanded channels for marketing and advertising.
Expansion – Funding a new venture or expanding your current one involves a lot of money. It also depends on the type of business that you have. If you think you're ready for expansion, you can always use Shopify loans to test a new product, launch a new website, or open a brick-and-mortar. Keep in mind that anything new (products, initiatives, locations) always carry higher risks than expanding what's currently working. Don't let that stop you from dreaming and iterating, but be aware of how that could impact your ability to repay loaned funding.
Debt consolidation – Consolidating debt with Shopify finance could make debt repayment easier and cheaper. The best course of action to take is to sit down and review your loan terms and see whether consolidating your debt will provide you with lower interest rates and fewer payments.
Emergency expenses – From a business perspective, wouldn't it be nice to have the peace of mind knowing that you have funding available in case you become strapped for cash? We're not saying that you should keep taking out loans every time you're short, but having an emergency net is always wise. It's also best for businesses to set aside a year's worth of expenses in the event that income becomes volatile. However, if you need extra funding, it's always nice to know that a Shopify loan is easily accessible.
Are Shopify loans secured? Can I pay Shopify Capital loans off early?
No, Shopify loans are not secured. As mentioned above, businesses pay Shopify loans through a percentage of their daily sales which means no collateral backing is involved. There is also no penalty for repaying your loan before the end of the 12-month repayment period. If you're experiencing strong sales, then you have the option to repay your loan early.
Is Shopify Capital a good option for me?
As the business owner, you will be the best person to gauge whether or not a Shopify Capital loan would be best for your business. You know best whether Shopify Capital, or any outside funding,  makes sense to help you reach your goals.
Let's take a look at the pros and cons of Shopify Capital loans to help you determine whether this financing option would meet your business' needs.
Pros:
Flexible payment terms
No need for credit checks
No extra fees
Businesses are pre-qualified for different funding options
Competitive rates
Cons:
Available only to Shopify users
Daily repayments deducted from sales
Business loans are only available to select US states
Closing thoughts: What additional options do I have for Shopify financing?
For the cash-flow conscious entreprenuer, few external capital options exist that can immediately increase your effective budget and working capital without adding debt like Kickfurther can. Funding through Kickfurther can help both fund new inventory (likely one of your largest expenses) and free up your cash on hand to spend on growth, expansion and daily business expenses.
Kickfurther funds up to 100% of your inventory costs on flexible payment terms that you customize and control based on your expected cash flow. With Kickfurther, you can fund your entire order(s) each time you need more inventory and put your existing capital to work growing your business without adding debt or giving up equity. Make no payments until sales revenue lands!
Why Kickfurther?
No immediate repayments:

You don't pay back until your new inventory order begins selling. You set your repayment schedule based on what works best for your cash flow.

Non-dilutive

: Kickfurther doesn't take equity in exchange for funding.

Not a debt:

Kickfurther is not a loan, so it does not add debt to your books. Debt financing options can sometimes further constrain your ability to access working capital and can even lower your business's valuation if you are looking at venture capital or a sale.

Quick access:

You need capital when your supplier payments are due. Kickfurther can fund your entire order(s) each time you need more inventory.
Kickfurther puts you in control of your business while delivering the costliest asset for most CPG brands. And by funding your largest expense (inventory), you can free up existing capital to grow your business wherever you need it – product development, advertising, adding headcount, etc.