Inventory Financing for Food & Beverage Industry
Do you sell a physical product with sales over $400,000?
Restaurants and other food and beverage companies may be in desperate need of a business loan. Whether you need to improve cash flow or finance inventory, we have creative financing solutions that you should explore. Restaurants, supermarkets, liquor stores, online retailers, and more can discover valuable information in this blog. Inventory financing can help food and beverage companies grow faster, increase revenue, improve customer satisfaction, and expand customer selection.
Learn More
How much funding could your company raise?
Submit this form to see your estimate.
Why choose Kickfurther for
Food & Beverage Inventory Financing?
Don't pay until
you sell.
Your payment obligation only begins once your sales are made. This alleviates the cash-flow pinch that lenders cause without customized repayment schedules. Free up capital to invest in scaling your business without impeding your ability to maintain inventory
Know your rates. When you compare ours, you'll often see that you're saving. We cost less than factoring, PO financing, and many lenders. We also have higher limits than competitors.
Fund up to $5 million
in an hour.
Once approved and the deal goes live, most deals fund within a day (often within minutes to hours), so you'll never miss another growth opportunity.
It's easy, it works, &
it grows with you.
Companies access higher funding limits and often get lower rates as they return to Kickfurther, creating a scalable solution that grows alongside your company.
"Tough Times Call For Creative Funding — Check Out
Kickfurther's Clever Model"

Join 800+ Kickfurther success stories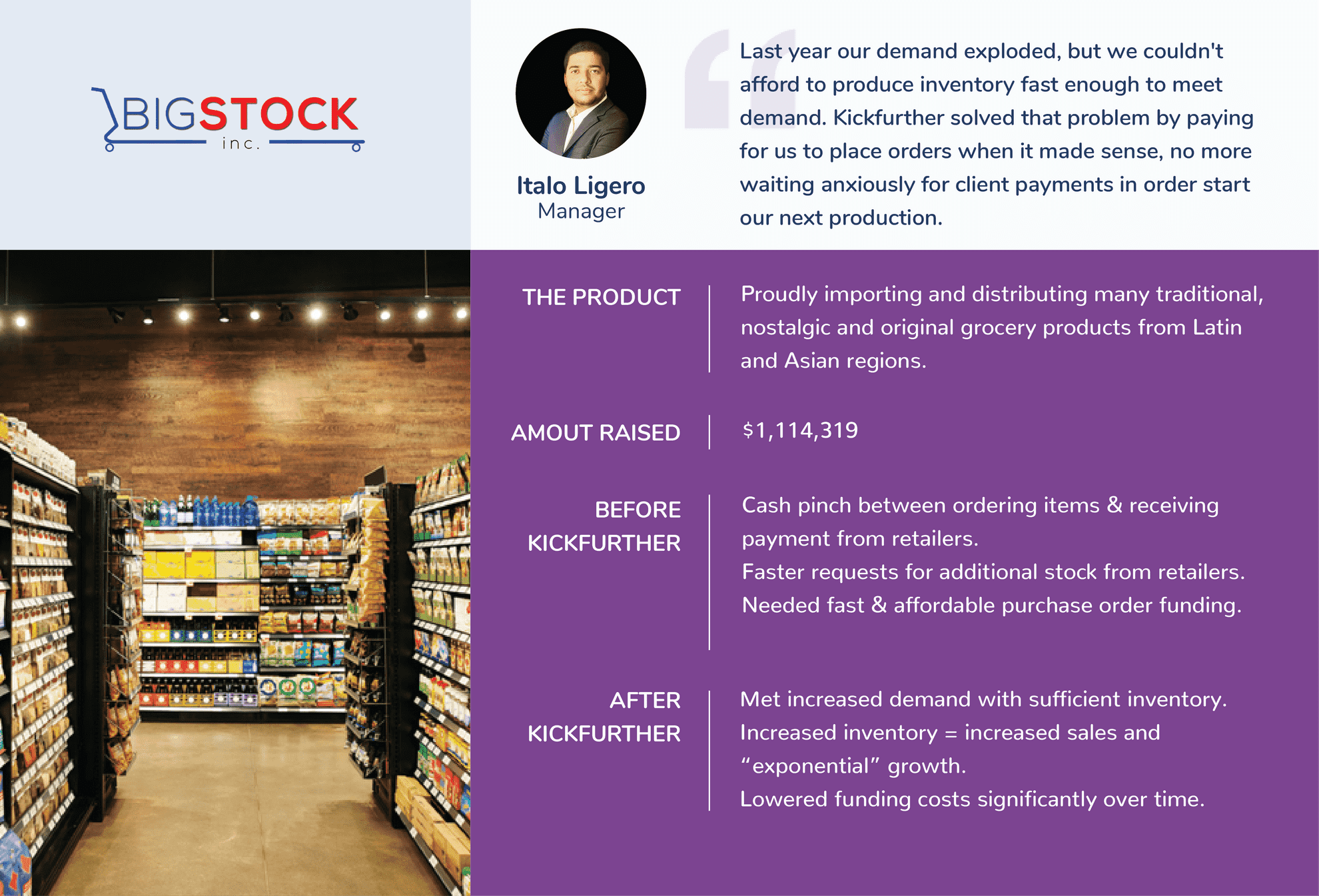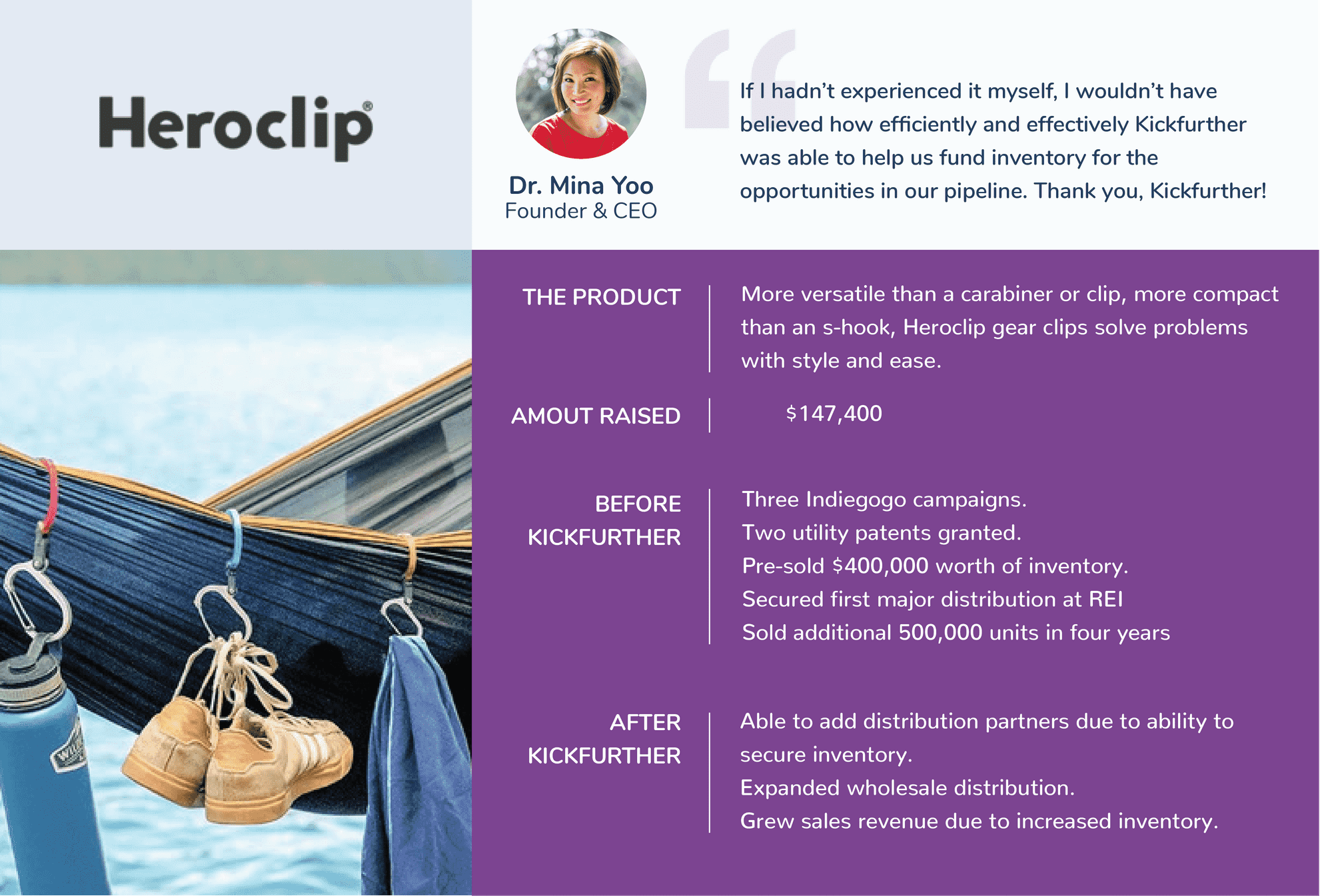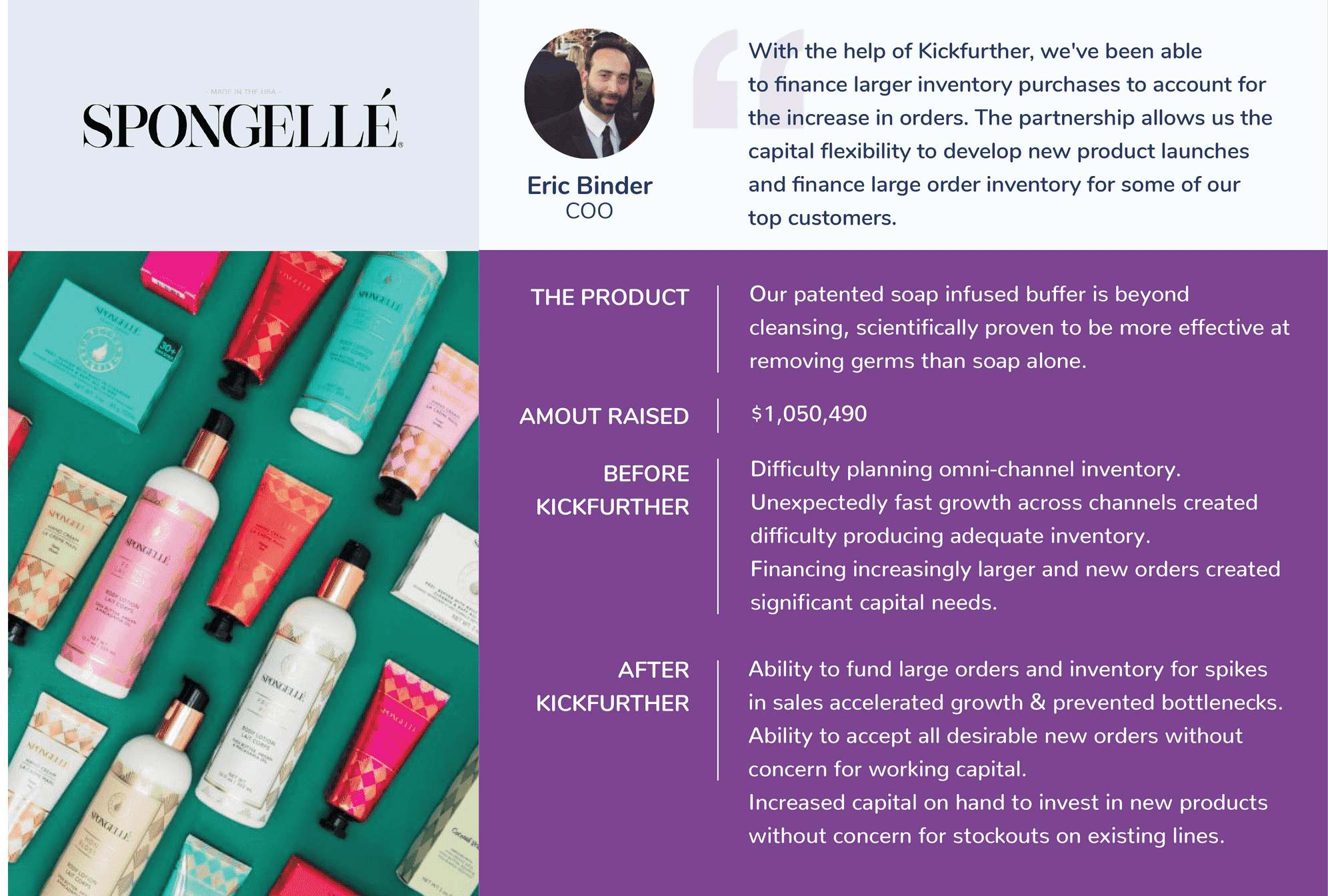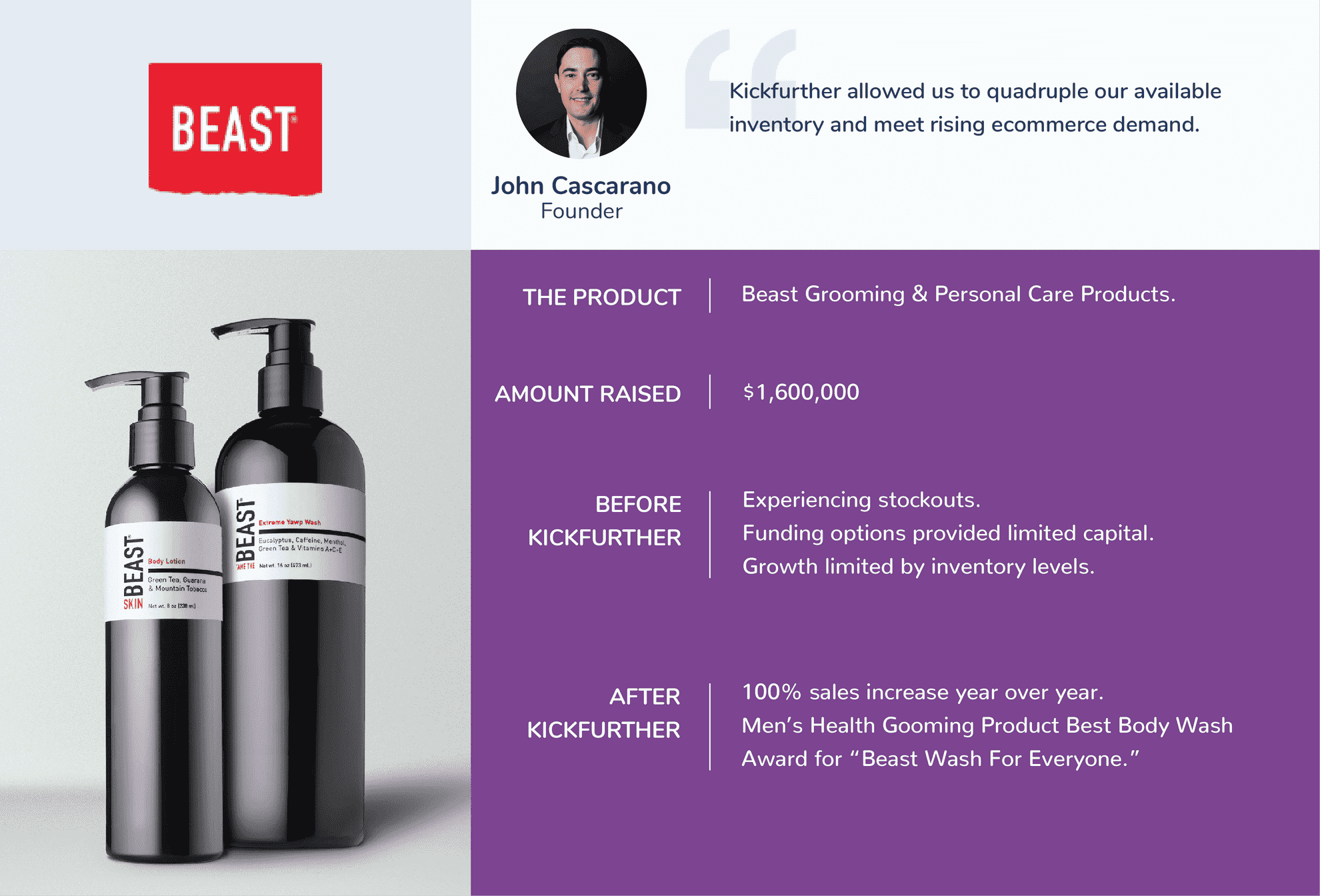 Food & Beverage Industry: Inventory Financing

What are the most common financial issues the food and beverage industry faces?
Scaling a food and beverage business can be challenging. And raising funds to aid in that growth can be one of the most taxing aspects. Without proper funding, you can struggle to invest in growth strategies like expanding your product line, increasing your marketing efforts, and hiring additional talented individuals.
Identifying financial resources to help fuel your expansion can ensure you get and stay on a growth trajectory.
The food and beverage industry is one of the largest industries in the world when it comes to revenue and employment. Just about any company that produces, processes, packages, transports, or distributes edible goods can be classified as a food and beverage company. The good news about having a company in a large industry is there is a lot of research and other people in your shoes. We strongly encourage business owners to share financial struggles with others to help and to brainstorm solutions. Let's take a look at some of the most common financial issues the food and beverage industry faces…
#1. Expenses
Food and beverage companies may struggle with high expenses. In most cases, there are a lot of steps that go into something like a $3 box of crackers or a $2 liter of soda you see on the grocery shelf. From creating and testing the product to packing the product to delivering and stocking it on the shelf there are a lot of steps to get a product on the shelf. This means that most food and beverage companies need extremely high sales volume to be profitable. In addition, they are always looking for ways to reduce costs, even if it's by $0.10 cent an item. Restaurants must pay close attention to expenses as well and innovate ways to offer a wide selection with as few products as possible. When you are serving or producing large quantities of products expenses and costs per item can add up quickly. Food and beverage companies must study expenses and pay close attention to where improvements can be made in order to be successful.
#2. Inventory control
Businesses that rely on inventory to generate revenue should be extremely focused on inventory control. Food and beverage companies may struggle with inventory discrepancies in the factor, during transport, in the retail space, and more. Their products usually go through multiple sets of hands before being purchased. Restaurants face major challenges with properly stocking just the right amount of food items. Whether you own a restaurant or food and beverage retail company, you most likely encounter a lot of damaged, bad, or wasted inventory. Food and beverage companies should account for a reasonable amount of loss but monitor it closely. If you notice anything that looks unusual you should investigate immediately.
#3. Data Review in a timely manner
It's a common mistake made by food and beverage companies. Many companies fail to review data and make necessary changes in a timely manner. This can be a costly mistake. While it may cost more for a company to recruit more staff to observe and analyze data it can save food and beverage companies money in the long run. It can also increase food and beverage companies' chances of success.
#4. Food theft and waste
Sadly, food and beverage companies may experience more theft and waste than other industries. As we mentioned earlier food and beverage company products usually pass through multiple hands before ending up on the shelf. Sometimes third-party companies are in the mix of this process. While you would hope employees are not stealing, it can happen. Products may also be stolen off the shelf. In addition, food and beverage companies may also experience a lot of waste. It can be easy for many food and beverage products to be damaged if they are not handled properly. Investing money in proper manufacturing, transportation, and retail space control can help reduce theft and waste loss.
Food & Beverage Industry Financing Options & where to find them
Companies in the food and beverage industry usually need financing. Many may need more than one source of financing. Before selecting a financing option or options, you should do the research and make an educated decision. Three of the most common financing methods for food and beverage companies are Kickfurther, small business loans, and business lines of credit. You may be familiar with business loans and lines of credit but you may not be familiar with Kickfurther. Kickfurther takes a unique approach to crowdfunding that can help businesses secure the funding they need even during the most difficult times. Many traditional lenders have made it more difficult to qualify for business loans and lines of credit due to the current economy. Let's take a look at some food and beverage industry financing options…
Meet Kickfurther
Kickfurther funds up to 100% of your inventory costs at flexible payment terms so you don't pay until you sell. Kickfurther's unique funding platform can fund your entire order(s) each time you need more inventory, so you can put your capital to work growing your business without adding debt or giving up equity. 
Why Kickfurther?
No immediate repayments: You don't pay back until your new inventory order begins selling. You set your repayment schedule based on what works best for your cash flow.
Non-dilutive: Kickfurther doesn't take equity in exchange for funding.
Not a debt: Kickfurther is not a loan, so it does not put debt on your books. Debt financing options can sometimes further constrain your working capital and access to capital, or even lower your business's valuation if you are looking at venture capital or a sale.
Quick access: You need capital when your supplier payments are due. Kickfurther can fund your entire order(s) each time you need more inventory.
Get funded on Kickfurther
Small Business Loan
Companies in the food and beverage industry can also use small business loans. Compared to Kickfurther, small business loans may be harder to qualify for and take longer to fund. Although small business loans can offer flexible terms, Kickfurther often offers more flexible terms that are set by the borrower. In some cases, a small business loan may provide food and beverage companies with the funding they need. If you are looking for a small business loan you should visit a bank or credit union. You can also secure small business loans through most online lenders.
Business Line of Credit
If you have a more established food and beverage company you may want to consider a business line of credit. A business line of credit can help companies improve cash flow, finance inventory, cover payroll, and more. Business lines of credit can be compared to credit cards. In most cases, a business line of credit should have a maximum loan amount. The borrower can have access to funds whenever they need and should only pay interest on the amount of money they use.
Businesses We Help Fund
Kickfurther can help a variety of businesses in the food and beverage industry secure inventory financing. Some examples of businesses Kickfurther can help get funding include…
–         Inventory financing for restaurants & restaurant owners
–         Inventory financing for grocery stores, supermarkets, liquor stores, etc.
–         Inventory financing for convenience shops in hotels, airports, shopping malls, etc
–         Inventory financing for specialty online food and beverage retailers
Importance of Keeping Your Inventory Stocked
Keeping inventory stocked can provide many benefits for you and your customers. Food and beverage companies that successfully keep inventory stocked can expand customer selection and increase revenues. They can also avoid potential lapses in inventory causing them to miss out on sales. Making sure inventory is adequately stocked can allow you to deliver products to customers faster and get you paid faster, a win for everyone.
How do I apply for inventory financing for my business?
How to apply for inventory financing varies depending on what type of loan you are applying for. If you have decided to pursue a business loan, credit card, or line of credit you should start by selecting the lender you want to use. Most banks, credit unions, and online lenders can assist with these financing options. If you want to give Kickfurther a try, you can visit our website and complete a simple form. The form starts with basic information such as contact information, warehouse type, ownership, and annual revenue. After completing this form businesses can receive an estimate of funding potential. Kickfurther has funded 800 deals and counting totaling $50M in funding. Here are 4 easy steps to using Kickfurther for food and beverage inventory financing…
#1. Create your online account
#2. Get funded within minutes to hours
#3. Customize your payment schedule
#4. Complete and repeat
Can business owners get funded with bad credit?
Securing inventory financing with bad credit can be challenging, but not impossible. If you have bad credit you should apply with a co-signer or co-owner that has better credit. If you do not have a co-signer you should try to provide a down payment or asset as collateral to reduce the risk for the lender or individual. Bad credit borrowers may want to start with smaller personal loans to help bring their credit score up.
Conclusion
Kickfurther puts you in control of your business while delivering the costliest asset for most CPG brands. And by funding your largest expense (inventory), you can free up existing capital to grow your business wherever you need it – product development, advertising, adding headcount, etc.
Discover food and beverage financing today. . . visit Kickfurther!
Never Worry About Inventory Levels Again
How does Food & Beverage Financing Work?
Connect with consumers across the United States to get your
inventory funded via our marketplace
Create your online account
Create a business account, upload your business information, and launch your deal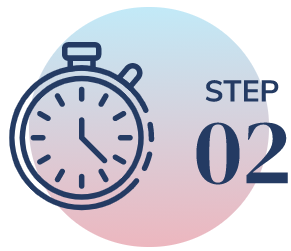 Get funded within minutes to hours
Once approved, our community funds most deals within a day, often within minutes to hours, so you'll never miss another growth opportunity.
Control your payment schedule
We pay your manufacturer to produce inventory. Make the introduction and you're off and running! Outline your expected sales periods for customized payment terms. At the end of each sales period, submit sales reports and pay consignment profit to backers for each item sold.
Complete and repeat!
Complete your payment schedule and you're done! Often once the community knows you, you're likely to get lower rates on your next raise.
We fund inventory for direct-to-
consumer & major store brands