Coffee Shop Inventory Financing
Do you sell a physical product with sales over $150,000?
To keep up with demand, coffee shops can utilize some sort of financing. Whether you use financing for inventory, startup costs, equipment, or any other business expense, there are plenty of resources available.
Get Started
How much funding could your company raise?
Submit this form to see your estimate.
Why choose Kickfurther for Inventory Financing?
Don't pay until
you sell.

Your payment obligation only begins once your sales are made. This alleviates the cash-flow pinch that lenders cause without customized repayment schedules. Free up capital to invest in scaling your business without impeding your ability to maintain inventory


Know your rates. When you compare ours, you'll often see that you're saving. We cost less than factoring, PO financing, and many lenders. We also have higher limits than competitors.
Fund up to $5 million
in an hour.

Once approved and the deal goes live, most deals fund within a day (often within minutes to hours), so you'll never miss another growth opportunity.
It's easy, it works, &
it grows with you.

Companies access higher funding limits and often get lower rates as they return to Kickfurther, creating a scalable solution that grows alongside your company.

We fund inventory for direct-to-
consumer & major store brands






"Tough Times Call For Creative Funding — Check Out
Kickfurther's Clever Model"

Join 800+ Kickfurther success stories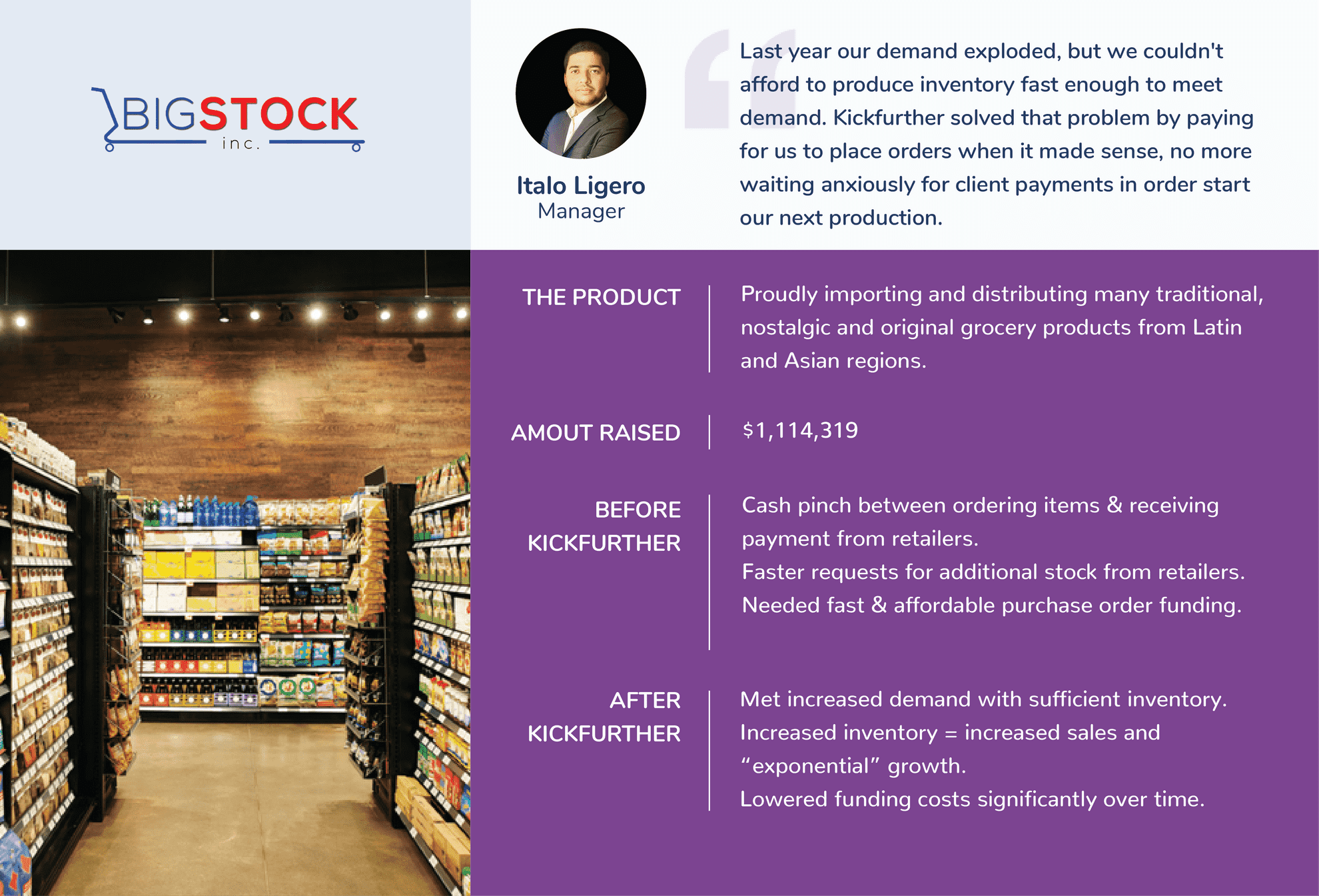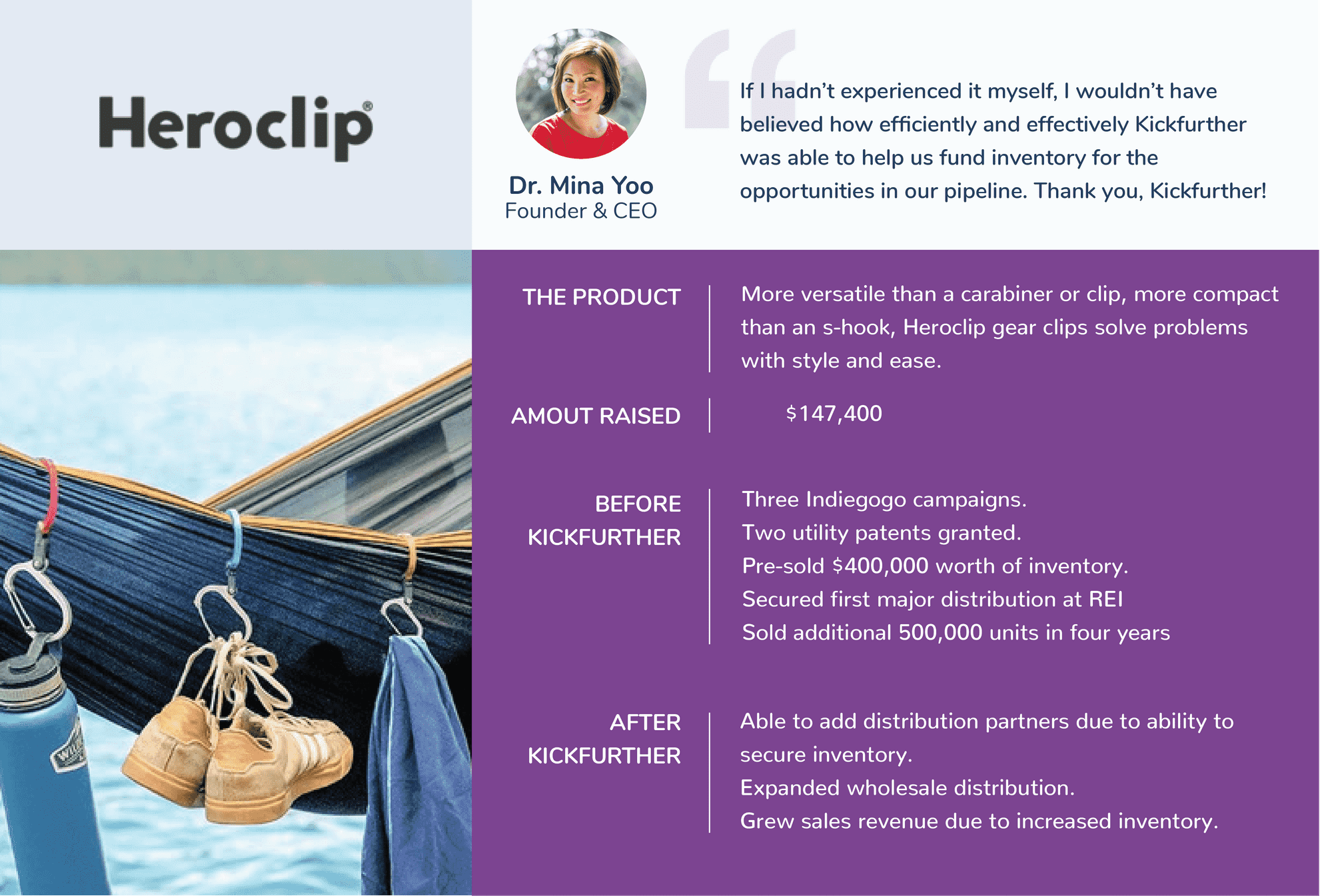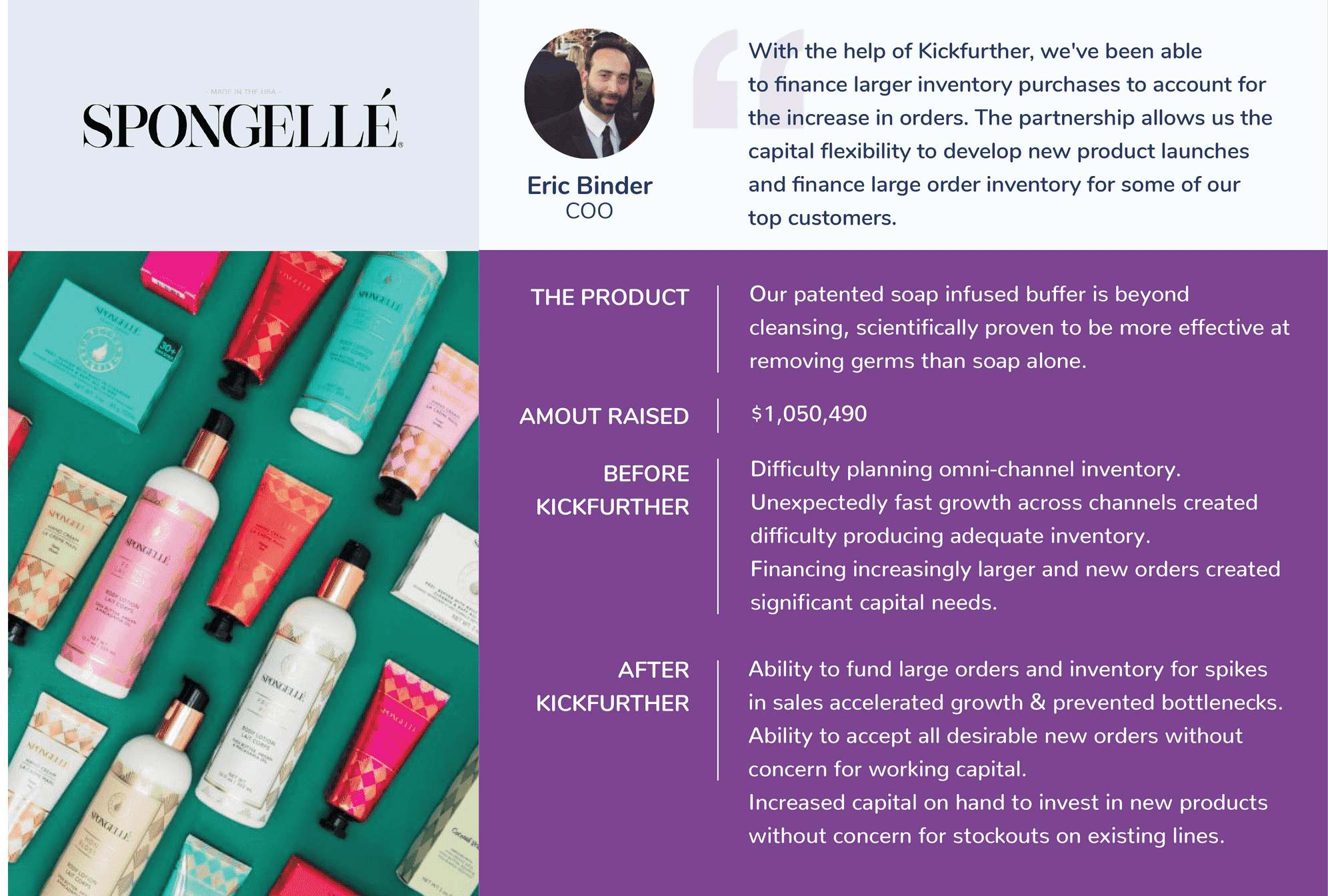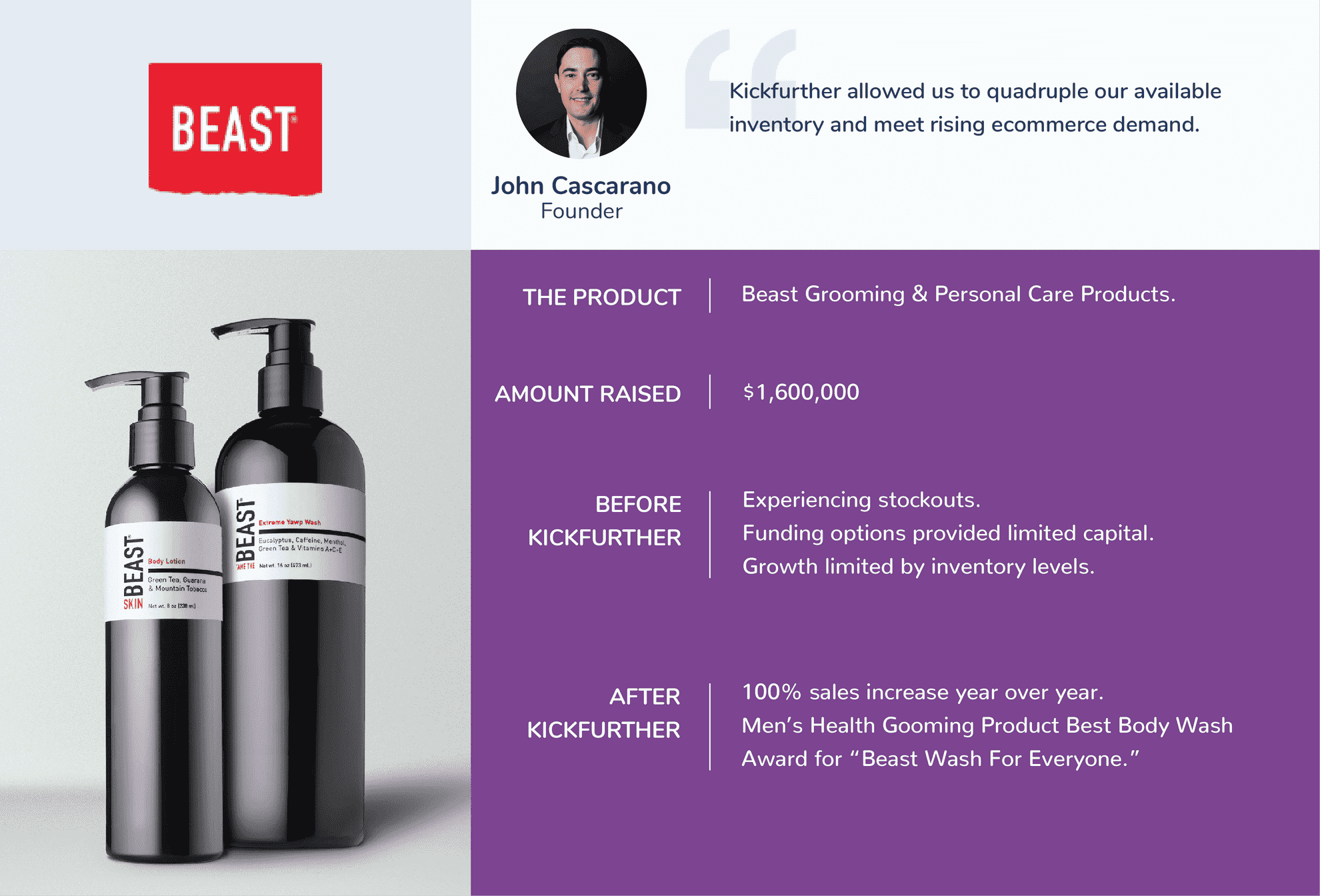 How does Inventory Financing Work?
Connect with consumers across the United States to get your
inventory funded via our marketplace
Create your online account
Create a business account, upload your business information, and launch your deal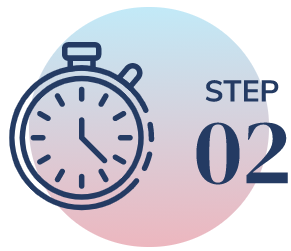 Get funded within minutes to hours
Once approved, our community funds most deals within a day, often within minutes to hours, so you'll never miss another growth opportunity.
Control your payment schedule
We pay your manufacturer to produce inventory. Make the introduction and you're off and running! Outline your expected sales periods for customized payment terms. At the end of each sales period, submit sales reports and pay consignment profit to backers for each item sold.
Complete and repeat!
Complete your payment schedule and you're done! Often once the community knows you, you're likely to get lower rates on your next raise.
Financing Options for Coffee Shops
What is coffee shop financing?
Financing can be utilized in many ways, so specifics can vary. However, in general, coffee shop financing provides businesses with the funds they need to grow or boost sales. In most cases, the money borrowed will come at a cost, but it still can make sense. Small businesses may struggle to qualify for financing, but rest assured, there are options available specifically for small businesses. Stay woke to learn more about these options.
How coffee shop financing works
Most coffee shop financing is set up as an unsecured installment loan. This type of financing works by offering the business owner a lump sum of cash in exchange for equal monthly payments with interest made over a set period of time. Interest rates may be fixed or variable with this type of loan. Business loans are offered via credit unions, banks, and online lenders.
Some forms of business financing may be secured, meaning they use some asset of the business to ensure the repayment of the loan, allowing the lender to offer more favorable terms in most cases. Inventory financing, revenue-based financing, and invoice factoring are all examples of this type of financing which uses inventory, revenue, or invoices to secure the loan.
The specifics on how financing works can vary depending on the type of loan or agreement, so be sure to fully understand the terms before committing. And keep in mind that traditional financing methods are not your only option. Private backers or investors may also be able to help, and sometimes at a lesser cost. 
Top reasons coffee shop owners seek financing
There are many reasons a coffee shop business may need financing. One of the top reasons coffee shop owners seek financing is to cover start-up costs, followed by the need for more funds to cover inventory purchases, equipment, rent or real estate, staffing, and marketing.
No matter what the reason for obtaining financing is, having access to cash via business financing or funding can be the difference between success and failure for many small businesses.
Types of financing and loan options for coffee shops
Coffee shop owners have several different financing and loan options to choose from, including the following. 
Business Loans

: Traditional business loans can be obtained through banks, credit unions, and online lenders and are typically structured as unsecured installment loans with a set repayment period and fixed monthly payments.
SBA Loans

: SBA loans are backed by the Small Business Administration, an agency backed by the government. By working with an SBA approved lender, you can qualify for an SBA loan. The idea of the SBA is to help small businesses. If you can qualify for an SBA loan, it can be a great option, but it's not easy or fast to qualify. 
Business Line of Credit / Credit Cards

: Many business owners prefer using business credit cards and lines of credit to cover their qualified business expenses. Using credit is especially ideal for emergencies and recurring expenses such as inventory purchases. However, it's not a great way to finance things. It can help spread out cash flow, but interest rates can be high, especially with credit cards.
Inventory Financing

: Inventory is a huge investment, but such an important one. Being short on inventory can cost you money via missed sales. Inventory financing can be used to finance inventory, but it can be costly and challenging to qualify for. For businesses struggling to obtain funding for inventory through traditional sources, consider

Kickfurther

. 
Invoice Factoring:

This little known form of financing offers business owners an alternative way to receive a lump sum of cash. Businesses can sell their outstanding invoices to an invoice factoring company who pays out a lump sum of cash in exchange for the unpaid invoices. The invoice factoring company then handles the collection of your invoice payments while you sit back and enjoy your new influx of capital.
Revenue-Based Financing:

This type of financing gives business owners cash advances that are paid back as a percentage of sales.



Pros and cons of coffee shop financing
Coffee shop financing allows business owners to take advantage of expansion and growth opportunities even without having the funds upfront. In the coffee shop industry, financing can help you obtain more inventory, market products, upgrade equipment, and build your brand. However, financing is a big financial commitment and at times you may be committing to something you will be growing into. The pros and cons of coffee shop financing can vary based on circumstances, but in general here are some pros and cons. 
Pros:
Boost sales by stocking more inventory

Grow your brand – either online and or in-store

Improve efficiency 

Expand
Cons:
Repayment commitment

Risk of failure

Increase costs
Tips for starting a new coffee business
While the coffee industry is a lucrative space, it's also a highly competitive space. Therefore, as you enter the industry, be prepared to outperform your competitors. Start with a detailed business plan and budget. How will you leverage your growth? How will you get from startup to growth to maturity? 
Next, what differentiates your brand? Understanding your competition and your target market can help you identify areas of opportunity. 
Lastly, be prepared. If you plan to sell products, be sure you have a clean display and plenty of products on hand. By stocking more inventory, you may even be able to offer discounts for purchases on multiple products at once. 
What credit score do I need to qualify for a coffee shop business loan?
In order to qualify for a coffee shop business loan, you will need to meet the minimum credit score requirements set forth by the lender or backer. Other requirements may be considered as well such as sales revenue, assets, and more. In most cases, you should have a credit score of 680 or better to qualify for business financing. If you can provide collateral, requirements may become less strict. Kickfurther is an alternative platform for inventory funding, thus making qualifying faster and easier without costing more. At Kickfurther you may be able to qualify with a personal credit score of 600 if you meet or exceed other requirements. Other requirements include a minimum $150,000 revenue over the last 12 months, must sell non-perishable products, and at least one production run.
How coffee shop business owners can qualify for financing
Small business owners, including coffee shop owners, may need to meet a few other minimums in order to qualify for financing. In addition to meeting the minimum credit score, business loan applicants should be prepared to demonstrate that they meet qualifications on annual revenue and the length of time in business. Most lenders and backers have minimums on these factors as well.
In addition, you will most likely need to submit documentation proving the existence of your business, a business plan, and financial information such as tax returns and bank statements.
You can check with the lender or backer before applying to find out how to best be prepared. Ultimately though to get prequalified, you'll need to apply, create an account, or take whatever the first required step is to qualify for financing. 
Are there alternative financing options for coffee shop business owners?
Small businesses, which often include coffee shops and coffee brands, may struggle to obtain financing. They may also struggle to obtain financing at a price they can afford. If an asset is required, this can present an additional challenge. Luckily, there is an alternative way for coffee shop business owners to obtain funding for inventory. The secret? Kickfurther.
How Kickfurther Can Help
Kickfurther is the world's first online inventory funding platform that enables coffee shop business owners to access funds that they are unable to acquire through traditional sources. 
For companies that sell physical products or non-perishable consumables and have revenue between $150k to $15mm over the last 12 months, Kickfurther can help. We connect brands to a community of backers who help fund inventory on consignment and give brands flexibility to pay that back as they receive cash from sales. 
Kickfurther can help startups fund millions of dollars of inventory at costs up to 30% cheaper than the competition. With more than $100 million in inventory funded to date, Kickfurther can help you get funded within a day or even minutes to hours. 
Interested in getting funded at Kickfurther? Here are 3 easy steps to get started:
#1. Create a free business account
#2. Complete the online application 
#3. Review a potential deal with one of our account reps & get funded in minutes