Fashion Accessories Industry Inventory Financing
Do you sell a physical product with sales over $150,000?
Fashion accessories entrepreneurs can bring in a considerable profit launching a fashion accessory company. But not everyone will have the financing to get their company off the ground or take it to the next level. Fortunately, fashion accessory financing is available.
This article will explain fashion accessory business financing options so you can decide which is best suited to your needs.
Learn More
How much funding could your company raise?
Submit this form to see your estimate.
Why choose Kickfurther for Fashion Accessories Business Financing
Don't pay until
you sell.
Your payment obligation only begins once your sales are made. This alleviates the cash-flow pinch that lenders cause without customized repayment schedules. Free up capital to invest in scaling your business without impeding your ability to maintain inventory
Know your rates. When you compare ours, you'll often see that you're saving. We cost less than factoring, PO financing, and many lenders. We also have higher limits than competitors.
Fund up to $5 million
in an hour.
Once approved and the deal goes live, most deals fund within a day (often within minutes to hours), so you'll never miss another growth opportunity.
It's easy, it works, &
it grows with you.
Companies access higher funding limits and often get lower rates as they return to Kickfurther, creating a scalable solution that grows alongside your company.
"Tough Times Call For Creative Funding — Check Out
Kickfurther's Clever Model"

Join 800+ Kickfurther success stories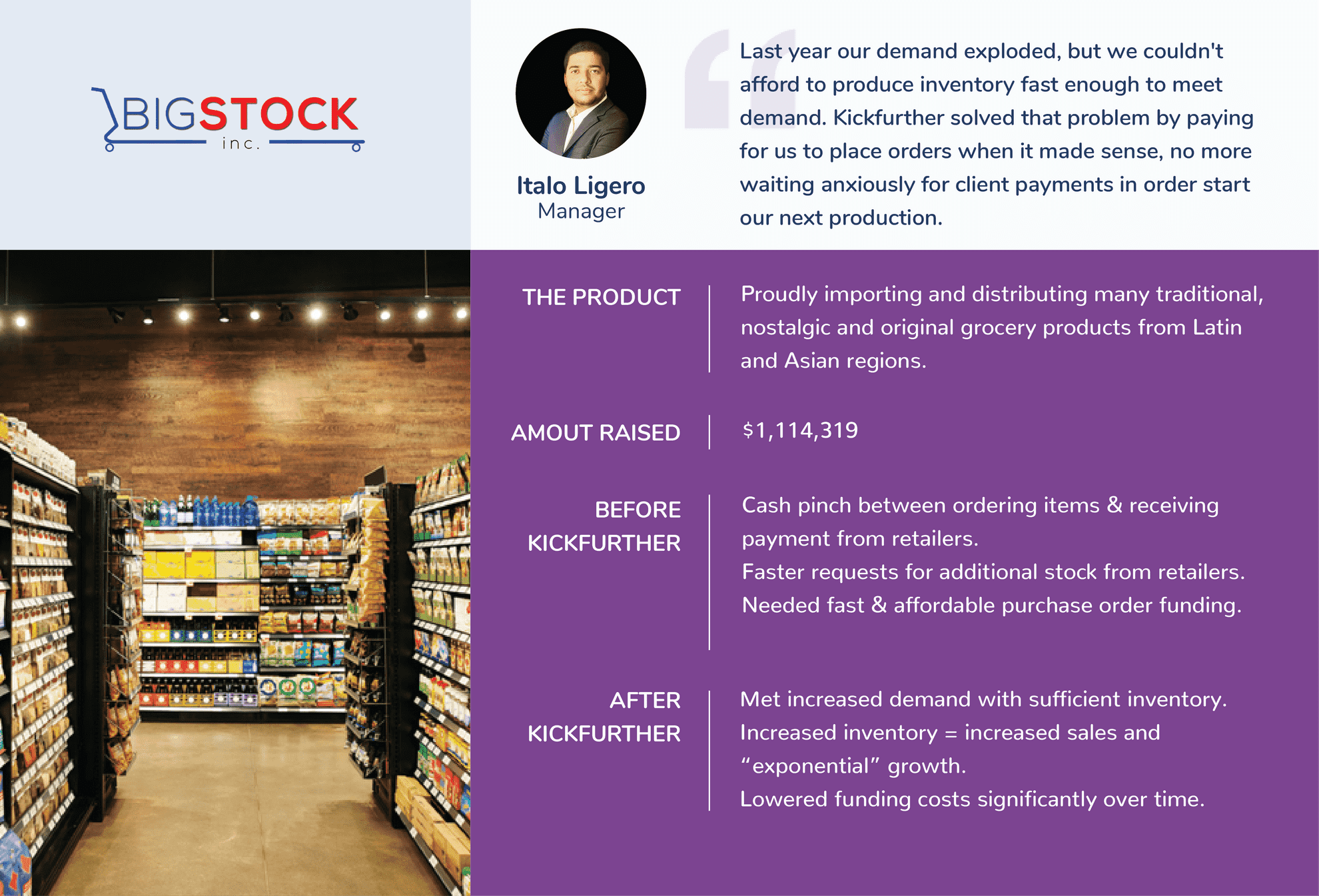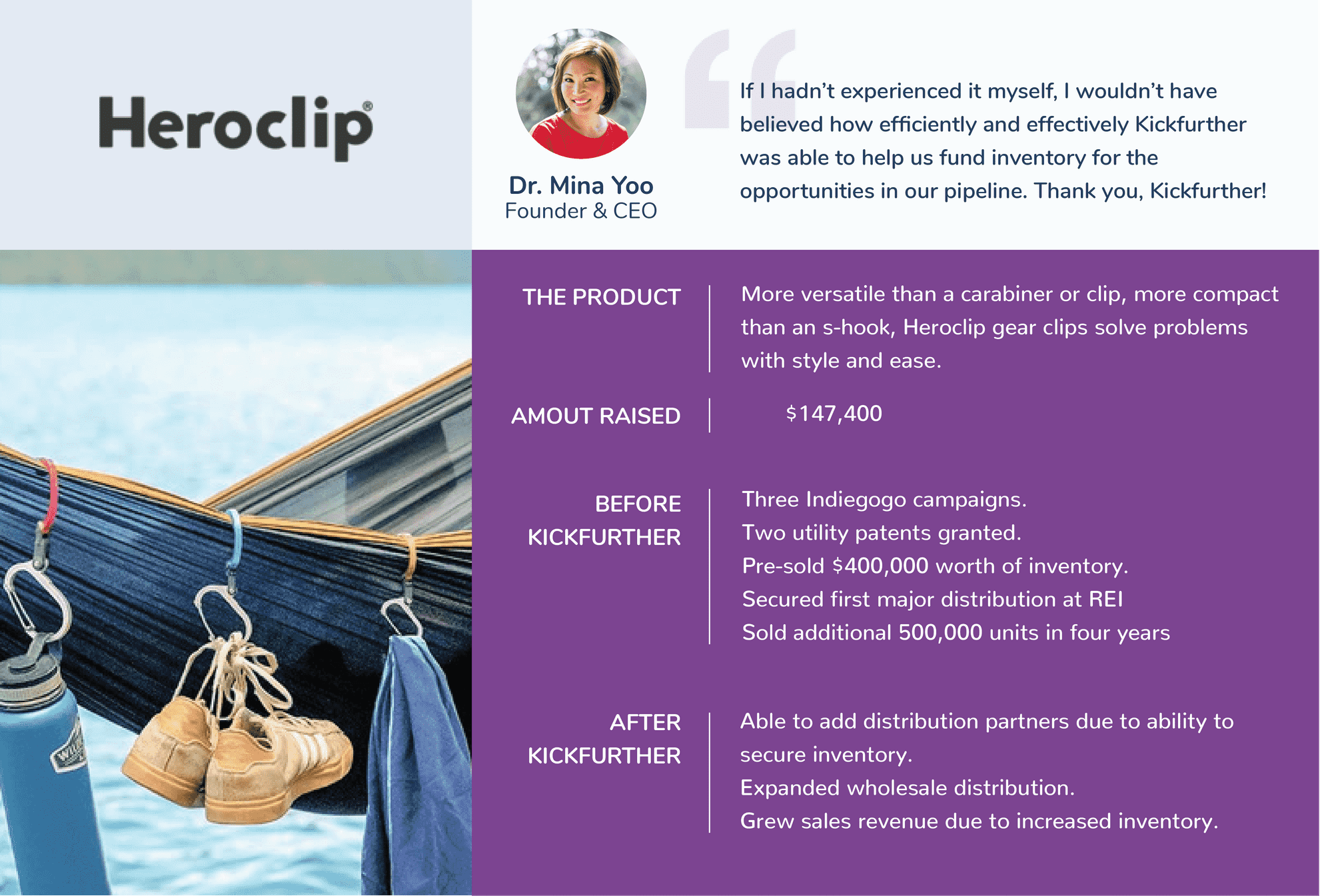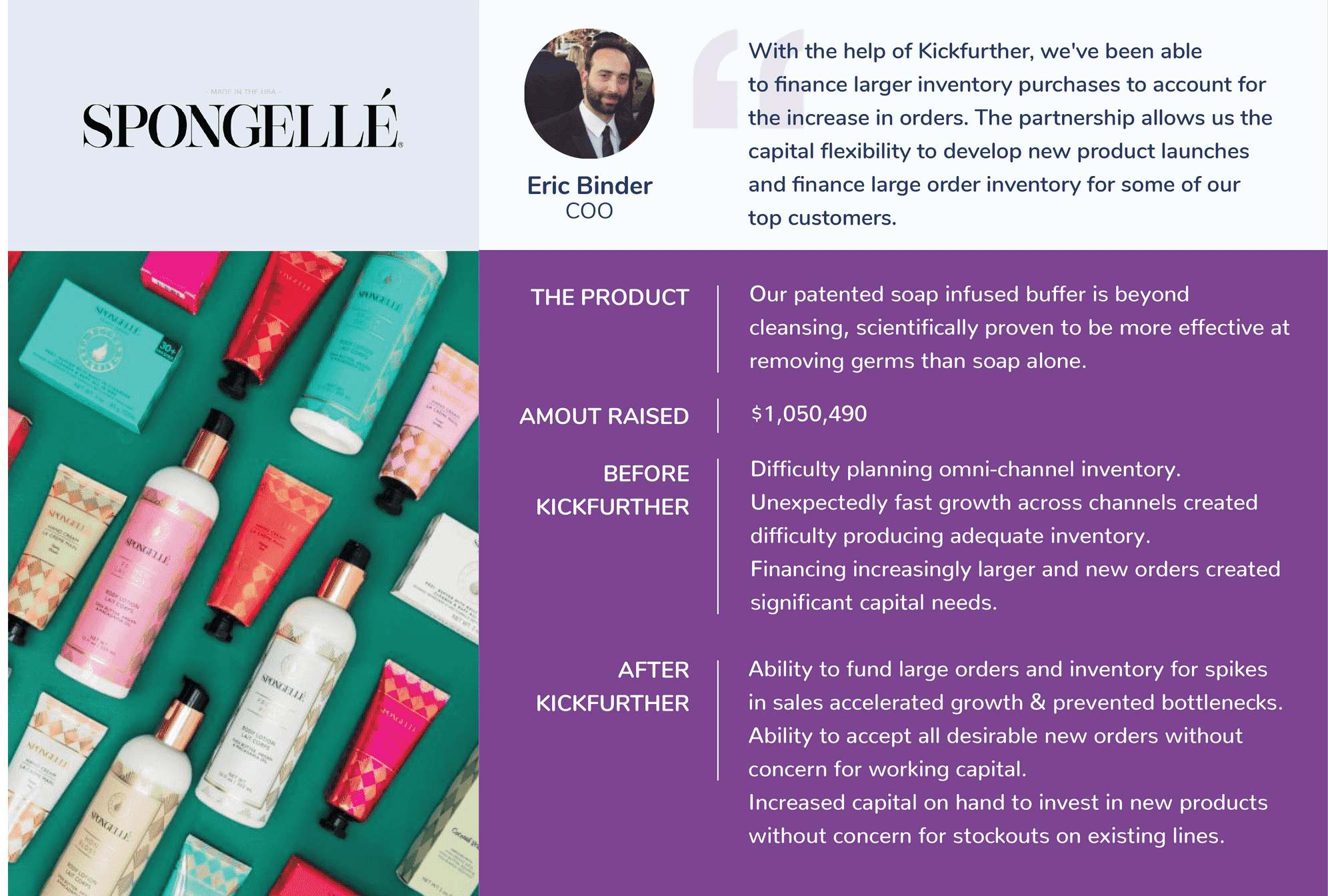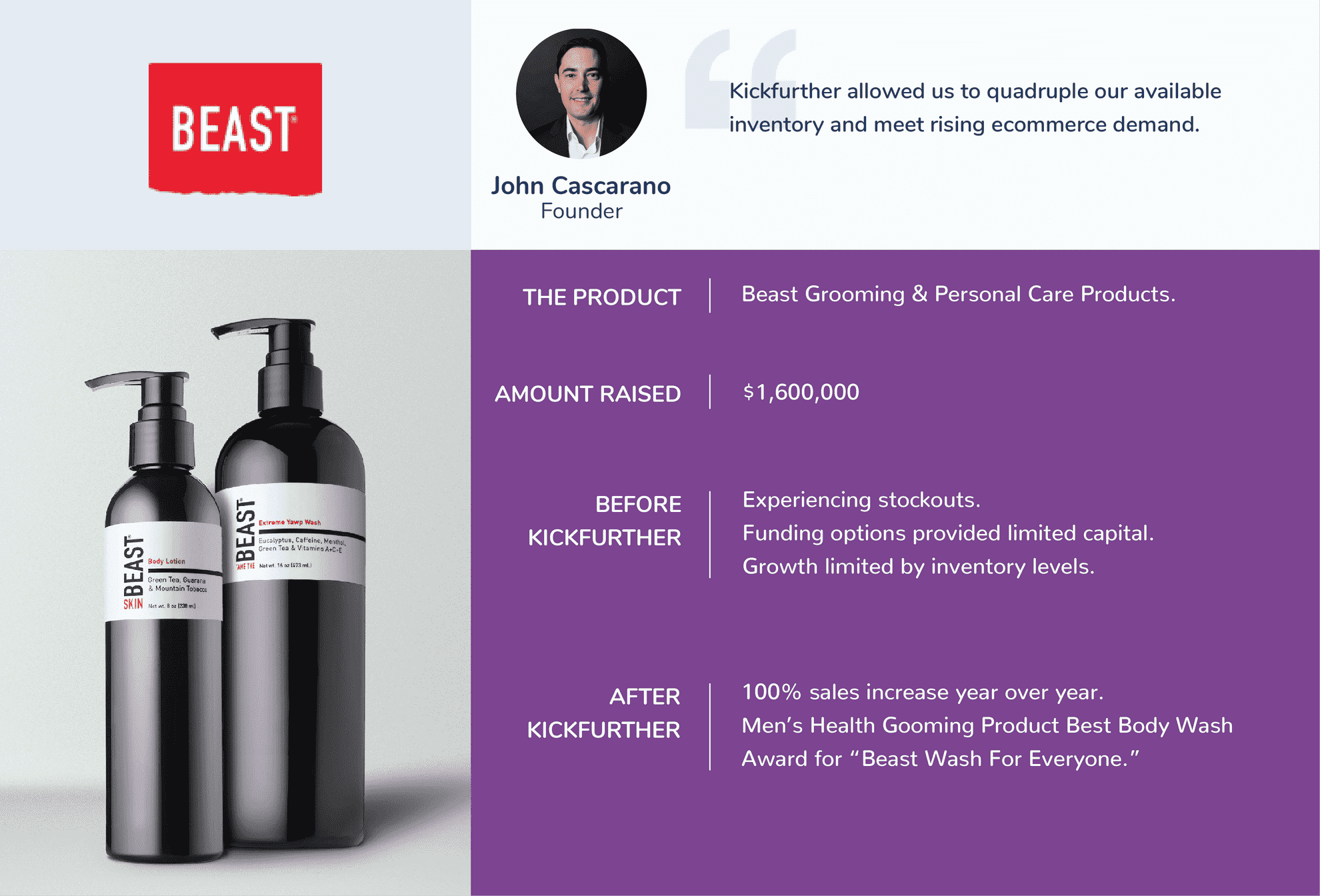 Financing Options for Fashion Accessory Businesses
What is financing for the fashion accessories industry?
Fashion accessory financing is a loan or funding that is used to cover expenses necessary to open and run a fashion accessory business. Loan types vary and different requirements will come into play. But in all cases, the borrower will need to pay back the money with interest.
Payments will be made regularly, typically on a daily, weekly or monthly basis. Fashion accessory businesses that may not be able to qualify for traditional business financing yet, may still have options such as a personal loan.
How does fashion accessories financing work?
The specifics of how fashion accessory financing works can vary depending on the type of loan or funding. However, the process can have some similarities. The first step is usually getting prequalified or applying.
Most lenders will want to see a good credit score and a reliable business history, but other loans can overlook these qualifications while charging higher interest rates to make up for the risk. Some may use inventory and other assets as collateral. The loan will need to be paid back with interest and there may be fees involved. 
In some cases, you may not be working with a lender, but rather backers. Backers can offer more flexible repayment solutions and cheaper borrowing costs. To learn more about inventory funding, click here.
Can you get financing for a fashion accessories business?
You can get financing for a fashion accessory business as long as you meet the qualifications. Qualifying for a business loan can be challenging, especially for new businesses. In some cases, business owners need to use a personal loan for funding. Once their business has established time in business and a record of sales, they can then qualify for a business loan. Alternatively, it may be more cost effective for small businesses to pursue inventory funding. Inventory funding allows companies to finance inventory while using it as collateral. 
What type of fashion accessories can I finance?
You can finance any type of fashion accessories that can be sold to businesses or consumers. These include the following.
Bracelets: Whether you produce your own bracelets or buy them wholesale, you can use financing for inventory and business-related expenses.
Eyewear:  Eyewear can include prescription and non-prescription glasses as well as sunglasses.
Shawls: Shawls are versatile fashion accessories. From keeping you warm to adding a pop of color to your outfit, shawls are fashionable.
Socks: Who doesn't need socks? Socks are a great item to sell because everyone wears them. They also make terrific gifts.
Shoes: Shoes are another item everyone needs. The shoes you sell can include a combination of looks and types including boots, pumps, dress shoes and more.
Boots: Being a higher-dollar item, boots may require financing for resale. 
Jackets: Jackets will do well in the fall, winter, and spring seasons, but you may want to stock your store with other items to continue doing brisk business in the warmer months.
Hats: Hats are fun to sell. Your stock can include beanies, baseball hats, sunhats, visors…and the list goes on.
Jewelry: Jewelry is a popular fashion accessory. It includes bracelets, rings, necklaces, earrings, and other items that can be worn on the body.
Financing options for the fashion accessories industry
There are many financing options to consider when starting your fashion accessory company. These include the following:
Bank Loans: Bank loans can include term loans and lines of credit. Term loans are a lump sum that needs to be paid off over time while lines of credit will allow you to borrow money on an 'as needed' basis and pay it back with interest.  
Banks will typically require extensive documentation such as financial statements for your business and tax documents. They will also want a good credit score. This can make it difficult to qualify. It also extends the approval process which can range from 1 -2 months.
Bank loans offer interest rates of 5-10% and terms of 1 -10 years.
SBA Loans: The Small Business Administration (SBA) also provides loans to new businesses. They are similar to banks in that they require documentation to show business history as well as a good credit score. However, they are more forgiving of businesses that default on their loans.
Interest rates typically fall between 5- 10% and terms are 1 – 10 years.
Alternative Loans: Alternative loans can overlook things like credit score and business history, but the lender may charge higher interest rates to make up for the risk. Because less paperwork is needed, the approval process is faster, and you can get funded in as little as 24 hours.
The loans are typically short-term lasting 1- 5 years. Interest rates are between 8- 25%.
Cash Advance: Cash advances are based on future revenues. They work like a credit card allowing you to take money out as needed and repay it with interest. They are ideal for companies that have low credit scores, and they allow you to cover expenses in a pinch.
On the downside, cash advances come with a lot of fees. Factor rates are 1.16- 15 and terms are 4 -21 months.
Inventory Loan or funding: An inventory loan is ideal for new businesses as it uses inventory as collateral. A good credit score and business history are not required. But if you default on your loan, you could lose your inventory. Online communities such as Kickfurther allow business owners to connect with backers to secure inventory funding. Compared to other options, Kickfurther can provide funding that is up to 30% cheaper.
Try Kickfurther
Pros and cons of financing for fashion accessories industry
Fashion industry financing comes with its share of pros and cons. Here are some to consider:
Pros:
Provides a cash flow boost: Fashion industry financing gives your company the boost it needs to cover expenses while growing profits.

Maintain equity: Most loans will allow you to access money without losing equity in your business.
Cons:
Difficult approval process: Most loans require extensive requirements and a long approval process.

High interest rates: Loans come with high interest rates that can compound if they are not paid on schedule.
What are the requirements to qualify for fashion accessories financing?
The requirements for qualifying for fashion accessory financing will vary depending on the type of loan and the lender you are working with. Most will want to see a strong business history and a good credit score. Others will use assets like inventory and real estate for collateral.
Some lenders may overlook certain requirements and charge a higher interest rate. At Kickfurther, you will need to sell physical products with sales over $150,000 to qualify for funding.
What credit score do I need to obtain inventory funding for my fashion accessories business?
If you have a credit score of 700 or above, you should be able to qualify for any loan. If you have a credit score between 600 and 700, it will limit your options to alternative loans although strong business credentials may make up for the low rating.
If your score is below 600, you may be unable to qualify for a loan. If you do, prepare for high interest rates.
How to apply for fashion accessories business financing 
Before applying for accessory business financing, you'll need to decide what type of funding or financing you want to apply for. You should gather sales reports, tax returns, and other supporting financial documents before applying. Next, you'll probably need to complete a form or application with the lender or platform of your choice. 
How Kickfurther can help
Kickfurther can help brands that sell physical products with revenue between $150k to $15mm over the last 12 months. We connect brands to a community of eager buyers who help fund inventory on consignment. Brands can benefit from the flexibility to pay that back as they receive cash from their sales. Kickfurther is the world's first online inventory financing platform that enables companies to access funds they are unable to acquire through traditional sources. Kickfurther has 800+ opportunities funded totaling $80mm+ and a 99% funding success rate. 
Kickfurther success story: Yekim LLC
Yekim is a Men's, Women's, and Children Luxury Apparel Collection. With five successful co-ops on the books, Yekim is a true success story for Kickfurther. Specializing in leather goods, Yekim operates across the globe and recognizes the growing competition, but they are ready to compete. Yekim has raised $21,436.92 on Kickfurther.
Conclusion
Eventually, you may need resources such as money to help fuel your vision. While financing is available through many sources, some may be expensive, thus making them not pencil out. Others, may be too hard to qualify for in the early stages. When pursuing inventory financing or business loans, you will want to find a cost effective solution that works for your business. If affordable inventory funding is on your radar, you will want to turn to Kickfurther's community to take the next step.
Beat out your competitors. . . unlock affordable inventory funding today!
How does Fashion Accessory Business Financing Work?
Connect with consumers across the United States to get your
inventory funded via our marketplace
Create your online account
Create a business account, upload your business information, and launch your deal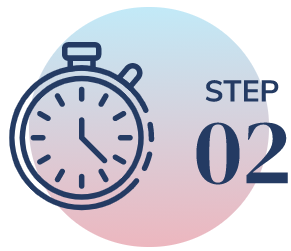 Get funded within minutes to hours
Once approved, our community funds most deals within a day, often within minutes to hours, so you'll never miss another growth opportunity.
Control your payment schedule
We pay your manufacturer to produce inventory. Make the introduction and you're off and running! Outline your expected sales periods for customized payment terms. At the end of each sales period, submit sales reports and pay consignment profit to backers for each item sold.
Complete and repeat!
Complete your payment schedule and you're done! Often once the community knows you, you're likely to get lower rates on your next raise.
We fund inventory for direct-to-
consumer & major store brands