Mocktail Mixes Industry Inventory Financing
Do you sell a physical product with sales over $150,000?
Non-alcoholic beverages known as mocktails are trending. Some of us just want to feel like we're sipping an adult beverage but with the repercussions and cost. As the mocktail industry gains traction, there are more resources available for growing businesses. Below we will discuss the mocktail industry and mocktail mixes industry financing.
Learn More
How much funding could your company raise?
Submit this form to see your estimate.
Why choose Kickfurther for Mocktail Financing?
Don't pay until
you sell.
Your payment obligation only begins once your sales are made. This alleviates the cash-flow pinch that lenders cause without customized repayment schedules. Free up capital to invest in scaling your business without impeding your ability to maintain inventory
Know your rates. When you compare ours, you'll often see that you're saving. We cost less than factoring, PO financing, and many lenders. We also have higher limits than competitors.
Fund up to $5 million
in an hour.
Once approved and the deal goes live, most deals fund within a day (often within minutes to hours), so you'll never miss another growth opportunity.
It's easy, it works, &
it grows with you.
Companies access higher funding limits and often get lower rates as they return to Kickfurther, creating a scalable solution that grows alongside your company.
"Tough Times Call For Creative Funding — Check Out
Kickfurther's Clever Model"

Join 800+ Kickfurther success stories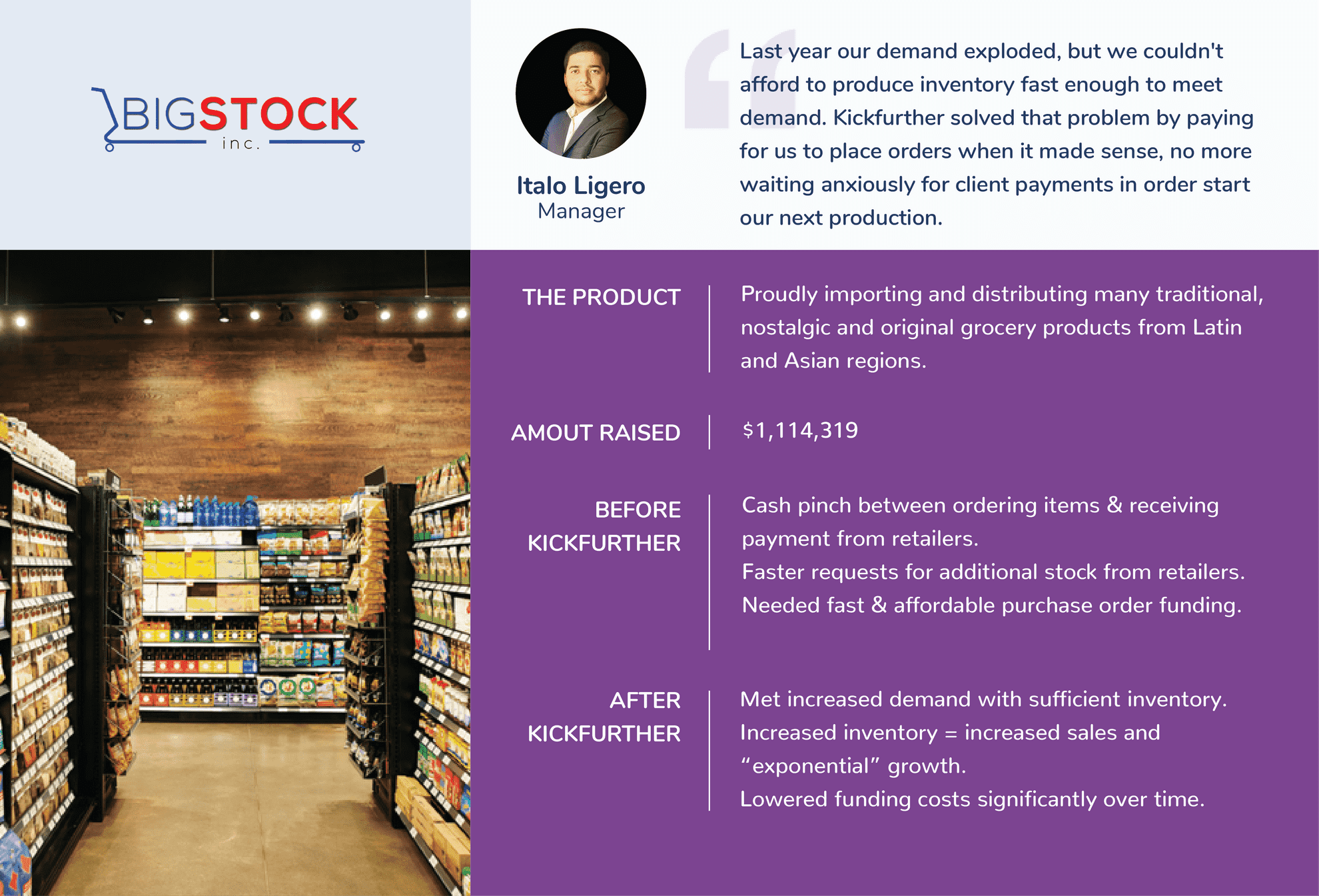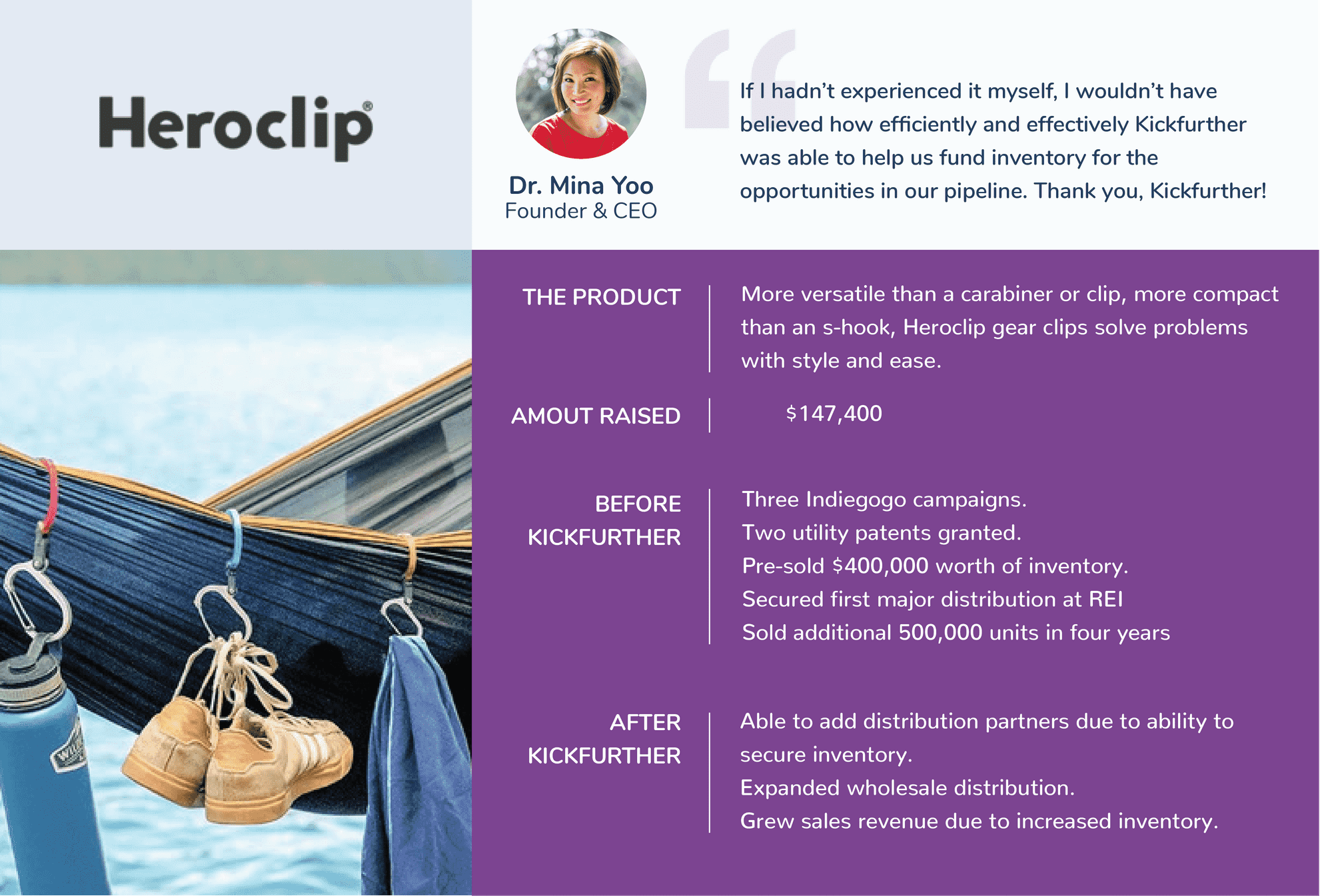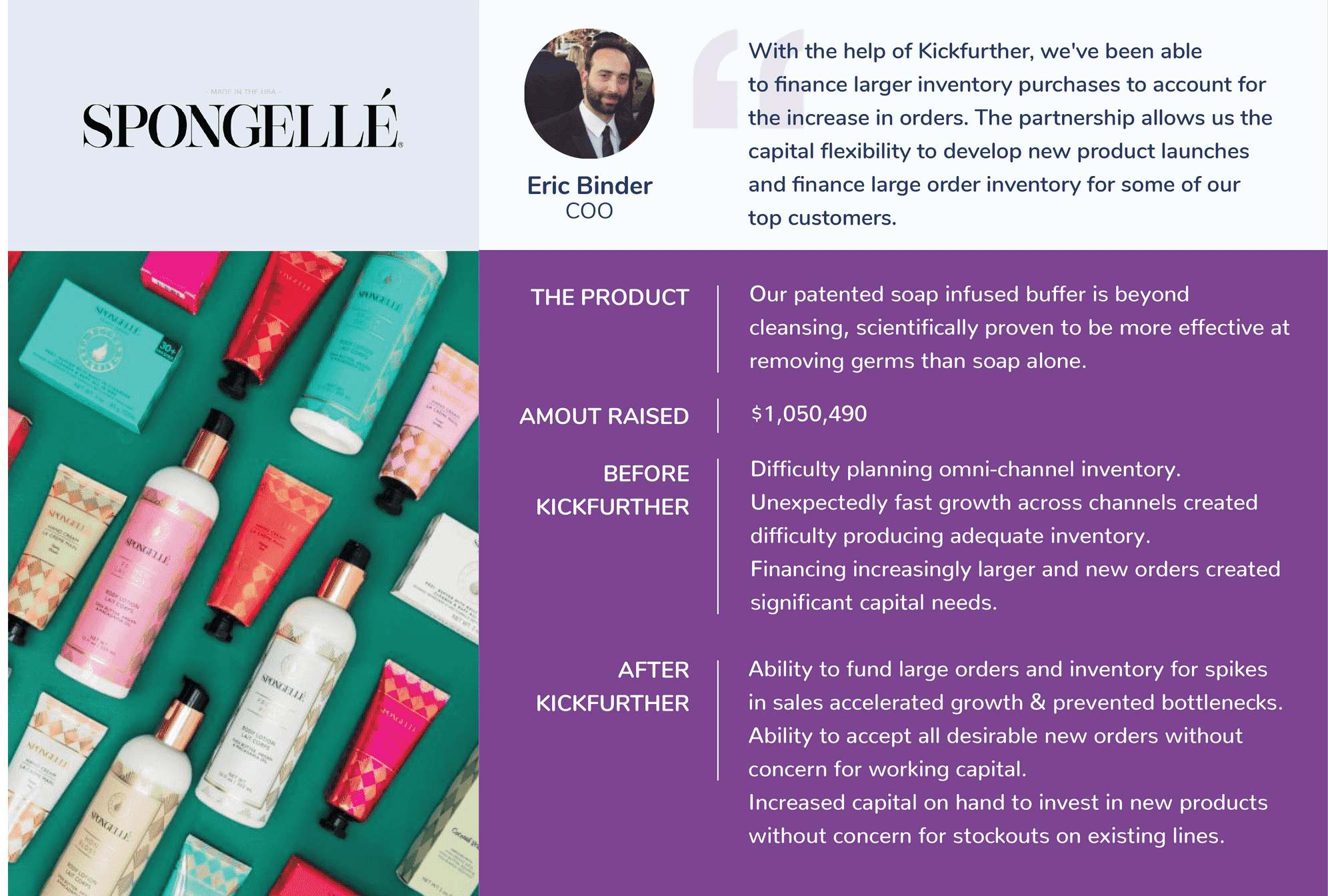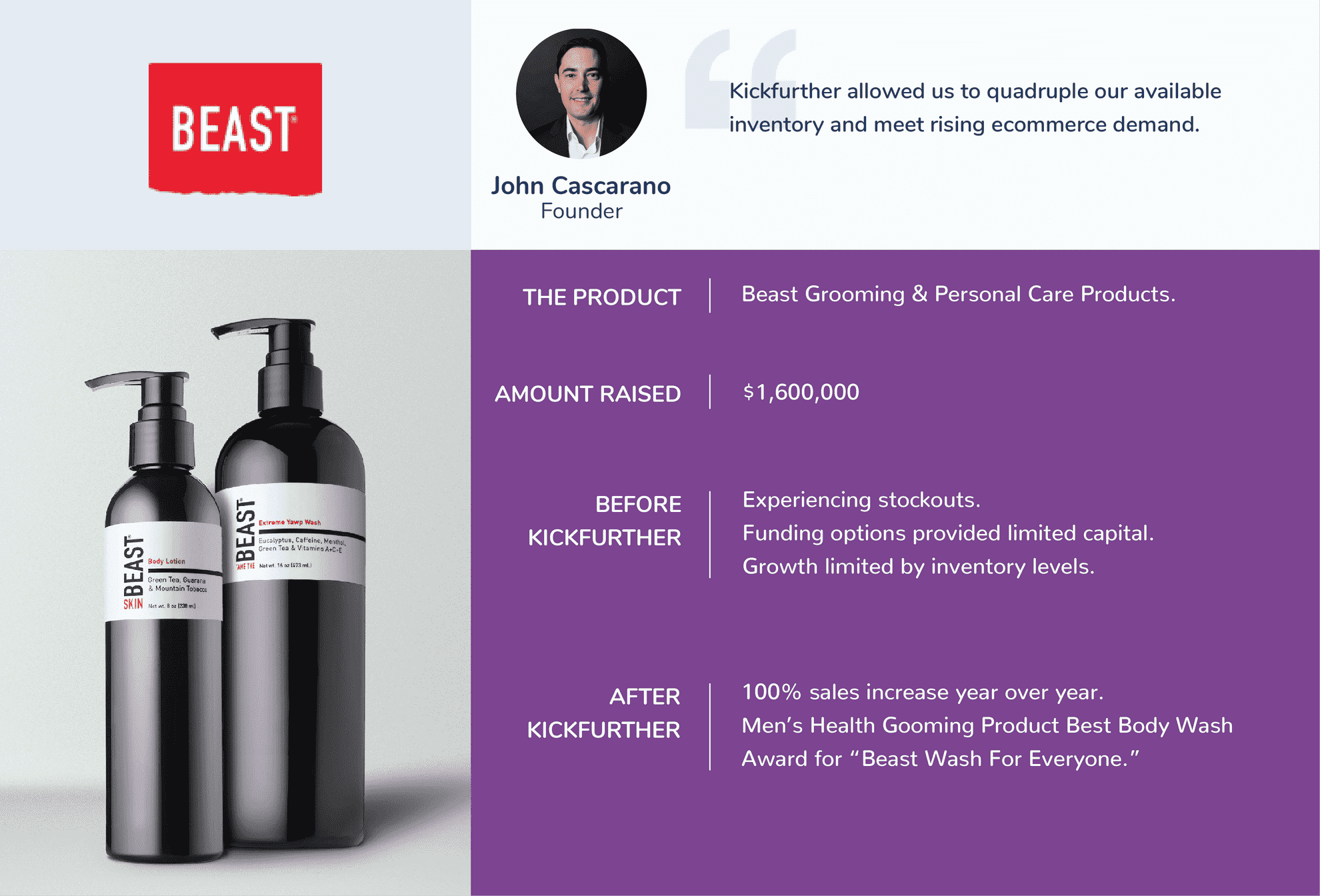 Financing for the Mocktail Industry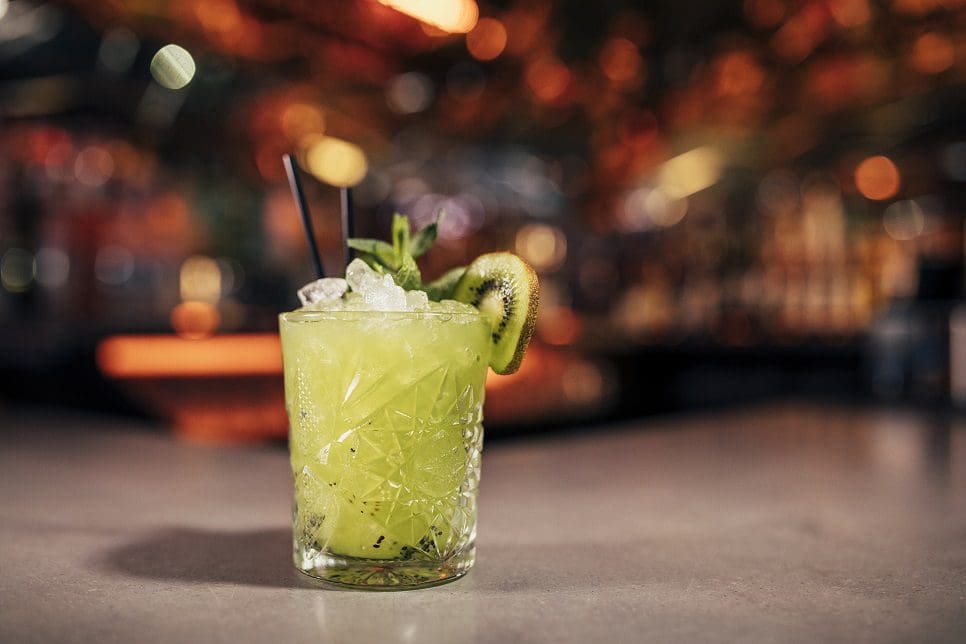 Is there a market for mocktails?
As of 2022, the market share for non-alcoholic beverages, thus encouraging more businesses to join. Demand for mocktails is rising and offering mocktails has become a "trendy" thing for bars and restaurants to do. Mocktails are also offered for purchase at most local grocery stores.
In fact, the non-alcoholic beverages market is expected to grow from $923 million in 2020 to upwards of $1.7 trillion by 2028, increasing at a compound annual growth rate of just over 8%.
The market for mocktails includes those in recovery, expecting mothers, athletes, those taking medication where alcohol consumption is contraindicated, those with religious beliefs that discourage alcohol consumption, business professionals on the clock, and anyone else who prefers to enjoy a sober experience.
Just like with alcoholic beverages, prices can be set between $5-12 depending on the garnish and presentation of the drink. For restaurants, serving mocktails offers a way to stand out and helps to boost brand identity.
Are financing options available for the mocktail industry?
Entrepreneurs can take advantage of a variety of financing options in order to get into the mocktail industry. Business owners can use credit cards, business loans, and even personal loans to get their new company up and running. Banks, credit unions, and online lenders are all viable options for obtaining your financing to get started in the mocktail industry. Comparing interest rates and other loan terms can go a long way towards saving money on your financing.

Common uses of mocktail industry financing
In addition to start-up costs, business owners also commonly use financing to expand their existing business. There are a few different ways you can use the funds from your loan or line of credit to enhance and improve your mocktail business. A few common uses of mocktail industry financing include:
Inventory

Solving cash flow issues

Refinancing business debt

Equipment

Payroll

Marketing

Real estate
Benefits of financing for the mocktail industry
Whether you are just getting started or have been in operation for years, using financing for your business allows you to take advantage of expansion and growth opportunities even when you don't have the funds upfront.
In the mocktail industry, financing can help you obtain inventory, market your products, and grow your reputation. It is vital to get into the market now to take advantage of future growth. One of the biggest advantages of financing is that it can help alleviate cash flow problems. While there may be costs associated with financing, if it can help your business generate more revenue it can easily be justified.

How mocktail industry financing works
There are a variety of ways mocktail companies can obtain financing. From traditional loans and lines of credit to crowdfunding, you'll need to determine which option is best. Depending on the option you select, the specifics on how it works will vary. Some options may offer more flexibility than others. In general though, mocktail industry financing should provide funds for general business use or a specific business use. In most cases the funding is either paid as a lump sum, offered as a revolving line of credit, or paid directly to suppliers.
How much can I borrow for my mocktail based business?
How much you can borrow for your mocktail business will depend on the type of financing you decide to use.
Personal loans typically allow the borrower to receive funds in amounts up to $100,000.
On the other hand, business loans are available in amounts upwards of $1 million, depending on the lender. In fact, the average bank business loan in 2017 was $493,000.
As of 2020, the average credit limit on a business credit card was just over $56,000.
How much is the non-alcoholic beverage industry worth?
The non-alcoholic beverage industry was valued at $923 million in 2020 and is expected to grow to more than $1.7 trillion by 2028, increasing at a compound annual growth rate of 8.19%.
In addition to mocktails, the beverage industry has also seen a rise in non-alcoholic beers and even "dealcoholized" wines. Integrating a mocktail/non-alcoholic beverage into your menu can increase your sales and profits by a large percentage.
Is a license required to sell mocktails?
To sell alcohol, restaurants and other vendors must have a liquor license in all 50 states. Having a full-liquor license can be a huge moneymaker for many bars and restaurants. However, in most states, a certain number of seats is required to obtain a full-liquor license. Smaller restaurants may serve beer and wine but not full cocktails. Now, having the option of mocktails allows these small businesses to make more profit on their beverage menu.
On the other hand, since mocktails are non-alcoholic they do not require a liquor license although your business will still be subject to all other required licenses and permits to be in operation. For example, if you are opening a restaurant that sells mocktails, you will need to follow city and state ordinances around the regulation of operating a food business.
Similarly, manufacturers of mixed drinks and other alcoholic products must have a liquor wholesaler license in most states to participate in distribution to bars and restaurants. Distribution of premixed non-alcoholic beverages is not as regulated by the states and these mixers can typically be distributed according to state food distribution laws. Check with your state to see which types of licenses you may need to complete wholesale orders of your manufactured non-alcoholic mixed drinks.
Do I need to have a good credit score to obtain financing?
When it comes to securing credit for a business, lenders and backers often look at the business owner's credit. In most cases you will need good credit to obtain financing. If you are lacking in the credit department, consider using secured financing. 
What are the qualifications to get funded for my mocktail business?
Qualifications often get in the way of securing financing. Traditional lenders often have requirements that are black and white. They may not allow for the startup that's well on its way to the top or the eCommerce seller. Therefore, mocktail companies may need to turn to alternative sources of funding for more relaxed requirements. In most cases, backers or lenders will have requirements such as length in business and revenue. One alternative for mocktail companies that need working capital for inventory is Kickfurther. 
One of the biggest challenges of inventory financing are the requirements and the cost. Entrepreneur Sean De Clercq was once in your shoes; hopelessly searching for an affordable way to grow his company. In 2014, he founded Kickfurther. In true entrepreneur fashion, he found a solution for a major problem business owners are facing. He created a company that helps businesses get affordable inventory financing with less obstacles. 
How to grow your business with Kickfurther
Kickfurther is the world's first online inventory funding platform that enables companies to access funds that they are unable to acquire through traditional sources. For companies that sell physical products or non-perishable consumables and have revenue between $150k to $15mm over the last 12 months, Kickfurther can help. We connect brands to a community of backers who help fund inventory on consignment and give brands flexibility to pay that back as they receive cash from sales. 
Conclusion
Mocktail mixes industry financing is often needed for inventory. With Kickfurther you can fund millions of dollars worth of inventory at costs of up to 30% lower than the competition. It gets better though – you don't pay until you start making sales. You'll truly have the opportunity to create a payment schedule that works for your business. You'll outline expected sales periods to create customized payment terms. With more than $100 million in inventory funded to date, Kickfurther can help you get funded within a day or even minutes to hours. 
Interested in getting funded on Kickfurther?  Create a free business account, complete the online application, review deals, and get funded in as little as minutes!
How does Mocktail Industry Financing Work?
Connect with consumers across the United States to get your
inventory funded via our marketplace
Create your online account
Create a business account, upload your business information, and launch your deal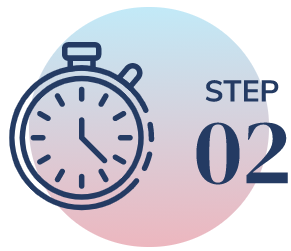 Get funded within minutes to hours
Once approved, our community funds most deals within a day, often within minutes to hours, so you'll never miss another growth opportunity.
Control your payment schedule
We pay your manufacturer to produce inventory. Make the introduction and you're off and running! Outline your expected sales periods for customized payment terms. At the end of each sales period, submit sales reports and pay consignment profit to backers for each item sold.
Complete and repeat!
Complete your payment schedule and you're done! Often once the community knows you, you're likely to get lower rates on your next raise.
We fund inventory for direct-to-
consumer & major store brands