Clothing Store Loans
Do you sell a physical product with sales over $150,000?
Like any retail business, operating a successful clothing store comes with its challenges, especially as it relates to the demands of maintaining and managing stock. In order to keep a clothing store as a valid competitor in the world of fashion, it is beneficial to look at financial products that can provide you with the capital you need to keep up with quickly evolving trends and a marketplace where a hot item can disappear from shelves in minutes and the ability to restock is paramount to capitalizing on momentum.
Learn More
How much funding could your company raise?
Submit this form to see your estimate.
Why choose Kickfurther for
Apparel Brand Financing?

Don't pay until
you sell.
Your payment obligation only begins once your sales are made. This alleviates the cash-flow pinch that lenders cause without customized repayment schedules. Free up capital to invest in scaling your business without impeding your ability to maintain inventory

Know your rates. When you compare ours, you'll often see that you're saving. We cost less than factoring, PO financing, and many lenders. We also have higher limits than competitors.

Fund up to $1 million
in an hour.
Once approved and the deal goes live, most deals fund within a day (often within minutes to hours), so you'll never miss another growth opportunity.

It's easy, it works, &
it grows with you.
Companies access higher funding limits and often get lower rates as they return to Kickfurther, creating a scalable solution that grows alongside your company.
"Tough Times Call For Creative Funding — Check Out
Kickfurther's Clever Model"

Join 800+ Kickfurther success stories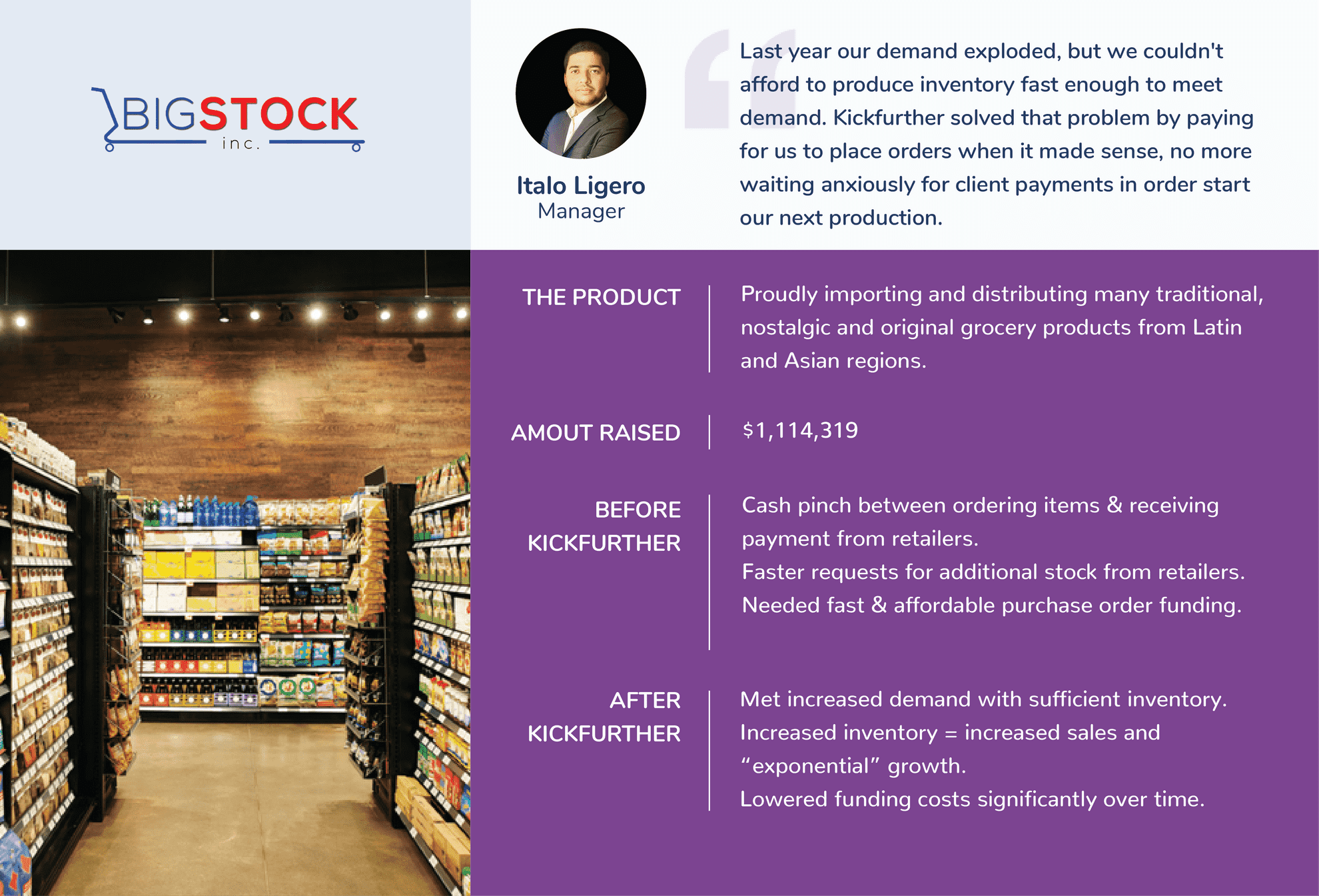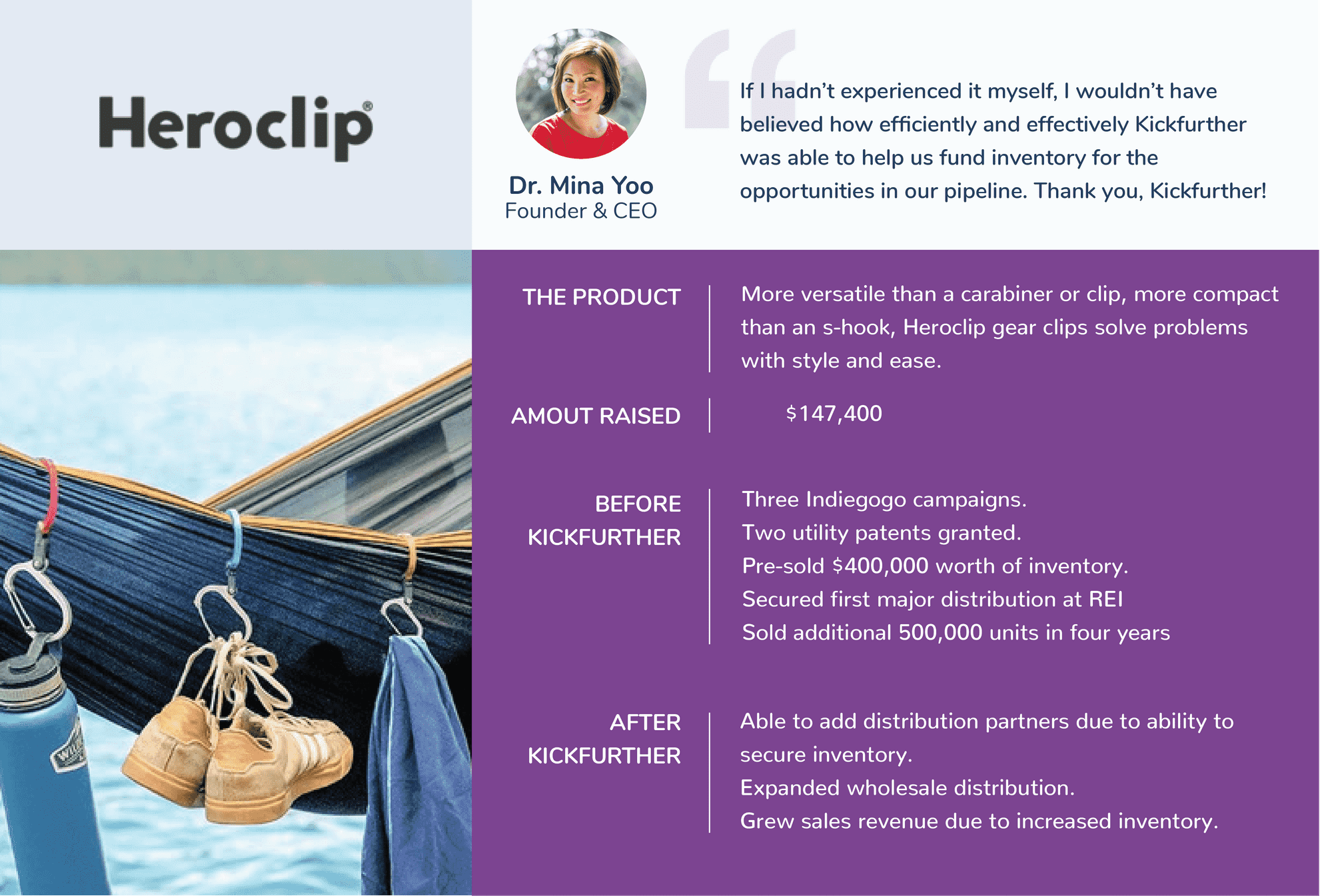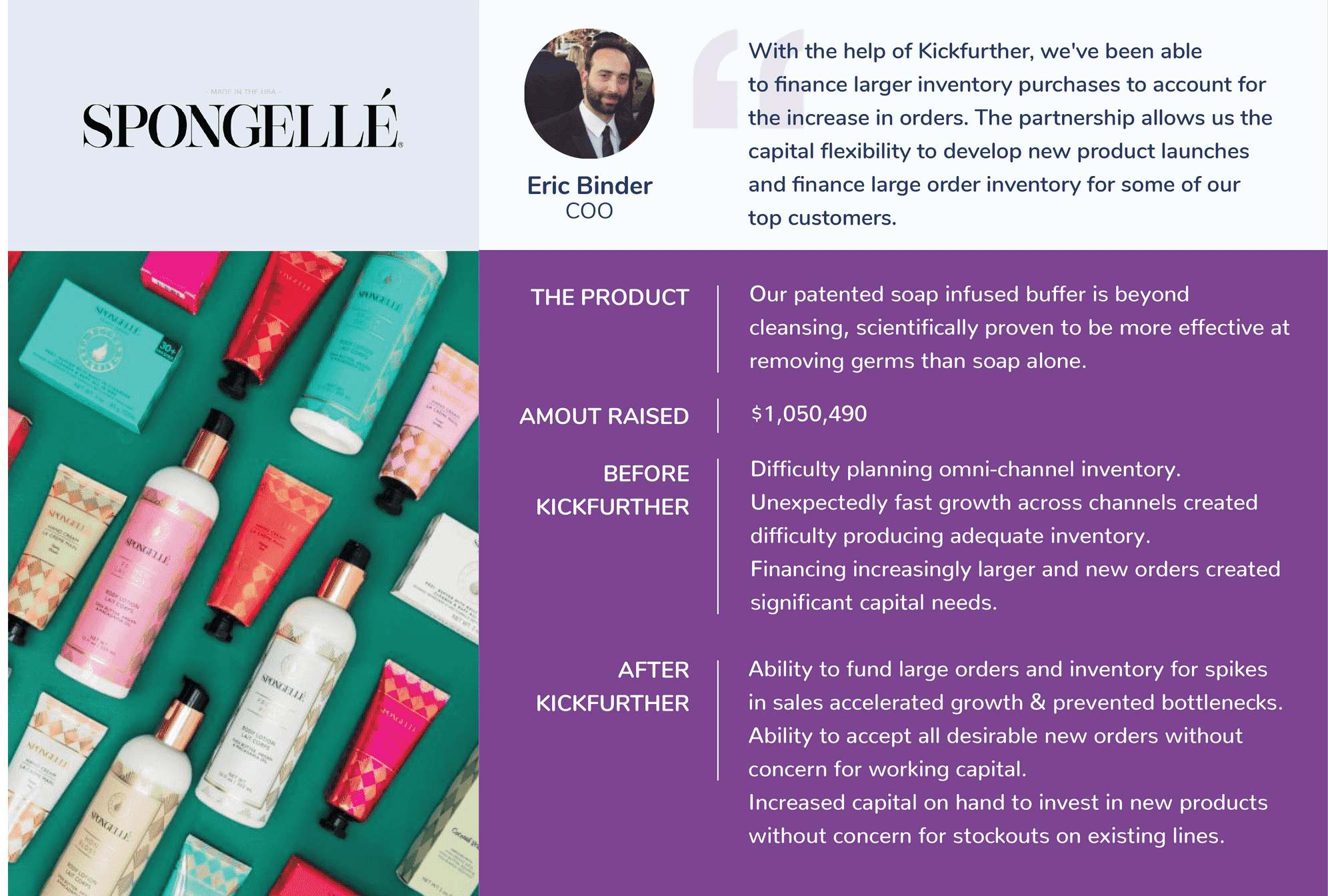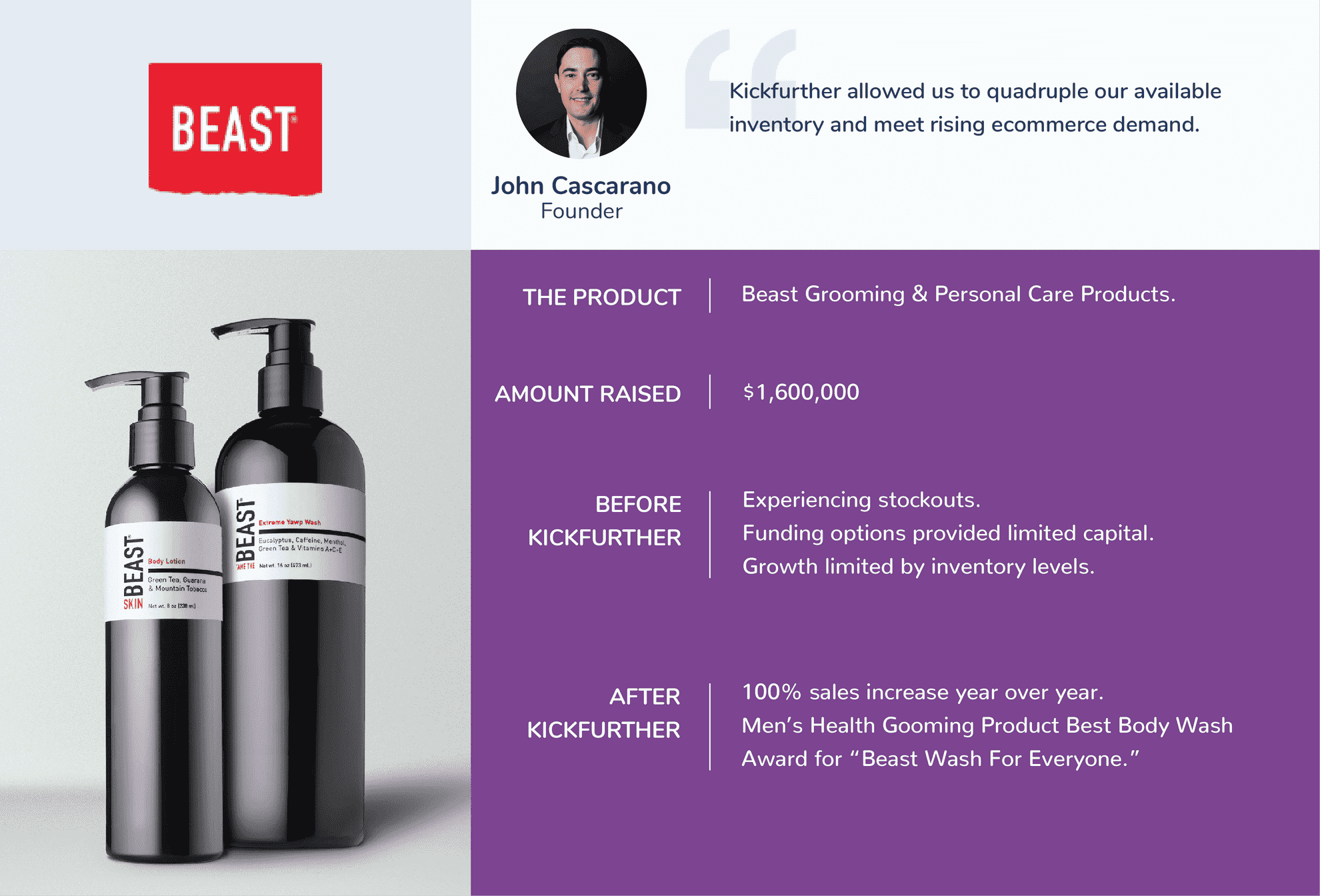 Apparel Brand Financing Options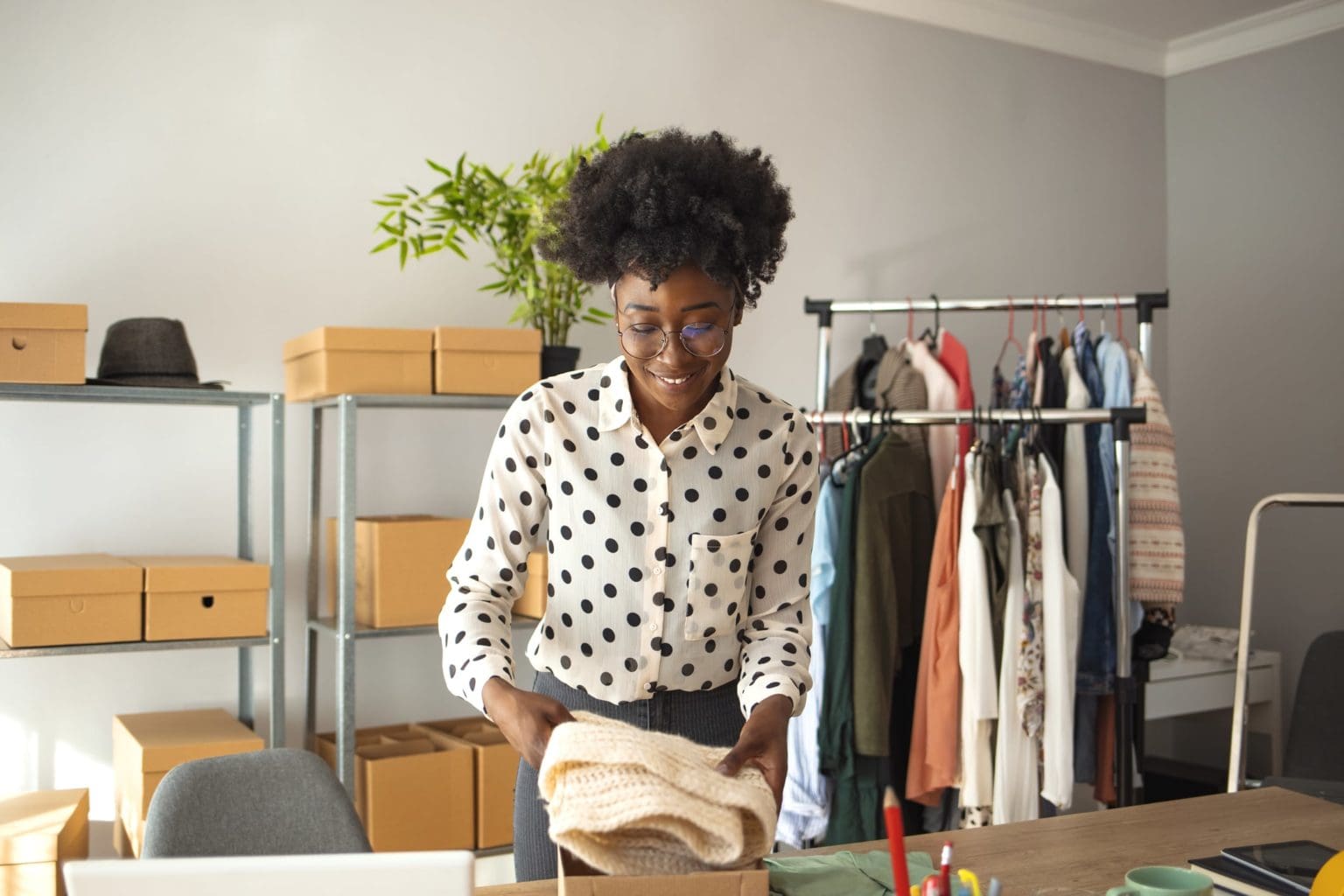 What are clothing store loans?
Clothing store loans refer to any financial product that can provide business owners with the funding they need to operate their clothing store or to acquire a new clothing store. This guide will best help existing owners and controllers understand options for expanding their clothing or apparel business.
What types of loans are available for clothing stores?
There are a number of different loans available for clothing stores, depending on your exact need for funding.
Bank Loans
If you are able to qualify for a bank loan, this should be your first choice for a business loan for a clothing store as bank loans (either term loans or lines of credit) will offer the most competitive interest rates with longer terms.
Interest rates for bank loans start near 5% with terms up to 10 years and minimal fees. Securing the strongest of these loans often requires excellent credit, strong annual revenue, and positive business history.
SBA Loans
The second best option for clothing store loans is an SBA loan. These are loans guaranteed by the government through the Small Business Administration, for anywhere between 50% and 85% depending on the program. This guarantee means that giving this type of loan is much less risky for lenders and so you are more likely to be accepted for the loan, should you qualify.
With particularly favorable rates and terms, SBA loans are some of the most desirable among small business owners, which also makes them the most competitive. You'll also need to meet strict requirements set by the SBA and potentially the lender.
Term Loans
A term loan provides you with a lump sum which you then pay back in installments, with interest. Term loans come as short-, medium-, or long-term loans, with terms ranging from 3 months to 7 years. Short-term loans typically require weekly or daily repayments, whereas long-term loans will require monthly repayments.
Term loan amounts typically reach around $500,000 but you may be able to secure a larger amount, depending on the lender.
Business Lines of Credit
A business line of credit is a good option if you need to cover more irregular or unscheduled expenses, or if you need to use funding more than once. You will be given a credit limit by a lender, which you can then withdraw from as and when you need to, only paying interest on the amount you actually use. Once you have paid back into your line of credit, you can use that money over and over again until the line is closed.
Using a business line of credit not only provides you with the funding you need, but it also allows you to build up a positive credit history.
Retail Loans
Retail loans are specifically designed to provide entrepreneurs with the capital they need to purchase retail property. This type of financing is provided by banks and private investors and will be difficult to obtain unless you have an strong credit score, often of at least 680. Interest rates are determined by this score, so retail loans are best for well-established businesses looking to expand their operation.
Banks and investors will need to see average monthly sales reports and a strong business plan during the application process, and if you are a new business you will need to put down a deposit or put up collateral to secure a retail loan.
Merchant Cash Advances (MCA)
Also known as a business cash advance, this funding method  offers a good option for an already established business that makes regular credit card sales. Advance amounts range from $2,000 to $100,000 but the amount you actually secure will depend on monthly credit card sales. Repayments are withdrawn from your account automatically, often daily, and are a percentage of that day's sales. The lender will stop making daily debits once the funding costs are completely repaid. The amount available and the costs associated are, similar to most lending types, based on business sales levels
Instead of an interest rate, many MCA lenders will assign your business a factor rate, which is a number (often) between 1.1 and 1.5, depending on details of your business and its industry. Similar to the way an interest rate may be set based on your creditworthiness, so is a factor rate, but they affect your costs differently. To understand your MCA costs, multiply the amount funded by your factor rate to get the total amount to be repaid. Unlike an interest rate, which accrues monthly over the course of the loan, an MCA loan does not accrue interest – what you pay at the end is the amount funded multiplied by your factor rate (though, of course, additional fees can be applied for late payments or other breaches).
Since credit scores are often not a deciding factor (though the lender may pull your score in the application process), you may still be eligible for a business cash advance with poor credit.
Inventory Financing
Inventory financing is a form of asset-based funding, using the inventory itself as collateral to secure the loan. You will be provided with capital, either as a term loan or line of credit, which you can use to buy the inventory you need to stock your clothing store. You then make your repayments, with interest, until you have paid back the total amount.
Since the inventory is used as collateral, if something happens that prevents you from repaying the loan, the inventory financing company will take possession of the purchased inventory and liquidate it to recoup their lended money.
Kickfurther offers a form of inventory funding with a few alterations that make it an even more attractive option for clothing brands. We fund your entire cost of landed goods and you don't make any payments on the inventory until you receive and begin selling through the products. Costs begin as low as 1% per month and brands can fund $20,000 – $1 million in inventory. Find out more here.
Where to Find Clothing Store Loans
Clothing store loans can be found at banks, credit unions, and via online platforms.
Banks and credit unions typically offer the best interest rates and loan terms, but the qualifying requirements and application process are stricter than alternative lenders. You will need to provide documents including a solid business plan, bank statements, tax forms, and profit-and-loss statements, as well as collateral documentation when applicable.
With an alternative lender, you can often access funding more quickly – sometimes as fast as one business day, after an (often) digital application process. This isn't to say you those platforms won't inquire about a number of creditworthiness points based on their own lending formulas, but these processes are often streamlined, self-service and significantly faster.  Despite frequently offering higher amounts to younger companies than traditional lenders, these providers frequently feature higher interest rates and shorter terms.
If you are able to qualify for a bank loan or loan offered by a credit union, that should always be your first choice. If you don't meet the requirements of either of those types of lenders, or you need more money than you're able to secure there, alternative lenders are a great option used by many growing businesses to reach the next level of success.
How to Choose the Best Business Loans for Apparel Brands
Choosing the best business loan for your clothing store depends on a few different factors.
You should consider the type of clothing store loan that is best for the needs of your business, whether that be a loan to buy a retail property, a loan to purchase inventory, a loan to cover daily expenses or a loan to cover gaps in cash flow. Identifying the exact need for financing will help you to narrow down which type/s of business loan will be best.
You should also determine whether you are willing to use any of your assets or inventory as collateral. If you are comfortable doing this, you are likely to find that you have more business loan options available to you, even if you have a less than excellent credit score.
It is also a good idea to focus on your credit score when choosing a business loan. If you work to build a good to excellent credit score, you will find that there are more options available and, not only that, but you will be more likely to secure the lowest interest rates with the best terms.
Can clothing stores get business loans with bad credit?
As mentioned above, having a good credit history means that you will have access to more loan types and lenders, but that does not mean that you will be unable to get a business loan for a clothing store if you have bad credit.
There are a handful of online, alternative lenders who will approve you for a loan with a credit score of 580 or less, typically in the form of a short-term loan or business line of credit. You are likely to find, however, that you will be offered higher rates and less desirable terms than if you were to have good credit. If another member of your ownership or leadership team is able to sign the loan, you may find more favorable terms.
Some business owners reporting less than ideal credit list merchant cash advance (MCA) as a great option. MCAs largely base their lending on your sales volume. You receive a set amount in exchange for a percentage of future sales. The MCA withdraws regular payments from your account, based on the agreed-upon percentage, until your borrowed amount is repaid. Rates can be high, but it may be a good option if you can't find a traditional form of funding or have sales volume that is more bankable than your personal credit.
For clothing and apparel brands with sales over $150,000 and personal credit over 600, inventory funding from Kickfurther can be a terrific option to increase inventory, free up cash on hand to reinvest across your business, and access volume-ordering discounts to improve your margin.
What do you need to apply for apparel brand financing?
Requirements for the above options vary based on the type of funding you choose and the lender. However, there are a number of things you can expect to need in order to apply for any type of funding for your clothing brand:
a solid business plan (for traditional loans)
at least 2 years in business – some online lenders will take less than this
a personal credit score of at least 600
a positive business history
profit-and-loss statements or proof of revenue
purpose of your loan
How do business loans benefit clothing brands?
There are a number of ways in which business loans can benefit clothing and apparel brands, including:
avoiding "stockouts" of top items that drive revenue
allowing for the purchase of larger inventory orders than cash on hand allows
providing the funds to expand into new distribution channels
providing capital needed to keep and hire new staff
covering costs of marketing and advertising
providing the funds needed to invest in appropriate technologies, such as an Inventory Management System
Finding the right funding for your clothing brand is important for growing and maturing your business to expand and compete. If you are looking for funding to purchase inventory or experience the ability to sell more if you had more inventory or available capital to reinvest into the business, Kickfurther can  help. Fund new inventory or leverage existing inventory for capital of $20,000 t0 $2 million, at costs often 30% lower than you'll find with other funding options and lenders, and we can have funds into your account quickly. To find out more about our process and how to apply, click here.
How does Warehouse Financing Work?
Connect with consumers across the United States to get your
inventory funded via our marketplace
Create your online account
Create a business account, upload your business information, and launch your deal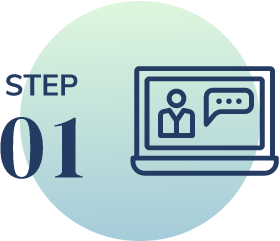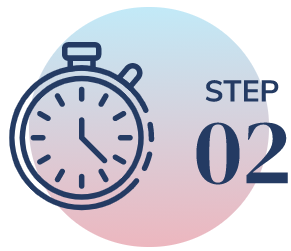 Get funded within minutes to hours
Once approved, our community funds most deals within a day, often within minutes to hours, so you'll never miss another growth opportunity.
Control your payment schedule
We pay your manufacturer to produce inventory. Make the introduction and you're off and running! Outline your expected sales periods for customized payment terms. At the end of each sales period, submit sales reports and pay consignment profit to backers for each item sold.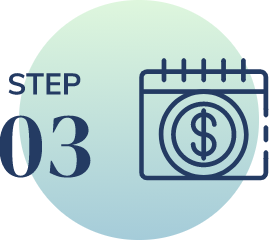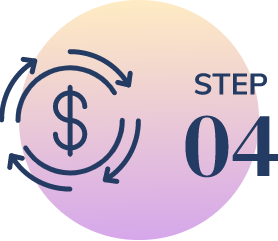 Complete and repeat!
Complete your payment schedule and you're done! Often once the community knows you, you're likely to get lower rates on your next raise.
How much funding could your company raise?
Submit this form to see your estimate.
Never miss another growth opportunity with working capital as you need it.
We fund inventory for direct-to-
consumer & major store brands