Amazon recently introduced the Manage Inventory Health page to help sellers manage excess and aged inventory. You'll need to be logged into your Seller Central account to access this feature.
Optimizing your FBA inventory can help you reduce costs and maximize your profitability. Let's explore the benefits of using recommendations from Manage Inventory Health alongside FBA inventory management best practices.
Manage Inventory Health
You can customize the metrics you see on your Manage Inventory Health page with Table preferences. The available metrics are sales, fees, pricing, and excess and aged inventory. There are several filters that can be used to group products that have similar inventory characteristics. The search feature makes it easy to find products with similarities, such as "blue" or "small." You can sort, filter, and take recommended actions on products directly from Manage Inventory Health.
Amazon recommends several possible actions depending on your inventory. You might be advised to improve keywords, create a Sponsored Products ad, lower the price, create a removal order, or take another action to improve your FBA inventory health.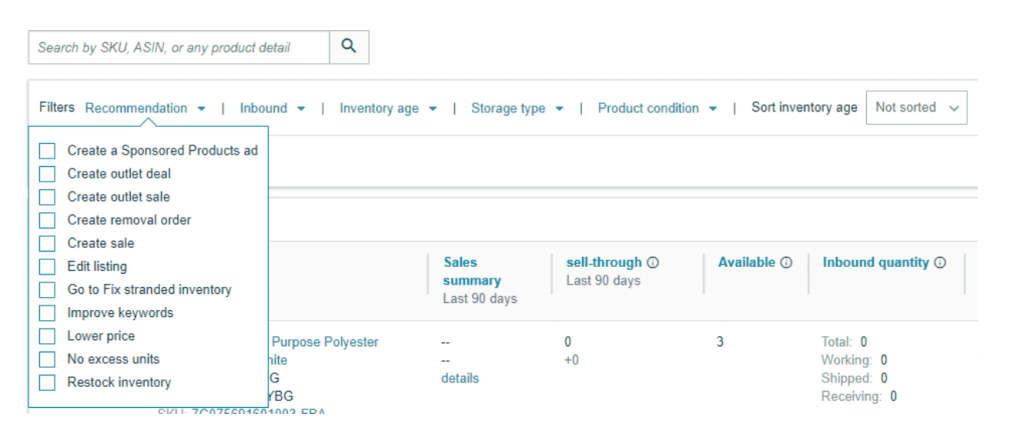 The purpose of this feature is to help you avoid aged inventory. Aging inventory increases your FBA storage fees and can affect how much new inventory you're able to send to the fulfillment centers.
How to Use Manage Inventory Health
Keeping your inventory in stock without overstocking is essential to running your Amazon business effectively. Storing inventory costs money, especially if you're racking up long-term storage fees at FBA. You may also find yourself subject to restock limits, particularly during busy seasons.
One way to prevent storage limits from impacting your business is to sell or remove excess inventory. You can use the Storage volume metric on the Manage Inventory Health page to sort your largest-volume products, then filter by Storage type to identify the items with the most excess units and/or lowest sell-through rate. After finding these products, you can optimize your inventory by changing the price, adjusting your promotional strategy, or removing the items from FBA.
Amazon recommends having enough inventory at FBA for 30 to 60 days of anticipated sales. Your goal is to have at least a 2.0 or higher sell-through rate on your products. Amazon includes sell-through rate when calculating your Inventory Performance Index (IPI) score. If your IPI is below the current threshold, you may be subject to future storage limitations.
You can create a removal or FBA Liquidations order by checking the box next to the product you'd like to remove. Open the drop-down menu and choose Create removal order to enter your inventory into the workflow for removal or liquidation. You may remove or liquidate up to 50 items at a time.
Tips for Managing FBA Inventory
In addition to managing aging and excess inventory, you'll want to follow other best practices to manage your inventory effectively and maintain your profits. Happily, these same practices can help you maintain a good IPI score and avoid storage limitations. Here's what Amazon looks for when determining your IPI:
excess inventory rate
sell-through rate
stranded inventory rate
in-stock inventory
In other words, Amazon wants to see that you are selling inventory quickly (or at least steadily) and not stocking excess inventory at the fulfillment centers. Since stranded inventory cannot be sold on Amazon, it's in your best interest as well as Amazon's for you to resolve any stranded inventory issues as soon as you can. You also need to keep enough inventory in stock at FBA to fulfill orders without the risk of running out of stock.
Finding the right inventory balance is challenging. It also changes frequently depending on seasonal trends, holidays, supply chain delays for similar products (which could drive up demand for your item), and much more.
Using a dedicated FBA inventory management tool like RestockPro by eComEngine can help you keep your business running smoothly. You can manage suppliers, create purchase orders, track inbound shipments, build kits, and much more. Not only that, but you'll also get customized recommendations for what to restock and when based on your inventory and business goals.
Sellers who use RestockPro for FBA inventory management along with Kickfurther's inventory funding grow faster. We've partnered to make it easier than ever for you to request inventory funding. See how RestockPro simplifies Amazon inventory management.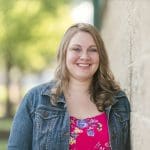 Becky Trowbridge is the Digital Marketing Manager at eComEngine. Her mission is to empower Amazon sellers with the information they need to be successful in a competitive market. When she's not creating content, she enjoys spending time outdoors, trying new recipes, and reading.