E-Commerce Inventory Financing
Do you sell a physical product with sales over $150,000?
E-commerce is now an essential part of many product businesses' sales planning. Of course, when you're selling online, demand can increase quickly, and you often need to be flexible enough to follow consumer trends. This can mean buying new stock fast at the beginning of a trend, or growing to meet a sudden increase of demand.
The problem is, many growing businesses rarely have the cash flow to be able to fund enough inventory to meet demand or projections without sacrificing in other areas of business or without eliminating spending on other crucial business expenses. Or maybe it's simply that you have a hot product and inventory is flying off shelves but you're not sure you can produce enough more, and quickly enough, to meet demand. This is where e-commerce financing can become essential.
Learn More
How much funding could your company raise?
Submit this form to see your estimate.
Why choose Kickfurther for
E-Commerce Inventory Financing?
Don't pay until
you sell.
Your payment obligation only begins once your sales are made. This alleviates the cash-flow pinch that lenders cause without customized repayment schedules. Free up capital to invest in scaling your business without impeding your ability to maintain inventory
Know your rates. When you compare ours, you'll often see that you're saving. We cost less than factoring, PO financing, and many lenders. We also have higher limits than competitors.
Fund up to $5 million
in an hour.
Once approved and the deal goes live, most deals fund within a day (often within minutes to hours), so you'll never miss another growth opportunity.
It's easy, it works, &
it grows with you.
Companies access higher funding limits and often get lower rates as they return to Kickfurther, creating a scalable solution that grows alongside your company.
"Tough Times Call For Creative Funding — Check Out
Kickfurther's Clever Model"

Join 800+ Kickfurther success stories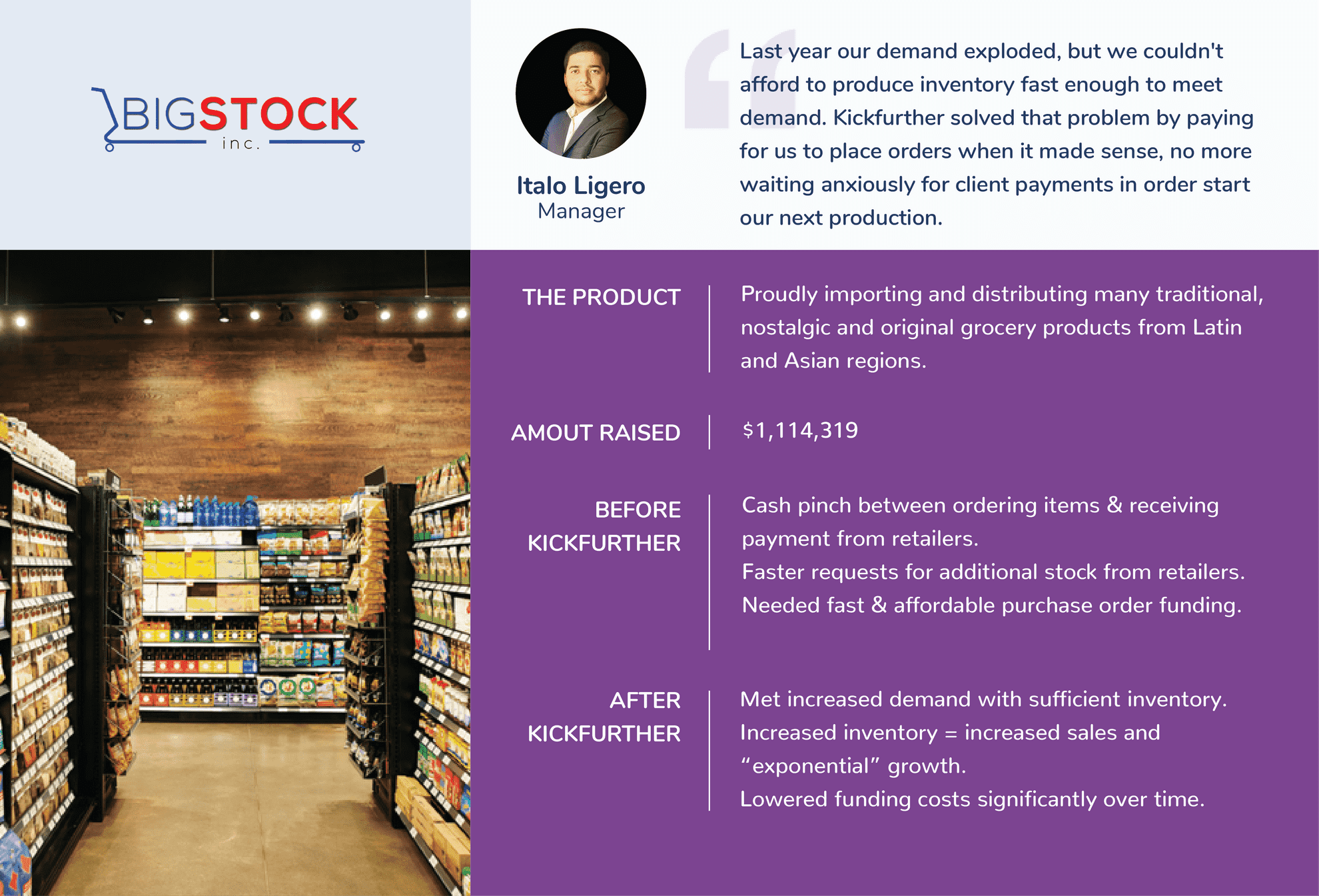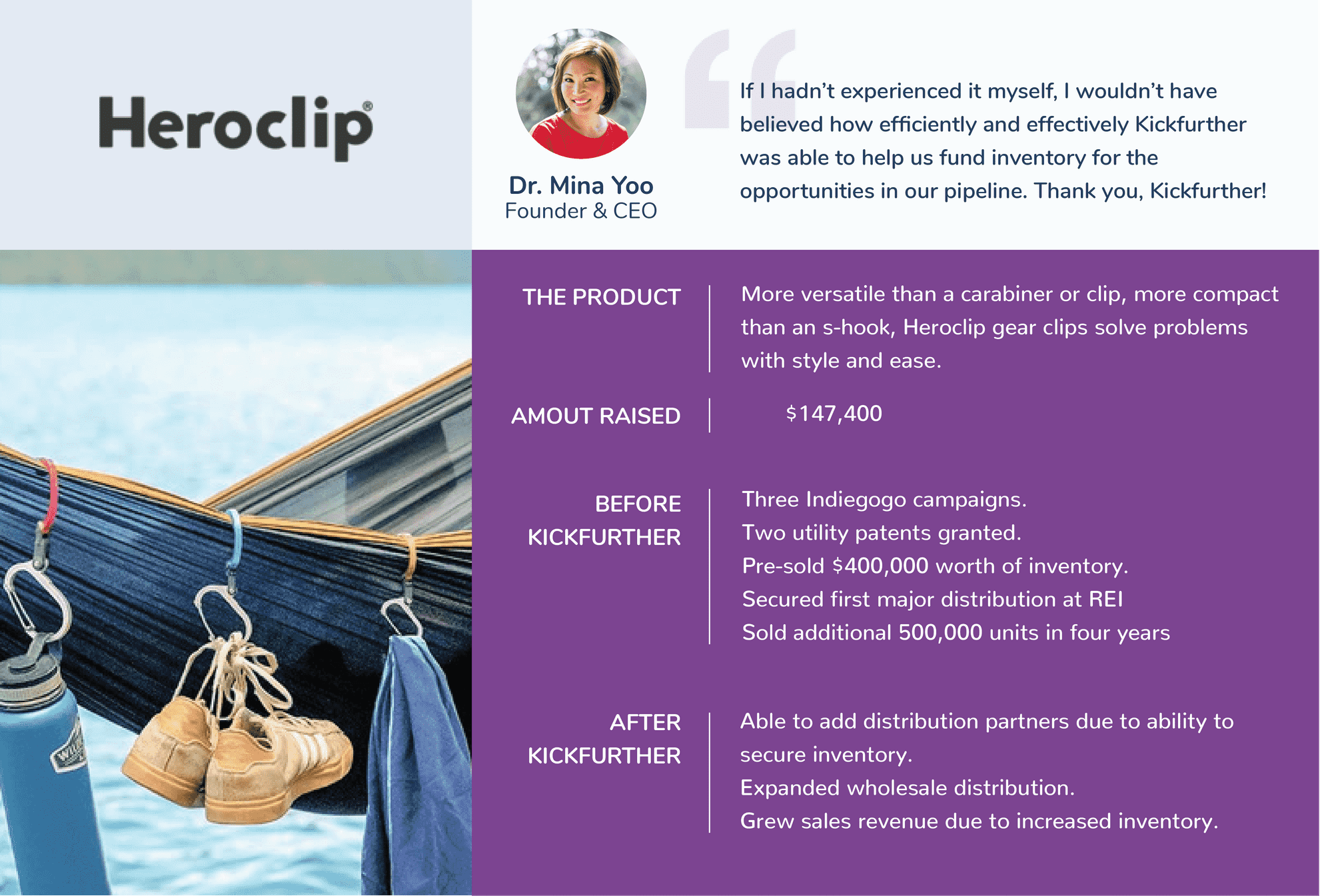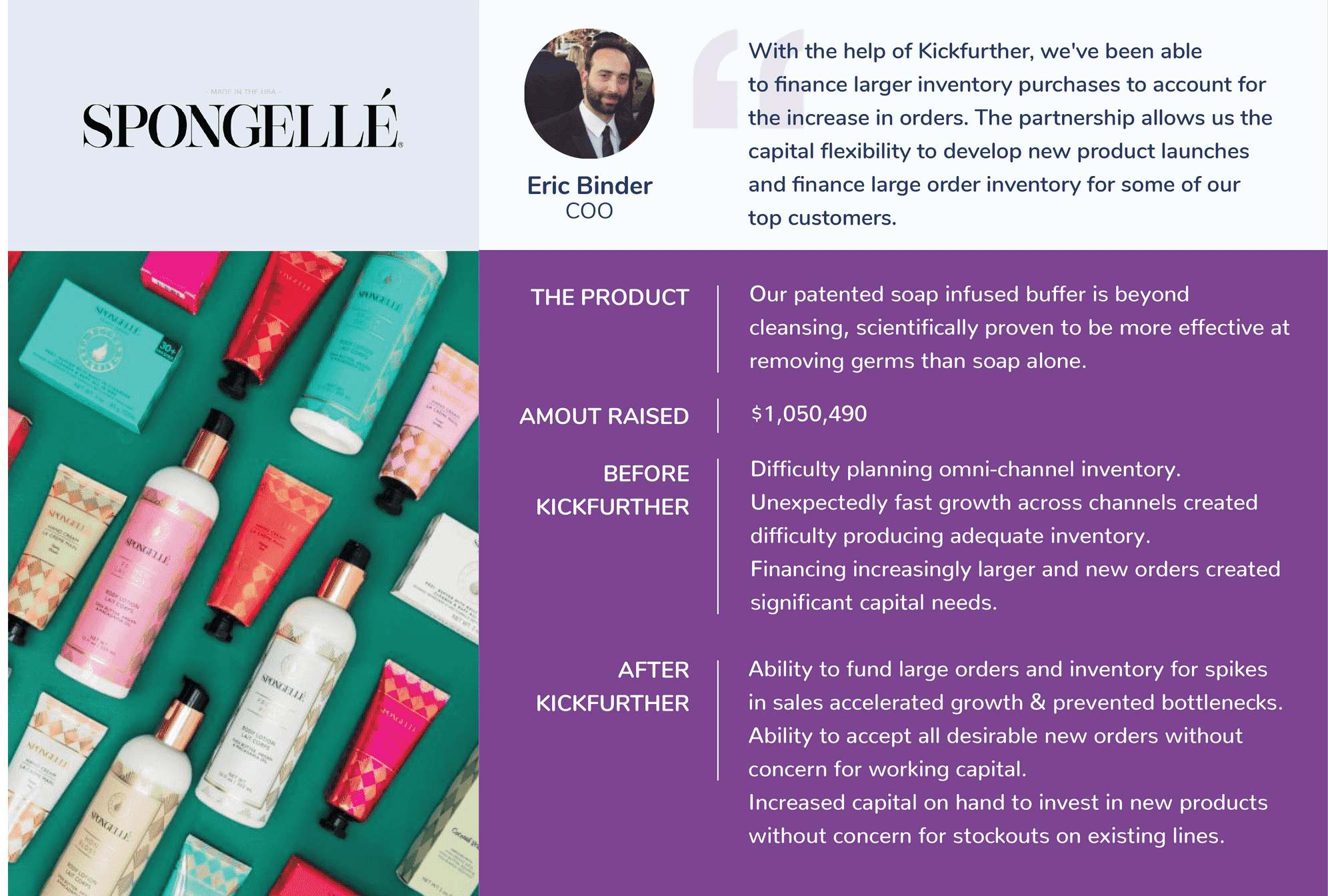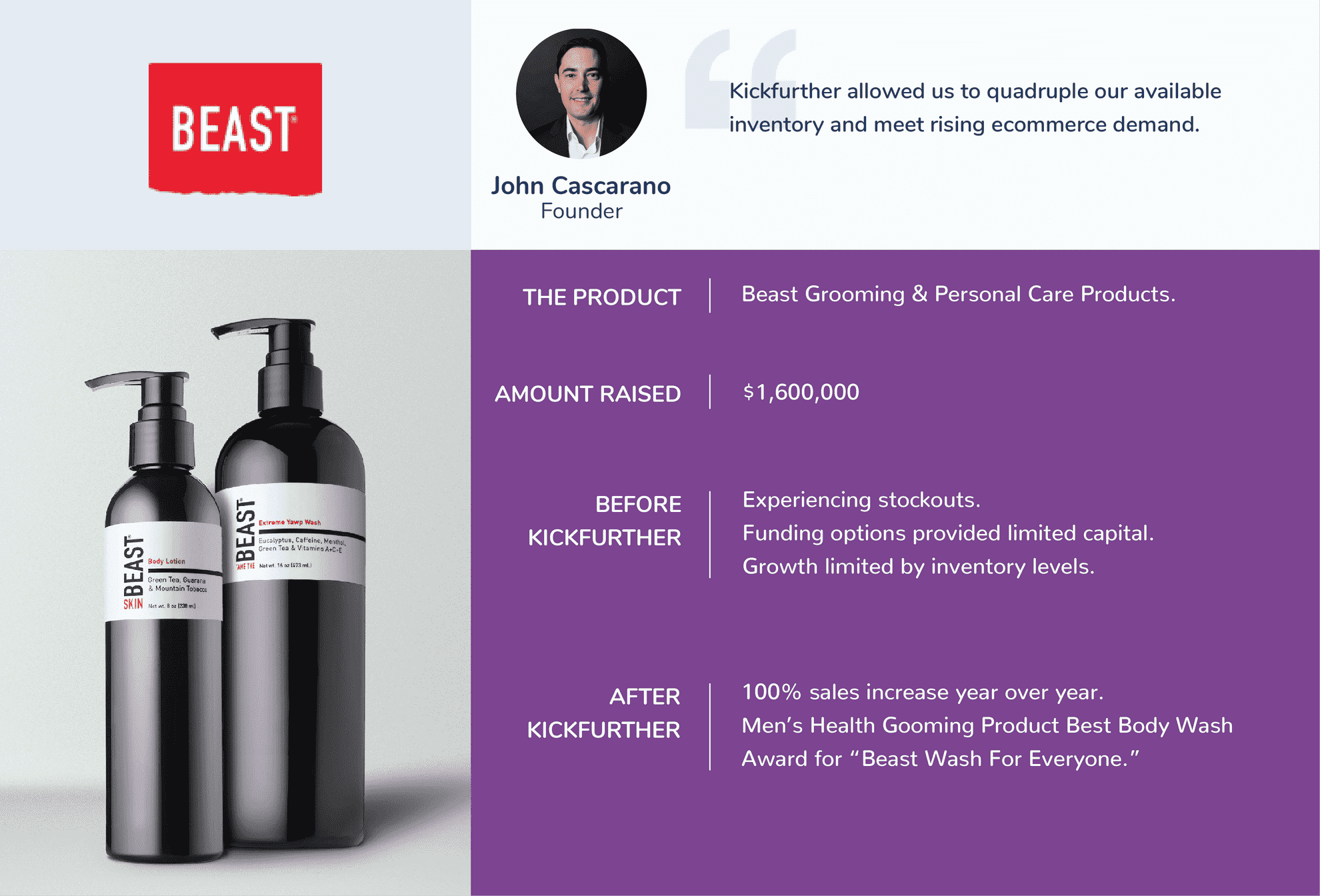 E-Commerce Seller Inventory Financing Options

What is E-Commerce Financing?
E-commerce financing is a commercial financing option that is suitable for, or geared toward, e-commerce businesses – whether you sell direct-to-consumer, on an online marketplace like Amazon, or through platforms like Shopify or Magento. The company in question may be a brand that only does business with its customers online, or it may be an omnichannel brand with a combination of online, wholesale or retail sales.
There are a number of options for e-commerce financing with different features to keep in mind.
What are the Different E-Commerce Financing Options?
There are several options to choose from when applying for financing and e-commerce loan:
Merchant Cash Advance – For a quick ecommerce seller financing solution, a Merchant Cash Advance is a lump-sum payment in exchange for an agreed-upon percentage of credit and debit card payments the business will receive in the future. The business pays back the money directly from its bank account or merchant account on a daily or weekly basis. In most cases, the lender will simply deduct a percentage of each sale as payment until the debt is fully repaid.
Inventory Financing – If you use inventory financing to purchase your stock, then the stock itself is collateral for the loan. If you were to default on the loan, the lender would seize the remaining inventory. Inventory financing can be organized in a few different ways. You may get it in the form of a traditional loan, where you'll receive a lump sum to purchase your inventory, and you pay it back monthly or as you sell your inventory. When the inventory has or sold, or at the end of the term, the loan is fully paid off. Alternatively, you may work with a lender that can offer inventory financing on a revolving line of credit, where you can borrow more once you pay it back. Be aware that in either case, your lender will not typically lend more than 50-80% of the full cost of the inventory.
Inventory financing offers a creative solution if you need to free up capital tied up in inventory. This type of short-term small business funding allows businesses to secure upfront cash to meet customer demand. So should you use inventory financing?
Commercial Loans – Usually issued by banks, commercial loans are loans advanced to a business rather than an individual. Banks require borrowers to submit monthly and annual financial statements. They can be secured or unsecured. In either case, banks often present the most conservative lending a company will pursue and require good credit scores and profitability, and the company needs to be in business for a minimum of 2-3 years.
Line of Credit – This works like a credit card. You agree upon a limit with your lender, and then you have an amount you can use at will. Whatever you pay back, you can use again, and you only pay interest on what you've borrowed. This can be a great way to manage your cash flow, but you need to be savvy with your spending and knowing your cash flow cycles to make this work best.
Peer to Peer Lending – Peer to peer lending is essentially a loan from one person or group of people to another person or business. Similar to crowdfunding, in peer-to-peer lending, users are intending to buy product from you but are looking to assist you in your goal and earn a return on their money as it is repaid.
How Does Kickfurther Offer Financing?
By matching brands with "buyers" (who play the role of the lenders we talked about above), Kickfurther allows you to raise money from people who like and believe in your business and what you plan to do next. They believe you will succeed, and so invest their money in you, creating a great option for ecommerce startup funding.
Kickfurther funds inventory production runs for growing businesses. As those businesses sell the funded inventory, they make a small payment back to Kickfurther until their total funding amount is paid.
For many brands, not making any payments until the funded goods begin selling works best with their natural cash flow. In the way you would receive an interest rate on borrowed money from a bank, with Kickfurther, you actually take control of this cost. You present a monthly rate you'll pay on the inventory. What brands especially appreciate about Kickfurther is the capability to often offer lower rates in subsequent funding offers because you've established yourself as a reputable funding partner.
Kickfuther's vetting process is thorough (we review items like personal and business credit score) but we fund 99.5% of approved brands, often in minutes to hours.
Try Kickfurther
Inventory Financing for E-Commerce Companies
Even in a thriving business, there can be times when additional capital is needed to keep reinvesting into the business to secure longer-term growth. Unfortunately for small companies, they can't raise money from issuing a bond or a new round of stock like large public companies. As they turn to banks, they'll often realize banks' requirements  are especially lofty for a young company and that they're unable to meet requirements in order to secure larger funding amounts. This is where Inventory Financing comes in.
Small companies can experience seasonal cash flow shortages or tight budgets that prevent them from having the up-front money needed to purchase inventory in quantities that meet their demand or that allows them to unlock manufacturer discounts through larger orders.
Inventory Financing with Kickfurther provides the capital to purchase more inventory now  and doesn't require a company to begin making payments on that money until inventory begins selling, which prevents the cash pinch that many traditional loans can cause or exacerbate.
With Kickfurther, your company now has the inventory it needs to prevent stockouts, add distribution partners and capitalize on strong sales..
Why use inventory financing?
It can help smooth out the effects of seasonal fluctuations in some types of business and cover gaps in cash flow. It can also allow a business to buy in bulk to get a great price, or order new inventory to meet a sudden rush in demand. It can help you grow without the need to put up your own assets as collateral and it doesn't dilute equity.
What are the pros and cons of inventory financing?
As with any business decision, it's important to weigh the advantages and disadvantages of acquiring inventory financing.
Pros of Inventory Financing
Easier to qualify for as opposed to other types of loans.
Perfect for retailers, manufacturers, distributors, and other businesses that deal with tangible products.
Lenders are more willing to look past bad credit because the loan is secured by the value of your inventory.
An inventory financing loan enables businesses to prepare for seasonal demand and even expand their product lines.
Cons of Inventory Financing
If you become unable to pay back your loan, your lender reserves the right to seize the purchased inventory to recover the lent capital.
The due diligence process can be very expensive and time-consuming.
Inventory financing loans cannot be used for other financing needs.
How to Apply for Kickfurther E-Commerce Inventory Funding
Kickfurther functions completely differently from many traditional forms of business financing. In short, you'll tell Kickfurther how much you need in order to order new inventory. Kickfurther will pay your manufacturer directly (we can also reimburse you for recently produced inventory). After you receive your inventory and begin selling, you'll make a payment back to Kickfurther for each item sold.
To begin, create an account to see how much you may be eligible to fund. We'll review your sales and credit to begin approving your company. We're proud to fund 99.5% of eligible companies!
Start today by, creating a Brand account and tell us a little about your company. Once you begin, you'll be connected with an account representative to help answer questions and get you funded.  You can find out more about our screening process here.
How Does Kickfurther Compare to Inventory Financing Options?
Unlike other funding options, Kickfurther often offers higher available funding and lower costs. That sounds too good to be true, we know, but that's often what brands tell us after they've compared us to ecommerce business loans. We also offer brands the ability to create their own payment timeline based around their expected cash flow. Many growing brands have more than one funding tool in their toolbox and we're happy to answer any questions and provide guidance on how to best use your options, whether or not we're one of them!
What Are Some of the Big E-Commerce Brands That Have Used Kickfurther?
We fund ecommerce businesses every day. Whether you need $20,000 in extra inventory at the end of a season or need $500,000 or more to prepare for sales, see how other ecommerce brands have funded inventory on Kickfurther and how it's helped them grow faster than other options would have allowed. See brands like these here. Some of our success stories:
Tame the Beast funded their 14th Kickfurther co-op of $303,815 in just 11 minutes. This helped them purchase more tried-and-true products from their line which they sold on Amazon, among other places. They've funded over $1.5MM of inventory with Kickfurther and doubled their business.
Fresher Products Limited funded $27,952 for their popular Hungry Fan range in just 44 seconds! They sell their products across Amazon, eBay, and other stores online.
Ameretail LLC funded  $29,522 to buy popular branded toy products to sell on Amazon in just five minutes.
Good Groceries Company received funding of $114,420 on their 2nd Kickfurther funding deal. Their success funding an initial inventory run with Kickfurther and successfully paying back helped fund their second deal with Kickfurther incredibly quickly.
If you're looking for e-commerce financing to help you purchase more inventory to sell on your own store or other marketplaces, see why growing e-commerce brands fund more inventory and grow faster with Kickfurther!
How does E-Commerce Seller Financing Work?
Connect with consumers across the United States to get your
inventory funded via our marketplace
Create your online account
Create a business account, upload your business information, and launch your deal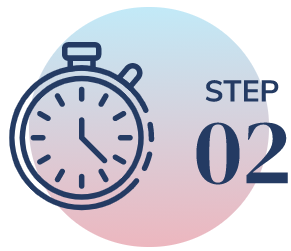 Get funded within minutes to hours
Once approved, our community funds most deals within a day, often within minutes to hours, so you'll never miss another growth opportunity.
Control your payment schedule
We pay your manufacturer to produce inventory. Make the introduction and you're off and running! Outline your expected sales periods for customized payment terms. At the end of each sales period, submit sales reports and pay consignment profit to backers for each item sold.
Complete and repeat!
Complete your payment schedule and you're done! Often once the community knows you, you're likely to get lower rates on your next raise.
We fund inventory for direct-to-
consumer & major store brands