Baby Care Product Supplier Financing
Do you sell a physical product with sales over $400,000?
Baby care product suppliers dedicate their business to providing retailers with quality products at a price they can markup and earn a profit. Part of the secret for suppliers to pass along great prices is being able to offer large quantities of inventory. However, purchasing and storing large quantities of inventory can tie up cash flow and increase operating expenses. To further complicate matters, as a supplier you probably deal with (voluntarily or involuntarily) delayed payments on large orders. For example, you may allow accounts to pay for orders within 30 days of delivery.
Learn More
How much funding could your company raise?
Submit this form to see your estimate.
Why choose Kickfurther for Inventory Financing?
Don't pay until
you sell.

Your payment obligation only begins once your sales are made. This alleviates the cash-flow pinch that lenders cause without customized repayment schedules. Free up capital to invest in scaling your business without impeding your ability to maintain inventory


Know your rates. When you compare ours, you'll often see that you're saving. We cost less than factoring, PO financing, and many lenders. We also have higher limits than competitors.
Fund up to $5 million
in an hour.

Once approved and the deal goes live, most deals fund within a day (often within minutes to hours), so you'll never miss another growth opportunity.
It's easy, it works, &
it grows with you.

Companies access higher funding limits and often get lower rates as they return to Kickfurther, creating a scalable solution that grows alongside your company.

"Tough Times Call For Creative Funding — Check Out
Kickfurther's Clever Model"

Join 800+ Kickfurther success stories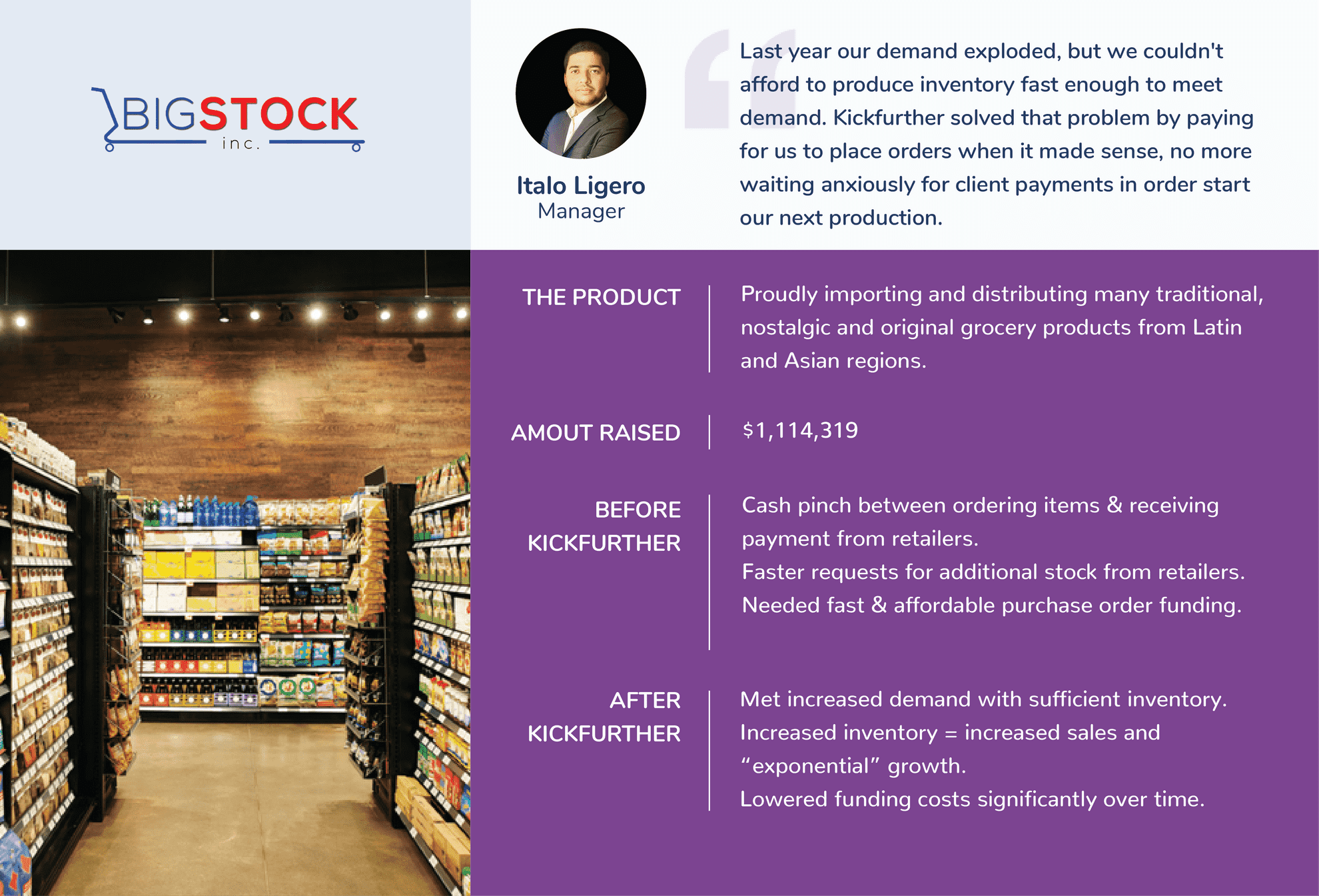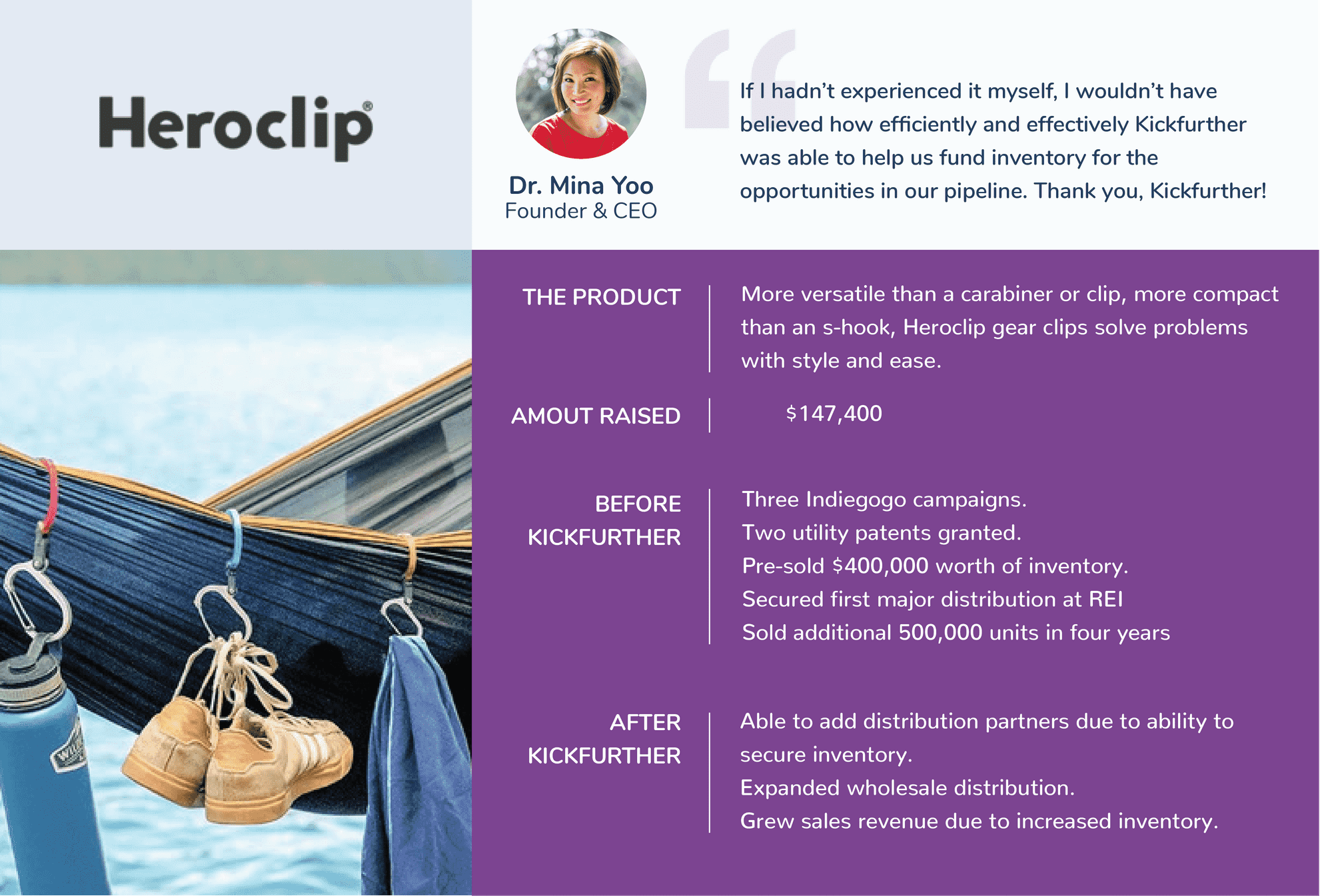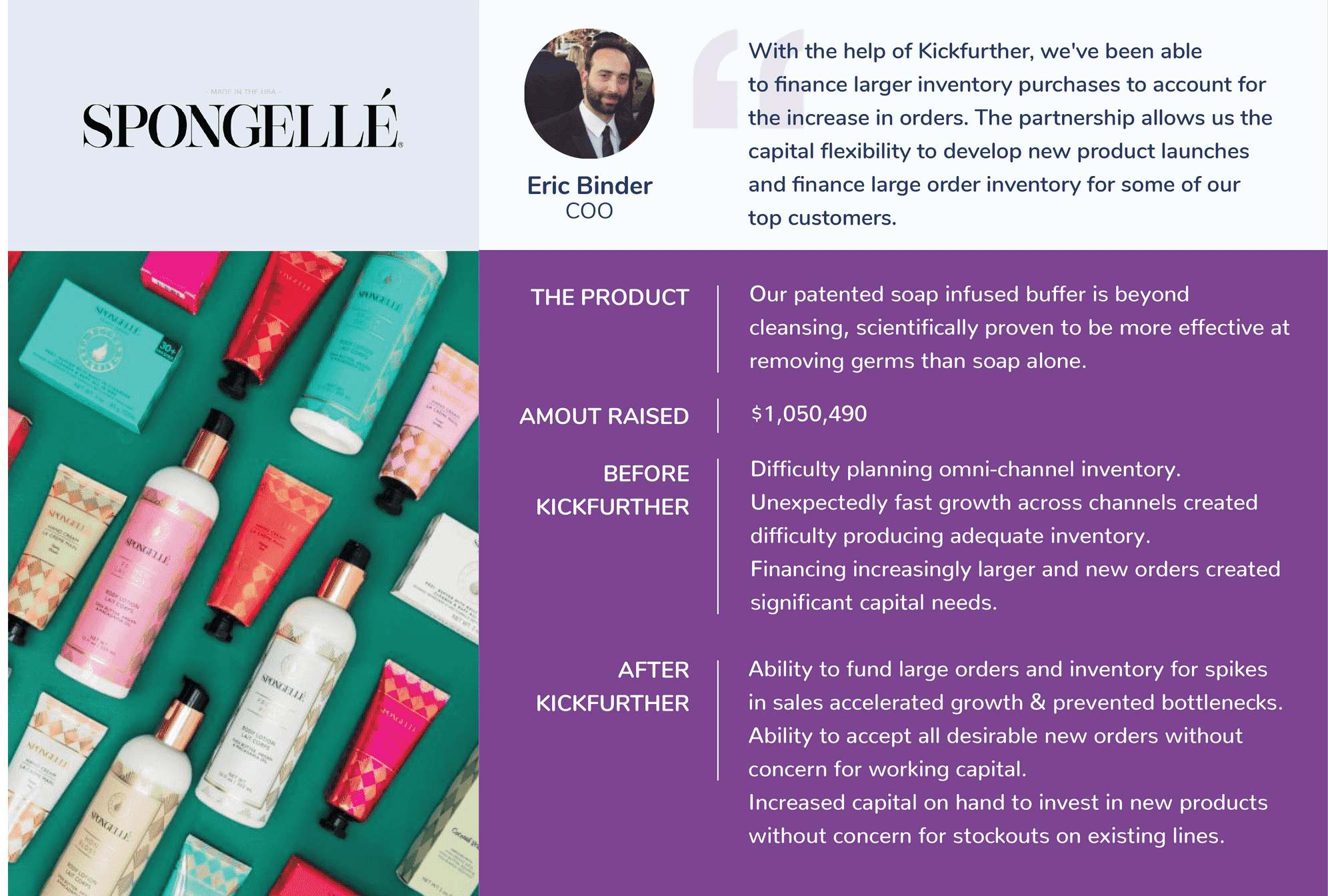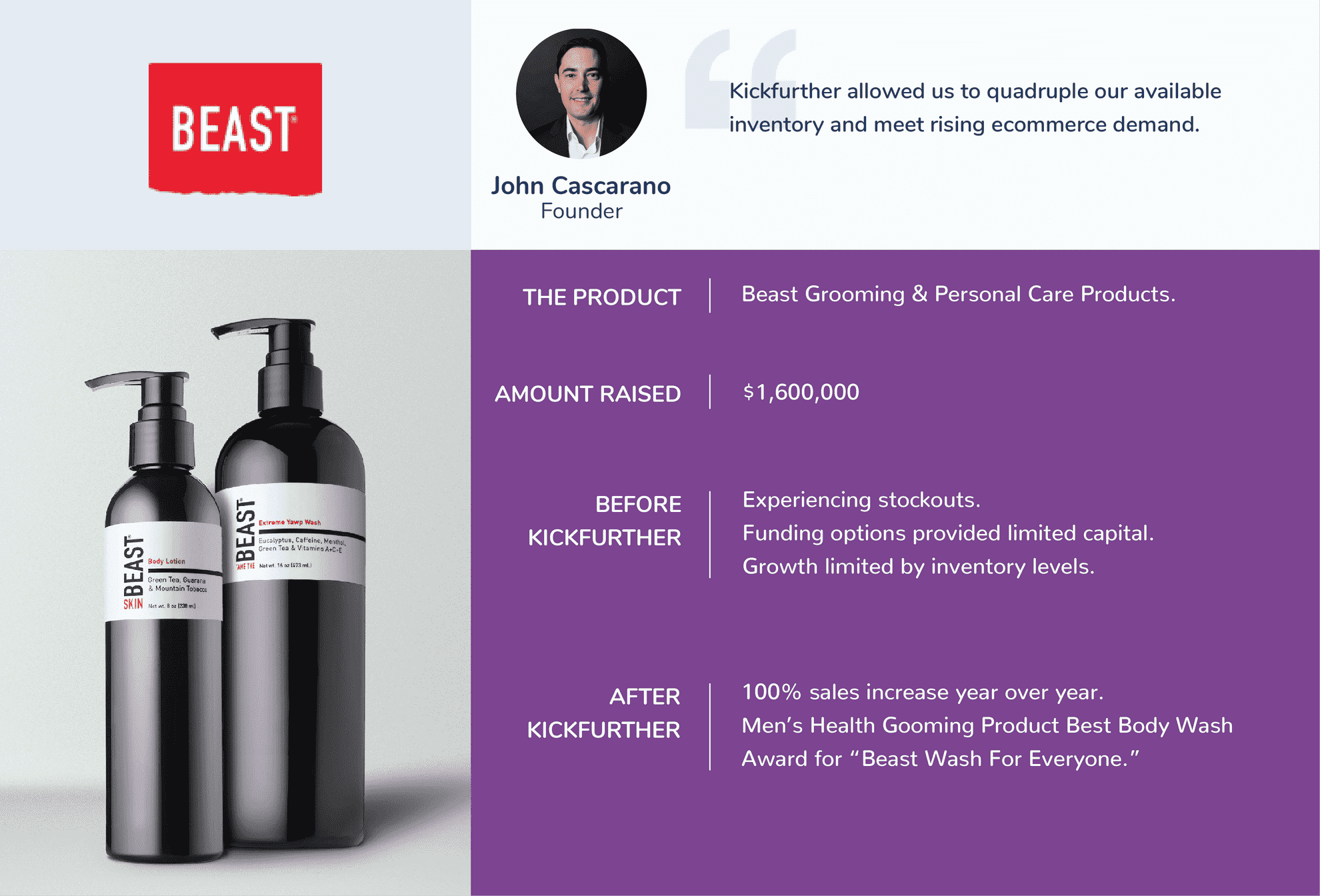 Financing Options for Baby Care Product Suppliers
Payment flexibility can help sell more inventory, but it can also add financial burden. Baby care product supplier financing can help cash flow and help take your business to the next level. Keep reading to learn everything you need to know about affordable baby care product supplier financing. 
What is baby care product supplier financing?
Baby care product supplier financing is a resource that helps suppliers do what they do best – buy and sell inventory! As a supplier, merchandise can tie up free cash flow, so much so that it can impact other areas of your business. In addition, you may offer payment plans or delayed payments which can further complicate matters. By using baby care product supplier financing you can improve cash flow by borrowing funds for the inventory you need. There are a variety of ways you can borrow the money, keep reading to explore options. 
How financing for baby care product suppliers works
The specifics on how financing or funding works will vary depending on the route you go. If you use a traditional inventory loan you'll receive a loan based on the value of your inventory. In most cases, the lender will use the inventory as collateral. Repayment plans can vary. Some lenders may require fixed monthly payments, while others may offer more flexible options. The most important part of financing is to ensure that it's affordable and supports your business mission. And of course, helps you make more money. Traditional inventory loans can be complicated, strict, and expensive, thus sending business owners in search of a better solution. If you're looking for baby care product supplier financing, you should create a business account at Kickfurther. From easy access to funds from backers to flexible repayment plans, Kickfurther understands the needs of small businesses. Compared to other options, Kickfurther is up to 30% cheaper. 
Types of financing options available for baby product based businesses
As a baby product based business owner, you may need financing now or down the road. Being educated about the options available can help you make better, more informed business decisions to produce the best results. Here are some common types of financing options for baby product based businesses.
Inventory loan. A traditional inventory loan can be costly, but it can help you get your hands on the inventory you need. 

SBA loan. SBA loans are offered by SBA-approved lenders. The SBA is a government backed agency.

Business loan. A traditional business loan can help cover most business expenses, including inventory.

Inventory funding. Inventory funding is from a community of backers and does not require you to give up ownership for funding. Small businesses and startups that are struggling to obtain funding from traditional sources should consider this option.

Line of credit. A line of credit can improve cash flow, but is not designed to finance large purchases over an extended period of time. 
How inventory financing can help your baby product based business 
Inventory financing can help your baby product based business in many ways. The most obvious is the ability to buy more inventory, but the benefits are a domino effect. By borrowing money to buy inventory, you can free up cash flow. More free cash flow can create the opportunity for you to invest in other areas of your company to grow sales and operate more efficiently. It can also allow you to offer more flexible payment plans for accounts so you can encourage them to place large orders. Lastly, the ability to buy or produce inventory in large quantities can allow you to keep costs down.
Common reasons baby care suppliers seek financing
Operating any business requires plenty of capital. When running an inventory based business there can be major cash flow challenges, thus the main reason baby care suppliers seek financing. Financing can be used for the following investments.
Inventory

Inventory systems and software

Expansion

Marketing

Creating websites

Equipment
Pros and cons of financing for baby care product suppliers
Financing can open new doors, but it can also create challenges too. As with any decision, there are pros and cons that go along with financing for baby care product suppliers. While they may vary depending on individual circumstances, here are some general pros and cons. 
PROS 
Grow sales by stocking or producing more inventory

Drive costs down with bulk discounts

Free up cash flow 

Elevate your business while maintaining ownership 
CONS
Potential risk of failure

Interest and fees

Increased pressure to sell inventory
Which financing option is best for your business?
To determine the financing option that's best for your business, you'll need to do some research and reflecting. Ultimately the option that's best will depend on your needs and goals. For small businesses and startups in need of funding for inventory, Kickfurther is a resource you should explore, especially if you're struggling to secure funding through traditional sources. 
What credit score do I need to obtain financing for my business?
When it comes to qualifying for a loan or funding there will be requirements. Personal credit score is typically one of those requirements, although aspects of your business such as sales will also be important. In most cases, you should have a credit score of 680 or better to qualify for business financing. If you can provide collateral, requirements may become less strict. Kickfurther is an alternative platform for inventory funding, thus making qualifying faster and easier without costing more. At Kickfurther you may be able to qualify with a personal credit score of 600 if you meet or exceed other requirements. Other requirements include a minimum $150,000 revenue over the last 12 months, must sell non-perishable products, and at least one production run.
What do I need to qualify for financing for my baby product based business?
Qualification requirements for financing will vary depending on the source. Most backers or lenders will have requirements in the following fields:
Credit score

Revenue

Length in business

Product restrictions

Assets

Ownership status 
How can Kickfurther help your business?
Kickfurther funds up to 100% of your inventory costs on flexible payment terms that you customize and control. With Kickfurther, you can fund your entire order(s) each time you need more inventory and put your existing capital to work growing your business without adding debt or giving up equity.
Why Kickfurther?
No immediate repayments: You don't pay back until your new inventory order begins selling. You set your repayment schedule based on what works best for your cash flow.
Non-dilutive: Kickfurther doesn't take equity in exchange for funding.
Not a debt: Kickfurther is not a loan, so it does not put debt on your books. Debt financing options can sometimes further constrain your working capital and access to capital, or even lower your business's valuation if you are looking at venture capital or a sale.
Quick access: You need capital when your supplier payments are due. Kickfurther can fund your entire order(s) each time you need more inventory.
Kickfurther puts you in control of your business while delivering the costliest asset for most CPG brands. And by funding your largest expense (inventory), you can free up existing capital to grow your business wherever you need it – product development, advertising, adding headcount, etc.
Interested in getting funded at Kickfurther? Here are 3 easy steps to get started:
#1. Create a free business account
#2. Complete the online application 
#3. Review a potential deal with one of our account reps & get funded in minutes
How does Inventory Financing Work?
Connect with consumers across the United States to get your
inventory funded via our marketplace
Create your online account
Create a business account, upload your business information, and launch your deal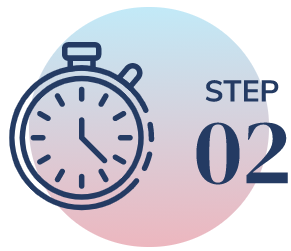 Get funded within minutes to hours
Once approved, our community funds most deals within a day, often within minutes to hours, so you'll never miss another growth opportunity.
Control your payment schedule
We pay your manufacturer to produce inventory. Make the introduction and you're off and running! Outline your expected sales periods for customized payment terms. At the end of each sales period, submit sales reports and pay consignment profit to backers for each item sold.
Complete and repeat!
Complete your payment schedule and you're done! Often once the community knows you, you're likely to get lower rates on your next raise.
We fund inventory for direct-to-
consumer & major store brands