Purchase Order Financing
Do you sell a physical product with sales over $150,000?
Regardless of where, what and how you sell, maintaining positive cash flow remains the critical element for survival in brands of all sizes. Well managed finances and positive cash flow allow your company to grow faster, without interruption and more steadily while adding the strength to withstand inevitable headwinds of the market and competition.
Short of the most cash-rich companies and startups, many brands find they need a finance partner to access growth capital, pay for new inventory, cover set expenses while waiting on invoice payments, and fund increasingly larger orders from existing and new distributors as they grow.
Learn More
How much funding could your company raise?
Submit this form to see your estimate.
Why choose Kickfurther for
Purchase Order Financing?

Don't pay until
you sell.
Your payment obligation only begins once your sales are made. This alleviates the cash-flow pinch that lenders cause without customized repayment schedules. Free up capital to invest in scaling your business without impeding your ability to maintain inventory

Know your rates. When you compare ours, you'll often see that you're saving. We cost less than factoring, PO financing, and many lenders. We also have higher limits than competitors.

Fund up to $1 million
in an hour.
Once approved and the deal goes live, most deals fund within a day (often within minutes to hours), so you'll never miss another growth opportunity.

It's easy, it works, &
it grows with you.
Companies access higher funding limits and often get lower rates as they return to Kickfurther, creating a scalable solution that grows alongside your company.
"Tough Times Call For Creative Funding — Check Out
Kickfurther's Clever Model"

Join 800+ Kickfurther success stories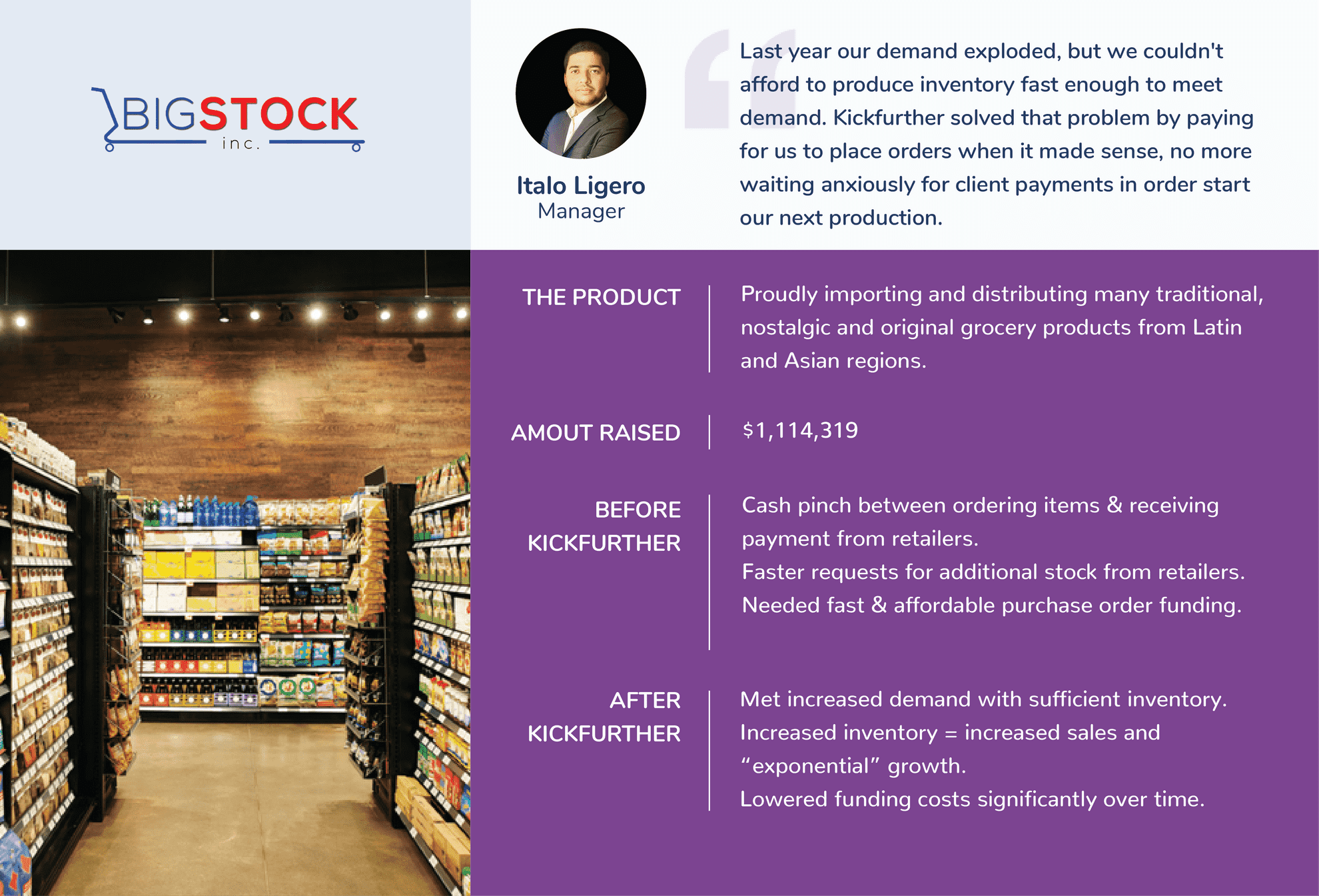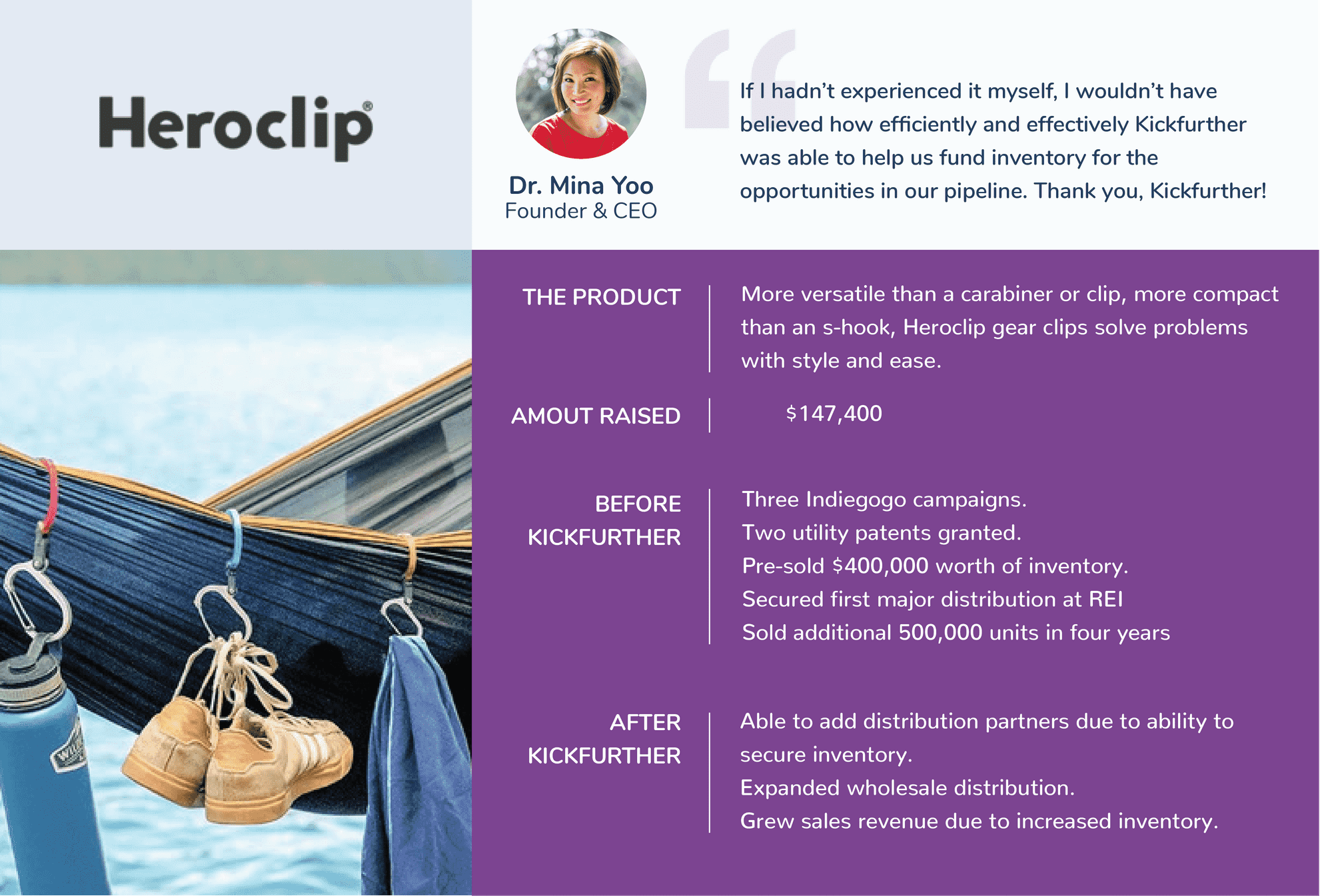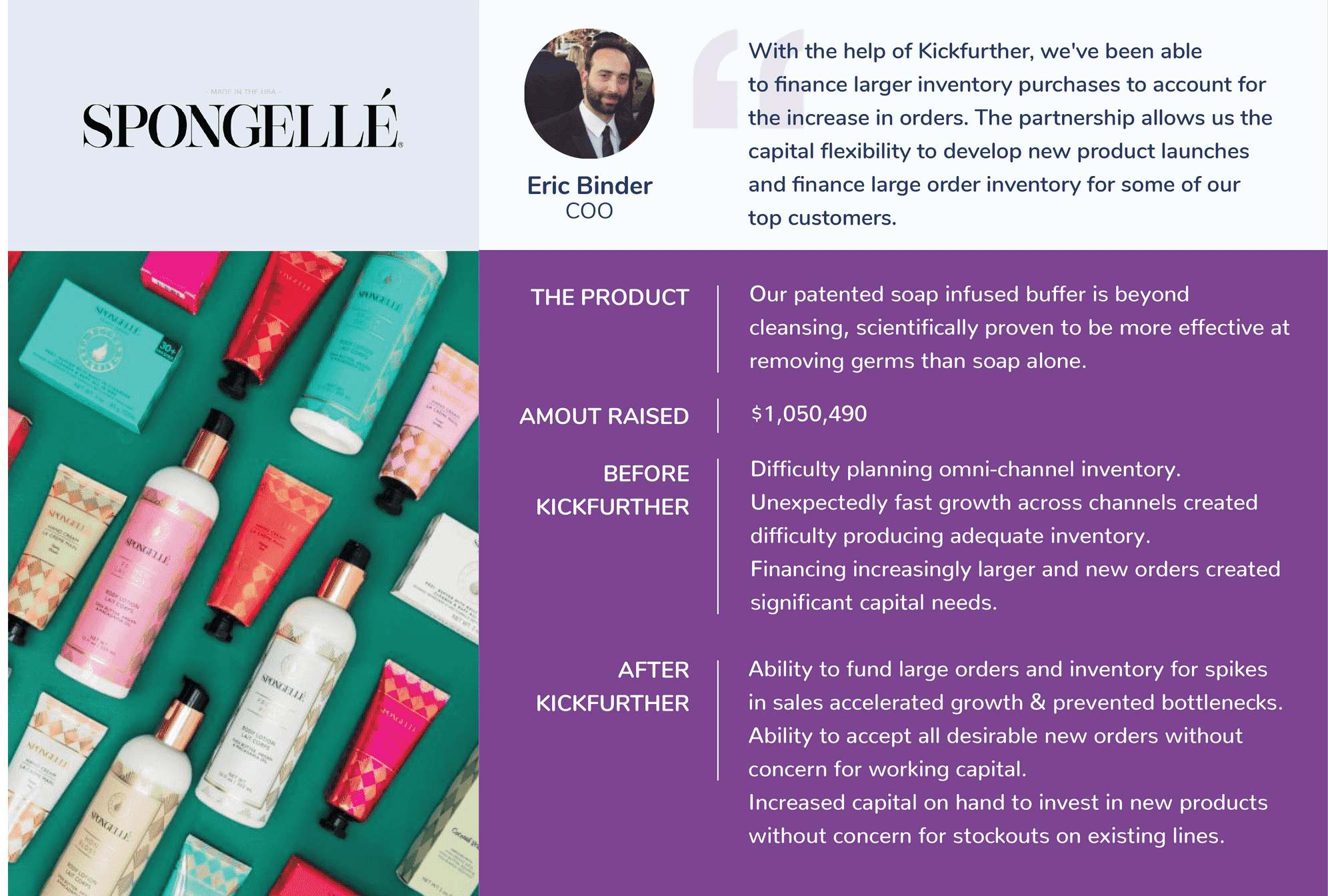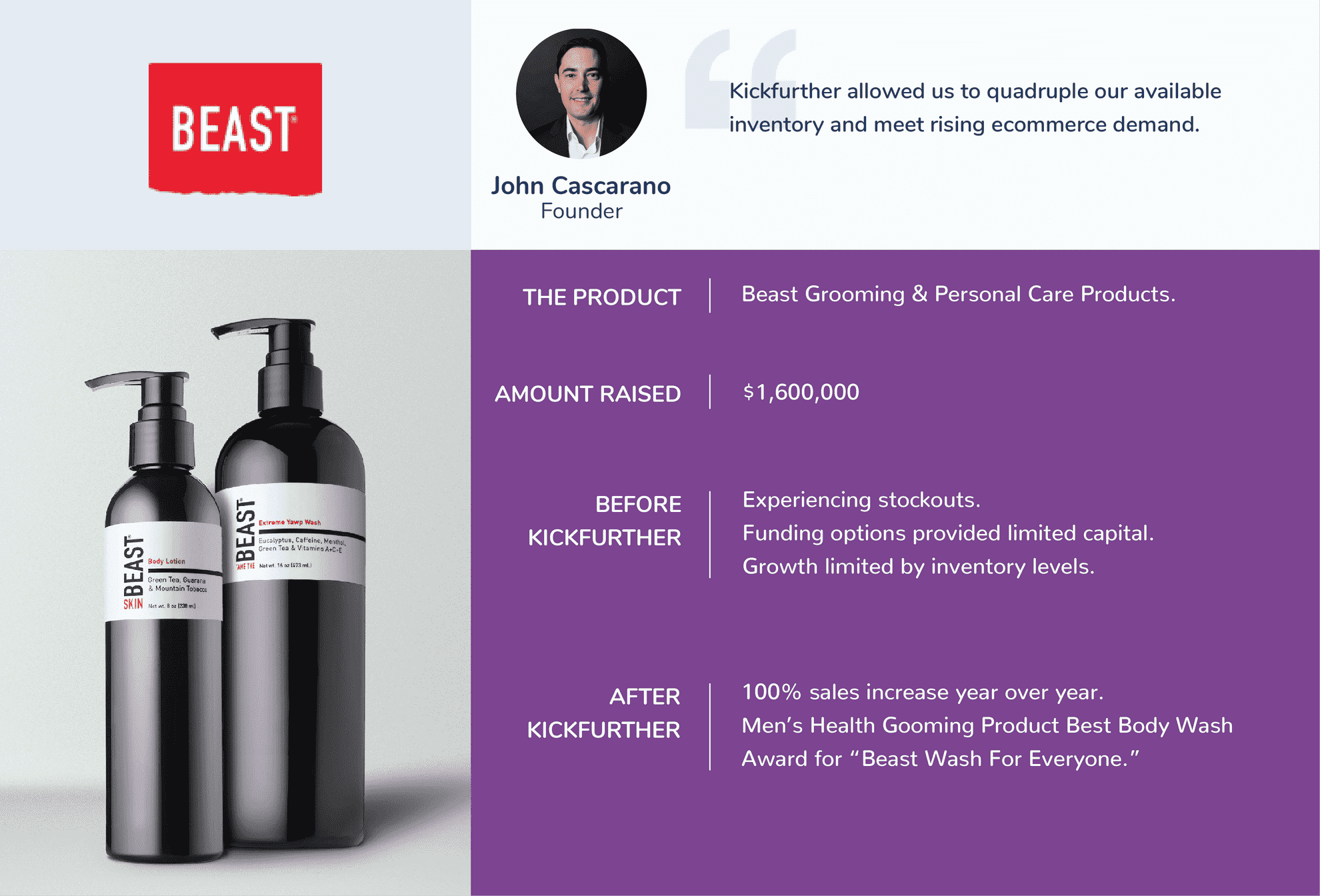 Purchase Order Financing Options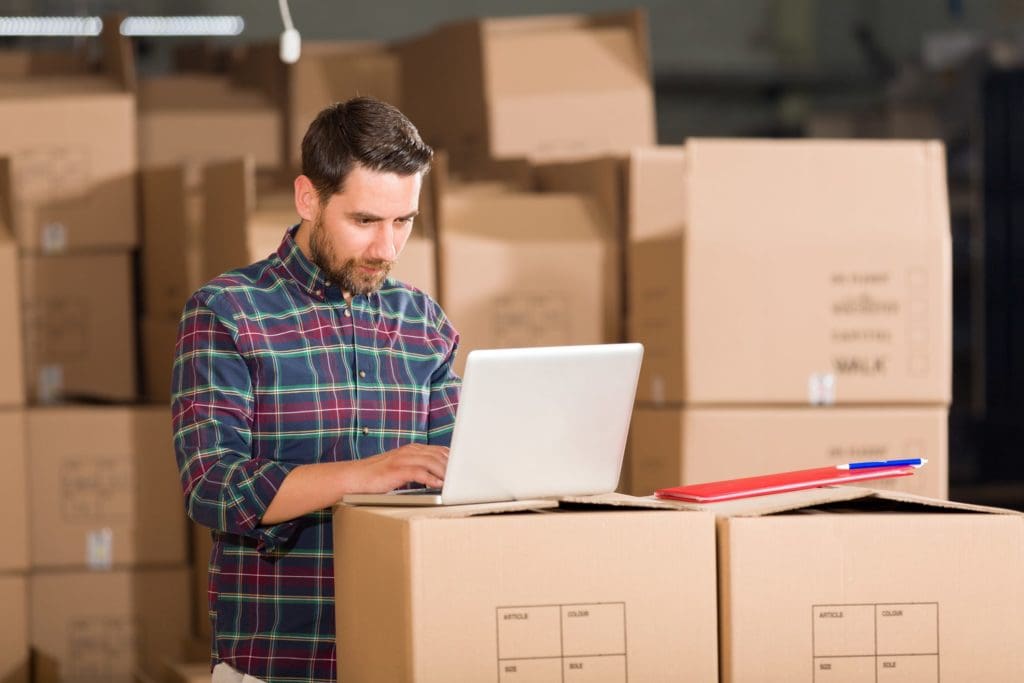 In this guide, we'll take you through all the ins and outs of purchase order (PO) financing.
What is Purchase Order Financing?
When we talk about purchase order financing, here are some of the parties involved and how you'll see us refer to them:
Seller: That's you
Purchase order financing company — the funding partner you'll use that supplies the funding
Supplier: The manufacturer/supplier that produces your product
Customer: The retailer or other reseller purchasing your product to then sell to their customers
Purchase order financing enables you (the business) to receive immediate funding to help you cover the costs of producing the inventory covered by a retailer's purchase order, where you exchange the future, full payment value of the purchase order for an immediate payment at a discount on the full value, often referred to as the "discount.".
For growing brands, a purchase order represents the potential to enter into wholesale relationships that can increase distribution, awareness, revenue and profit, but a growing company may not have the up-front capital to produce the order's inventory or it may deplete the company's cash reserves and cause a significant risk to the ability to cover other operating costs while waiting on the payment terms from the retailer — sometimes as long as two or three months after delivery.
You need funding to produce the inventory so you don't miss out on the growth opportunity. That's where purchase order funding comes in so you don't miss out on a big order that can potentially change your brand's trajectory.
Sometimes purchase order financing covers the whole order, or just a part of it. In many cases, purchase order financing companies will collect payment for the order directly from the retailer that issued the PO, subtract their fees (the "discount"), and then give the rest of the money to you.
In short, the company that funds your purchase order essentially purchases the purchase order from you for a discounted rate. When it comes to purchase order financing rates, the discount exists for a few reasons:
This is the cost of their product. Imagine it like this: You're buying immediate cash on a PO that would otherwise take you months to collect on but you want or need the money now.
In addition to the fee for their service, the company buying your purchase order from you takes on all the risk of receiving payment from the retailer that will receive your product. Even the biggest, seemingly safest retailers can experience circumstances that prevent making payment to all their creditors (think of companies that Toys 'R' Us, now bankrupt, owed money to)
What is PO finance?
PO financing is another term for purchase order financing. You'll see these terms used interchangeably.
What is purchase order factoring?
Similar to PO financing, purchase order factoring is another term for purchase order financing. Often the company purchasing the PO from you is called a "factor."
How Do You Finance Purchase Orders?
Imagine you win a big client and you're excited to get to work with them – you've got just one problem: working with them requires more materials or goods than you have cash to pay for.
You don't want to let the client go, of course, because you want your business to grow. So what do you do? You turn to purchase order financing.
Here's what you do next:
You ask your supplier for an estimate on the cost to produce the needed inventory
You search for a purchase order financing provider
Once you've found a funding solution and have an agreement in  place,, you send the PO funding company your purchase order and the estimate from your supplier
The financer will pay your supplier directly; the supplier will send the finished products to the retailer that ordered from you
The financing company often receives payment directly from the retailer and they then deduct their fees  before sending you the remaining balance
Purchase Order Financing Examples
To help you understand, let's have a look at an example of purchase order financing.
You're a wholesaler of pet supplies and you get a call from the biggest pet store chain in your state. They've been let down by their supplier, and they're wondering if you can fulfil their needs. You can, and you want to, but the order is the largest you've ever had and the cost to produce that amount of inventory is more than you have available. You don't want to miss out on this opportunity but you know you can't afford it alone, so you reach out to a purchase order funding provider.
Who Uses Purchase Order Financing?
Purchase order financing is used by a wide range of businesses, such as:
Any business selling a physical product that can be ordered to be sold by another retailer (wholesale orders)
Wholesalers
Distributors
Resellers
Importers and exporters
And generally:

Any of the above experiencing tight cash flow
Businesses growing more quickly than cash coming in
Businesses heavily reliant on seasonal sales that need to order larger inventory runs during their slower cash months
Who can't or shouldn't use purchase order financing?
Generally, you PO financing won't be available to your business if:
You're a service provider
You're a manufacturer
You sell raw materials
Who sends a purchase order?
A purchase order comes to you from a customer intending to purchase your products and then resell them in their own store or marketplace (a retailer like Target, for example). When financing a purchase order, (in most cases), you'll send your funding partner a copy of the supplier's estimate and then they pay that supplier to produce the inventory for the order. The supplier will then ship the finished goods to your customer.
What is Local Purchase Order Financing?
Local purchase order financing is essentially the same thing as normal purchase order financing. The only difference is that – unsurprisingly – it focuses on local financing. Typically, this means that they will only lend on orders within the same country, though it can be a smaller territory.
How to Apply and Qualify For Purchase Order Financing
It's not complicated to apply for purchase order financing, but it can be time-consuming the first time you look for a lender to work with. The good news about purchase order financing is that once you find a solution you like working with, they can become a reliable partner as you grow.
You need to do your due diligence when you search for a purchase order lender, as you should when you look for any type of financing. Search online or ask friends for recommendations and check financing companies' requirements before you consider applying.
Once you find one you'd like to work with, prepare a few documents they'll see. These are:
Your customer's purchase order
Your supplier's estimate or invoice
Your invoice to your customer
Your purchase order you submitted to your supplier
Financial and tax statements, such as your profit and loss statement
You'll also need any relevant business and legal information.
All lenders have different requirements, but there are a few things you'll often find as common requirements that you can use as a benchmark:
Your sales typically need to be over $50,000
The gross margin needs to be 20% or more
Your customer also must be creditworthy, because your ability to get PO financing is actually based on them (remember, their ability to pay for the delivered order is chiefly important)
It must be impossible to cancel the order
You need to be in good financial standing
Pros & Cons of Purchase Order Financing
Purchase order financing can be the perfect solution to fulfilling new or larger orders than anticipated. In fact, it exists exactly for this reason and because so many companies find themselves in this position. As with any new source of capital, it does have its pros and cons. Let's take a closer look at them so you can decide if purchase order financing for small businesses is right for yours.
Pros of purchase order financing
You're able to take on a client or order you wouldn't otherwise have been able to
It's not a loan, so you don't have to plan out repayments (your customer pays the finance partner, which then deducts their costs and forwards the remaining balance to you)
Once you've established a relationship with a purchase order financing lender, many businesses report being able to quickly and easily work with them again in the future
Should your customer not pay, because your purchase order financing lender is the first to be owed money, it will pursue payment, adding strength to your efforts
Having bad credit won't necessarily prevent accessing funding since the creditworthiness of your customer is the primary concern
Cons of purchase order financing
Your lender will take a percentage of the entire purchase order, which eats into your profit from the order
Fees often range between 1.8% – 6% per month, which can become quite significant if your margins are relatively tight
Your choice of funding partner can reflect on you. The relationship developed between your customer and your financier could impact the relationship you develop with your customer.
To qualify, the order total often needs to be substantial ($50,000 or more, typically)
Purchase order financing for small businesses can be the perfect answer to seizing growth opportunities regardless of how much cash you have on hand and can help grow your business fast, but stay educated about how, when and if they'll work for you. Make sure to review your timelines, when you can expect payments and how financing can impact your margins. In the right circumstances, purchase order funding can help your brand accelerate growth in a way unlike many other financing options available.
How does Purchase Order Financing Work?
Connect with consumers across the United States to get your
inventory funded via our marketplace
Create your online account
Create a business account, upload your business information, and launch your deal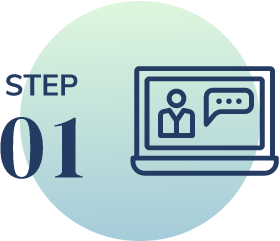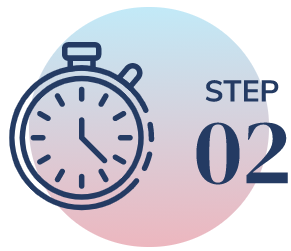 Get funded within minutes to hours
Once approved, our community funds most deals within a day, often within minutes to hours, so you'll never miss another growth opportunity.
Control your payment schedule
We pay your manufacturer to produce inventory. Make the introduction and you're off and running! Outline your expected sales periods for customized payment terms. At the end of each sales period, submit sales reports and pay consignment profit to backers for each item sold.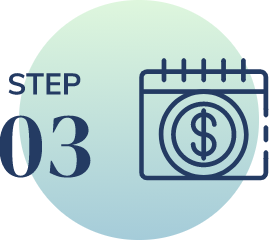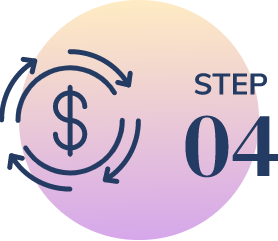 Complete and repeat!
Complete your payment schedule and you're done! Often once the community knows you, you're likely to get lower rates on your next raise.
How much funding could your company raise?
Submit this form to see your estimate.
Never miss another growth opportunity with working capital as you need it.
We fund inventory for direct-to-
consumer & major store brands