Fashion Jewelry Inventory Financing
Fashion Jewelry Inventory Funding as low as 1% per month
Kickfurther funds up to 100% of your inventory costs at flexible payment terms so you don't pay until you sell. Fund your entire order(s) on Kickfurther each time you need more inventory so you can put your existing capital to work growing your business without adding debt or giving up equity.
Often 30% lower cost than alternate lenders & factors

Quickly fund $5,000,000+ in inventory

Create a custom payment schedule (1-10 months)

Fund inventory with no payments until revenue lands
Get Funded
How much funding could your company raise?
Submit this form to see your estimate.
Why choose Kickfurther for Fashion Jewelry Business Financing?
Don't pay until
you sell.

Your payment obligation only begins once your sales are made. This alleviates the cash-flow pinch that lenders cause without customized repayment schedules. Free up capital to invest in scaling your business without impeding your ability to maintain inventory


Know your rates. When you compare ours, you'll often see that you're saving. We cost less than factoring, PO financing, and many lenders. We also have higher limits than competitors.
Fund up to $5 million
in an hour.

Once approved and the deal goes live, most deals fund within a day (often within minutes to hours), so you'll never miss another growth opportunity.
It's easy, it works, &
it grows with you.

Companies access higher funding limits and often get lower rates as they return to Kickfurther, creating a scalable solution that grows alongside your company.

We fund inventory for direct-to-
consumer & major store brands






"Tough Times Call For Creative Funding — Check Out
Kickfurther's Clever Model"

Join 800+ Kickfurther success stories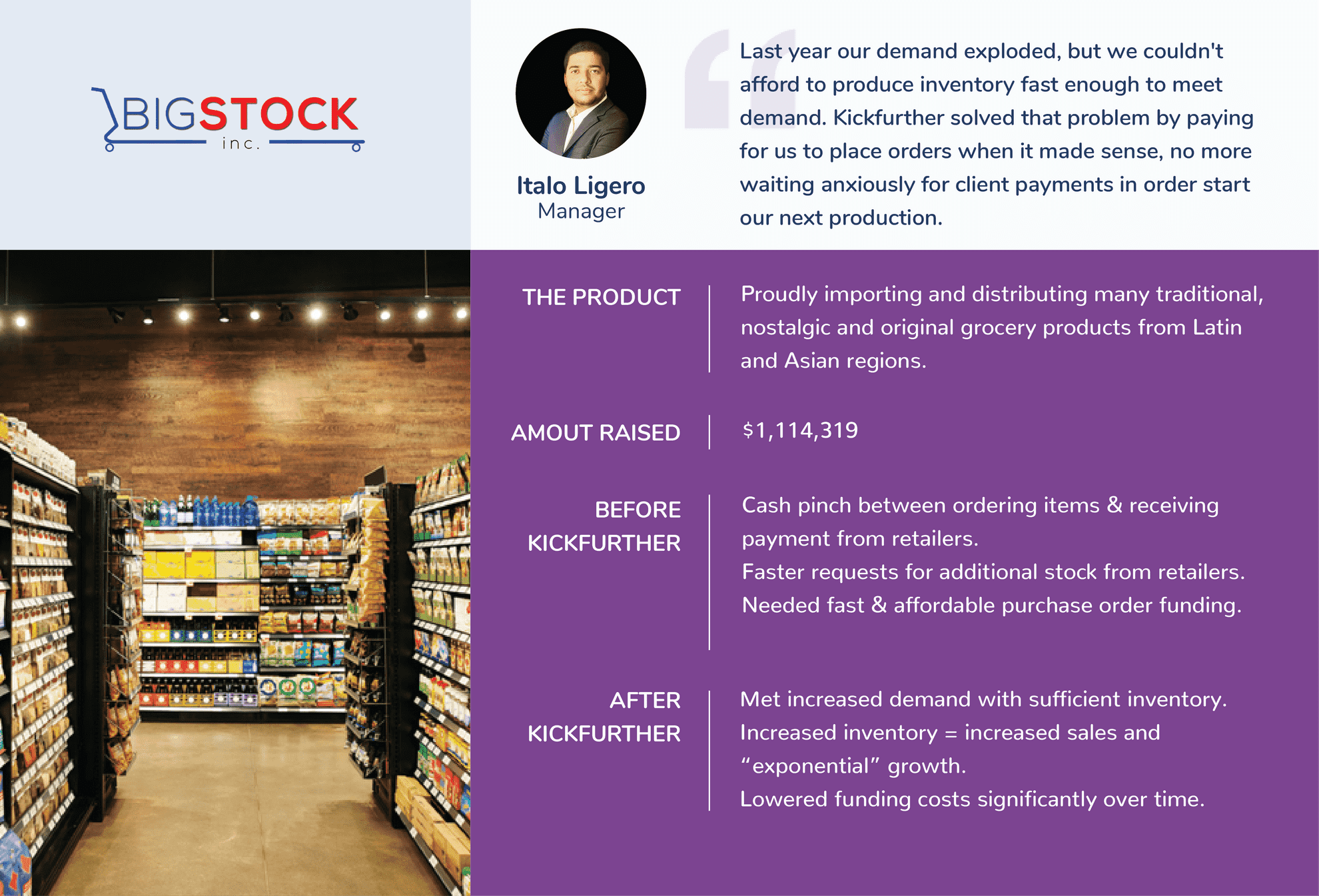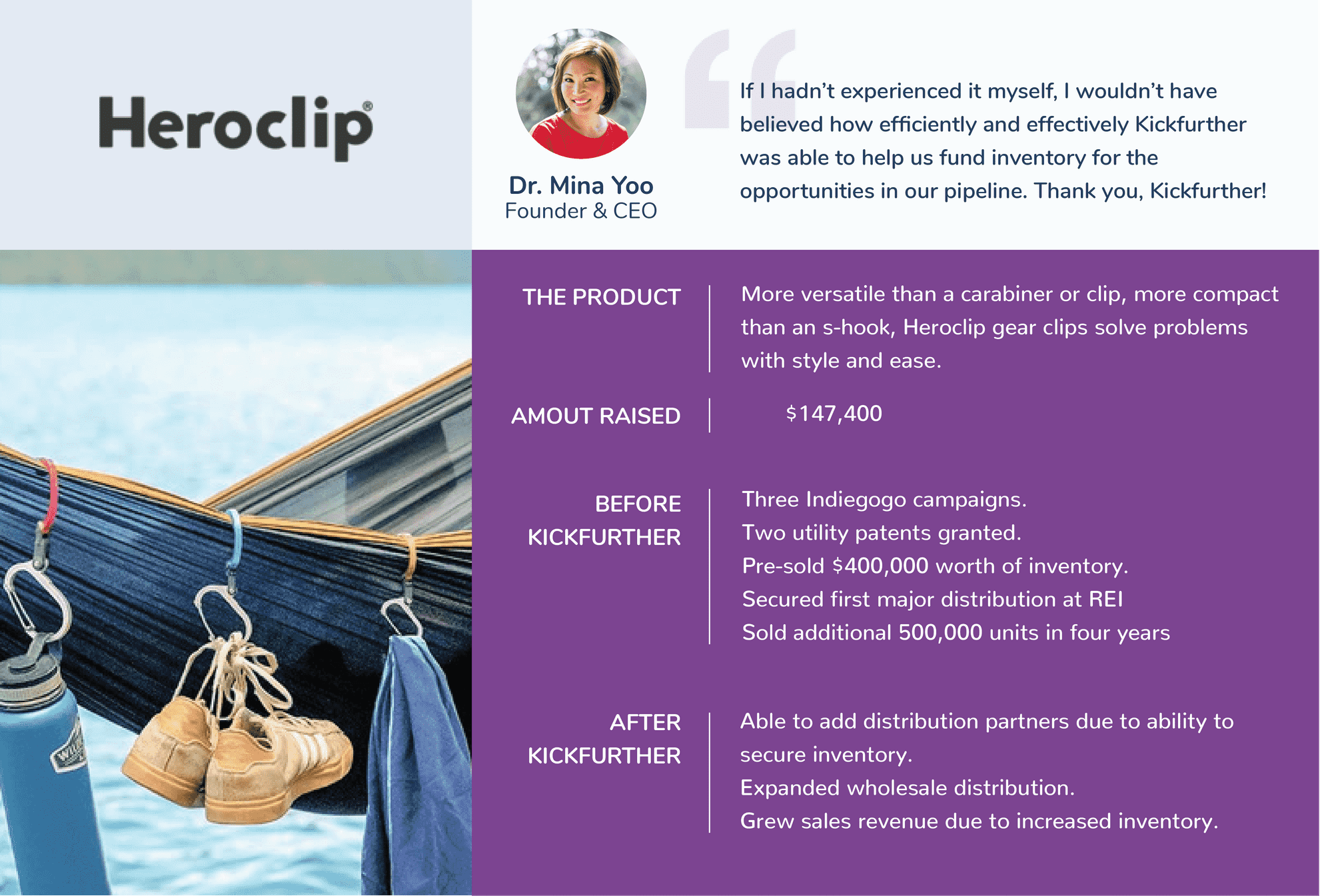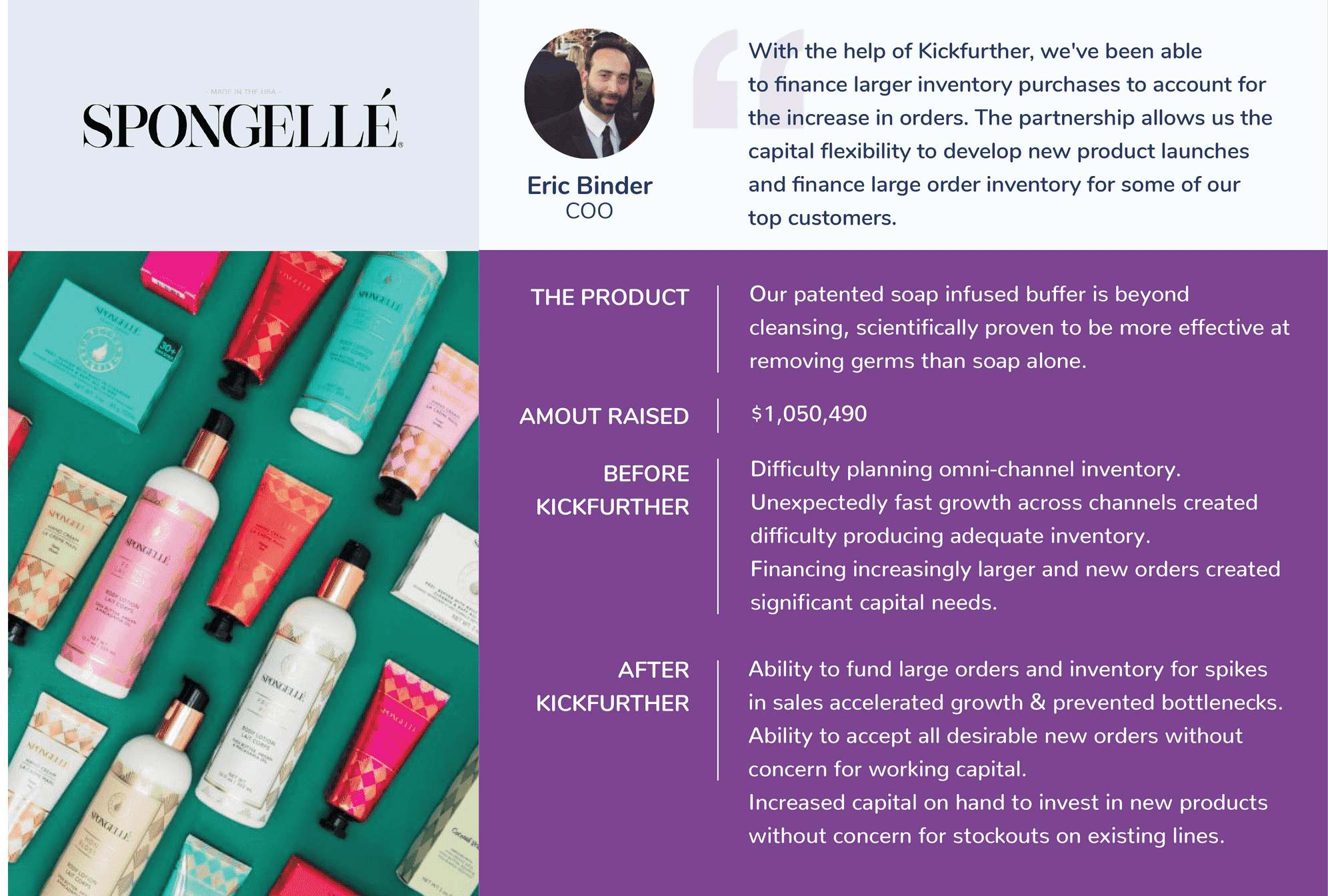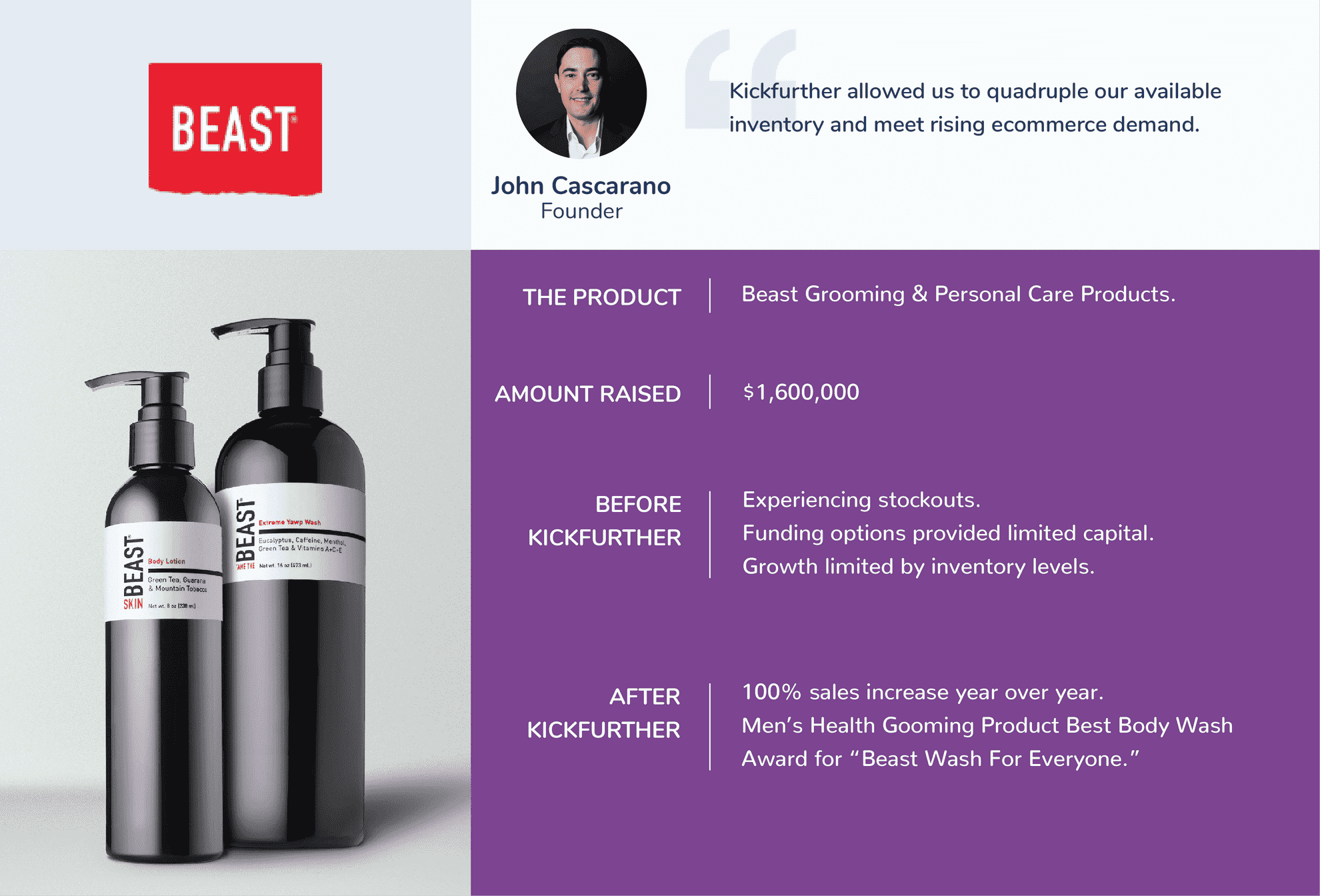 How does Fashion Jewelry Financing Work?
Connect with consumers across the United States to get your
inventory funded via our marketplace
Create your online account
Create a business account, upload your business information, and launch your deal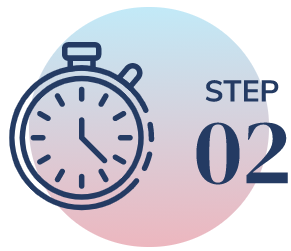 Get funded within minutes to hours
Once approved, our community funds most deals within a day, often within minutes to hours, so you'll never miss another growth opportunity.
Control your payment schedule
We pay your manufacturer to produce inventory. Make the introduction and you're off and running! Outline your expected sales periods for customized payment terms. At the end of each sales period, submit sales reports and pay consignment profit to backers for each item sold.
Complete and repeat!
Complete your payment schedule and you're done! Often once the community knows you, you're likely to get lower rates on your next raise.
Inventory Financing for Fashion Jewelry Industry
Can fashion jewelry manufacturers and retailers obtain financing?
The simple answer is, yes. Fashion jewelry manufacturers can obtain financing. However, they must meet certain qualifications.
For instance, most traditional lenders will want to see that borrowers have a good credit score, a strong business history, and a steady income before they approve them for financing. There are some lenders, known as alternate lenders, that may be more lenient in terms of qualifications, but they often charge high interest rates and offer shorter loan terms.
For fashion jewelry manufacturers and retailers, there are additional ways to receive funding outside of a traditional loan. We'll explore one of those options a little later on, stay tuned. 
How financing for fashion jewelry brands works
There are various types of financing options, each with its own specifics on how it works. For example, inventory financing may be secured by inventory. Oftentimes the backer or lender pays the supplier directly and then you repay the loan as agreed. Alternatively, a term loan or business loan can be funded as a lump sum and repaid in equal monthly installments with interest. 
One thing all loans and funding have in common is that you'll need to qualify and come to an agreement. In addition, a loan will entail some type of repayment schedule. 
Benefits of applying for inventory financing for your jewelry based business
While inventory comes at a cost, there are several benefits that come along with it. If financing is properly managed the cost can be offset and the business should turn more profit. Here are a few of the benefits of applying and securing inventory financing for your jewelry business.
Boost cash flow: Inventory can tie up cash flow, and other expenses can too. By using financing for inventory you can free up cash flow and alleviate stress. 

Minimal qualifications: Most inventory financing uses the inventory purchased as collateral. As a result requirements may be less strict and costs may be lower. 

Increase purchasing power: Inventory financing can allow you to purchase inventory in bulk. As a result you can often unlock discounts from suppliers. 
Types of financing options to consider
There are several types financing options to consider, including:
Inventory loans:

Inventory loans are a type of fashion jewelry inventory financing that involves the lender providing a lump sum of money that must be used exclusively to purchase inventory. The money is paid back with interest over a specified repayment term. The inventory is used as collateral, so proof of income and credit score may not be as heavily considered. However, if the business defaults on the loan, they could lose their inventory.

Bank loans:

As the name suggests, bank loans are loans provided by banks. They are typically low-interest, long term loans which makes them a good option for many people. However, borrowers will likely need to meet strict requirements including a high credit score and a good financial history. These loans can also take a while to approve.

SBA loans:

SBA loans are government backed loans provided by SBA approved lenders. They are designed specifically to help small businesses get the funding they need. If you're struggling to qualify for a traditional loan, you should consider an SBA loan. Before starting the process though you should know it can take a while. You'll want to have a solid business plan and financial documents ready to go. 

Cash advance:

Cash advance loans are short term loans available through your credit card issuer. They require you to borrow money against your card's line of credit. Cash advances are a good way to get cash fast and they don't come with a lot of requirements. However, you are likely to pay a good amount in fees and interest.

Alternative loans:

Alternative loans are available through alternative lenders. The lenders may work privately, or they may be part of a financial institution. They specialize in providing loans to new businesses who can't show a strong business history, and people and organizations with bad credit. They fund quickly but the loans are short term so you will need to repay the money over a short period of time. They also typically charge high interest rates.

Line of credit:

A line of credit is a fixed amount of money businesses may tap into to cover expenses. The money can be paid off immediately or over time and interest will only be paid on the money you draw. This type of financing is offered by both traditional and alternative lenders. For companies that need constant access to cash, a line of credit can be a good option.

Inventory funding:

Inventory funding is similar to an inventory loan, but the funding is provided by a backer rather than a lender or financial institution. As a result, costs may be reduced and flexibility may be increased. We'll talk more about inventory funding a little later on. 
Pros and cons of fashion jewelry inventory financing
While fashion jewelry inventory financing is a good move, there are also some cons to consider. 
PROS

Expedite growth: With more inventory on hand and more free cash for other expenses and investments, you can boost sales. 

Alleviate stress: Being strapped for cash is stressful. Inventory financing can help reduce stress so you can breathe more and sleep better, thus allowing you to give your business the best version of you.

Take advantage of more opportunities: A lack of inventory can cause you to lose sales. Inventory financing can help you stock plenty of inventory so that you can take advantage of more opportunities.

CONS

Limitations: Oftentimes inventory financing can only be used for inventory. If you need funds for other expenses you'll need to take out another loan.

Repayment: Loans will need to be repaid. Before taking out a loan of any kind be sure you are confident in your ability to repay. 

Interest and fees:  Inventory financing must be paid back with interest so you will pay more for your inventory than you would have if you purchased it outright.
Financing tips for your jewelry business
While financing is common, it's not always easy. Every agreement will have its own terms. Before taking out financing make sure you understand what you're committing to. Here are some tips that can help your jewelry business make smart financial decisions. 
Understand the agreement: Before signing the dotted line, be sure you understand all elements of the financing agreement.

Consider using collateral to back the loan: Loans that are backed by collateral can have lower costs. In addition, they can be easier to qualify for. 

Pay attention to the cost: Borrowing money costs money. Be sure you do the math to ensure that you can still be profitable, even with extra expenses. 

Establish savings: Work out a system to set aside extra money each month so you have some left over for emergency needs. Afterall, cash is king.
What credit score do I need to apply?
Requirements such as credit score can vary depending on the lender or backer and the type of loan or funding. In most cases, you should have a credit score of 600 or better if you plan to apply for inventory financing. Since your loan will likely be secured by collateral, credit score requirements may be more relaxed, but they are still very important. You can always check with the lender or source to see what their requirements are before applying. 
Where to find fashion jewelry inventory financing
Fashion jewelry inventory financing can be obtained from a variety of sources, including:
Banks

Credit unions

Online lenders

Alternative lenders

Friends or family members

Creditors
One of the best options for inventory funding is Kickfurther. Kickfurther funds up to 100% of your inventory costs on flexible payment terms that you customize and control. With Kickfurther, you can fund your entire order(s) each time you need more inventory and put your existing capital to work growing your business without adding debt or giving up equity.
How can Kickfurther help?
Kickfurther puts you in control of your business while delivering the costliest asset for most CPG brands. And by funding your largest expense (inventory), you can free up existing capital to grow your business wherever you need it – product development, advertising, adding headcount, etc.
Why Kickfurther?
No immediate repayments: You don't pay back until your new inventory order begins selling. You set your repayment schedule based on what works best for your cash flow.
Non-dilutive: Kickfurther doesn't take equity in exchange for funding.
Not a debt: Kickfurther is not a loan, so it does not put debt on your books. Debt financing options can sometimes further constrain your working capital and access to capital, or even lower your business's valuation if you are looking at venture capital or a sale.
Quick access: You need capital when your supplier payments are due. Kickfurther can fund your entire order(s) each time you need more inventory.
Interested in getting funded at Kickfurther? Here are 3 easy steps:
#1. Create a free business account
#2. Complete the online application 
#3. Review a potential deal with one of our account reps
#4. Get funded in minutes