Financing Options for Woman-Owned Businesses
Do you sell a physical product with sales over $400,000?
Often used by smaller privately-owned businesses who don't have access to other options, inventory financing is a short-term loan or revolving line of credit used to purchase inventory. The inventory of products then serves as the collateral for loan opportunities.
Sometimes, female-owned businesses may have a more difficult time obtaining funding. And, female-owned or not, financing and funding can be expensive. For small businesses, the cost can be a huge obstacle to overcome. Thankfully, there is an alternative available for affordable inventory funding – Kickfurther.
Get Funded
How much funding could your company raise?
Submit this form to see your estimate.
Why choose Kickfurther for Inventory Financing?
Don't pay until
you sell.
Your payment obligation only begins once your sales are made. This alleviates the cash-flow pinch that lenders cause without customized repayment schedules. Free up capital to invest in scaling your business without impeding your ability to maintain inventory
Know your rates. When you compare ours, you'll often see that you're saving. We cost less than factoring, PO financing, and many lenders. We also have higher limits than competitors.
Fund up to $1 million
in an hour.
Once approved and the deal goes live, most deals fund within a day (often within minutes to hours), so you'll never miss another growth opportunity.
It's easy, it works, &
it grows with you.
Companies access higher funding limits and often get lower rates as they return to Kickfurther, creating a scalable solution that grows alongside your company.
Girls Just Wanna Have Funding
Girls Just Wanna Have Funding is a series where you get to meet the amazing female entrepreneurs Kickfurther works with and hear more about their story and product, the challenges they face growing a business as a female founder, and funding with Kickfurther.
We fund inventory for direct-to-
consumer & major store brands






"Tough Times Call For Creative Funding — Check Out
Kickfurther's Clever Model"

Join 800+ Kickfurther success stories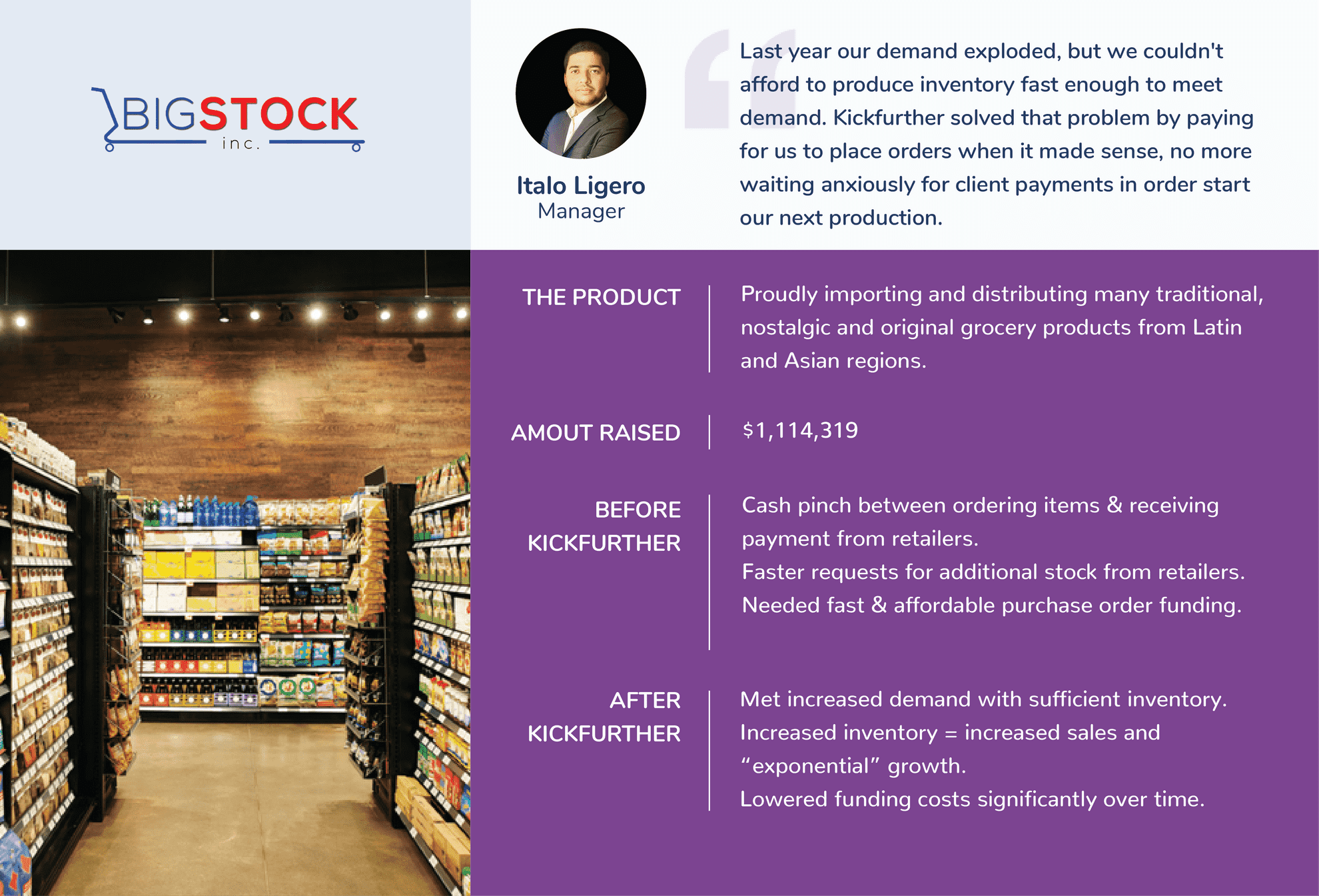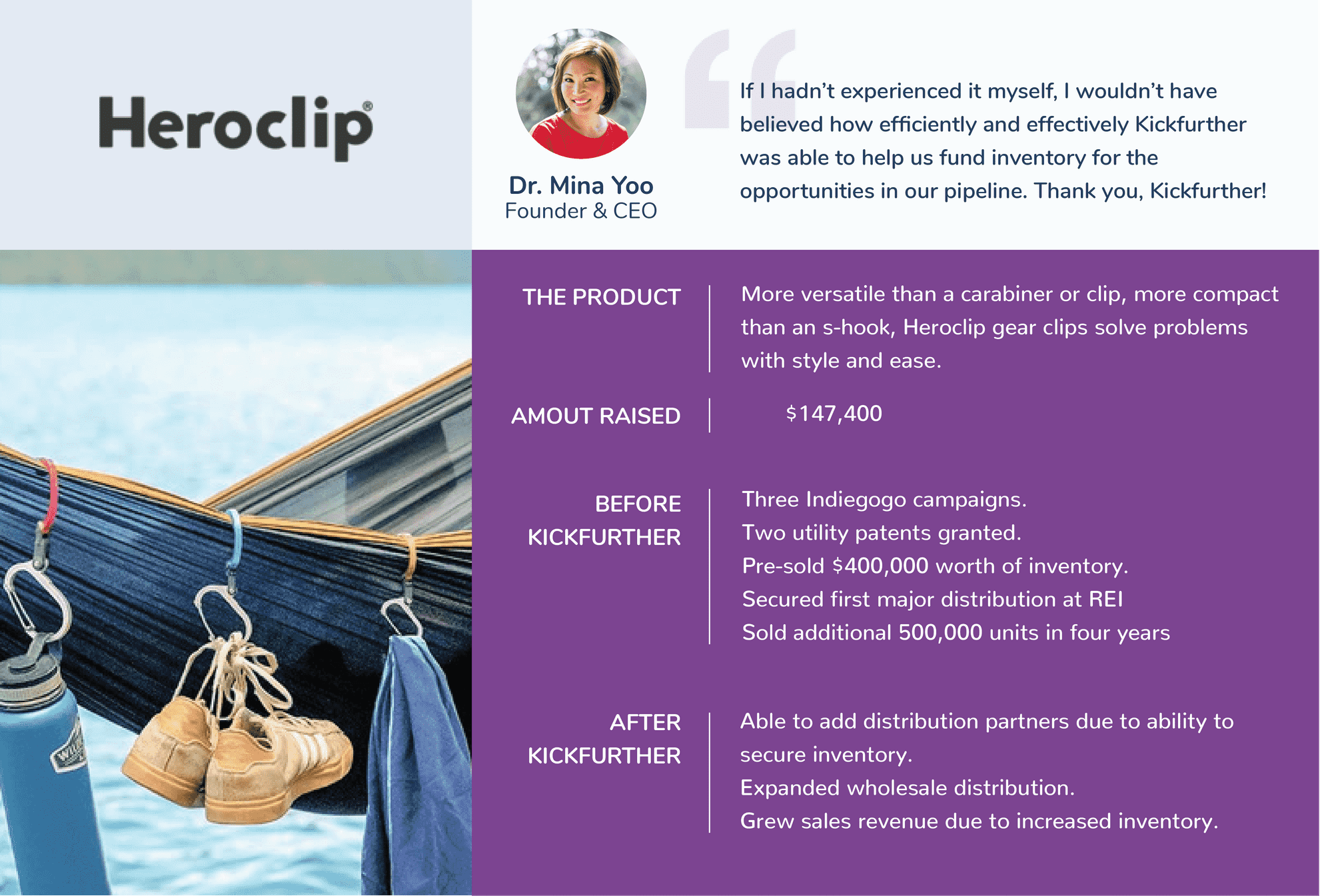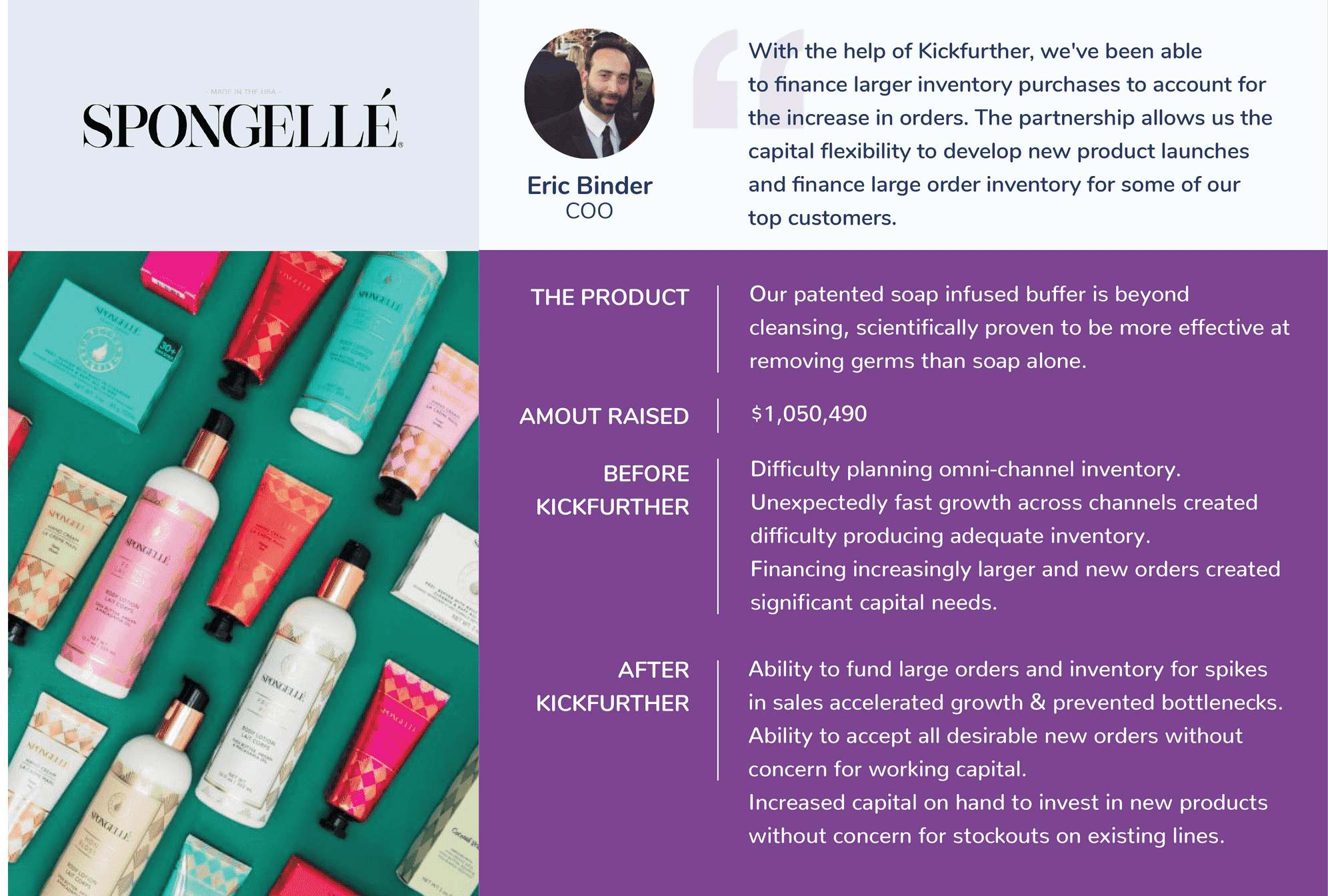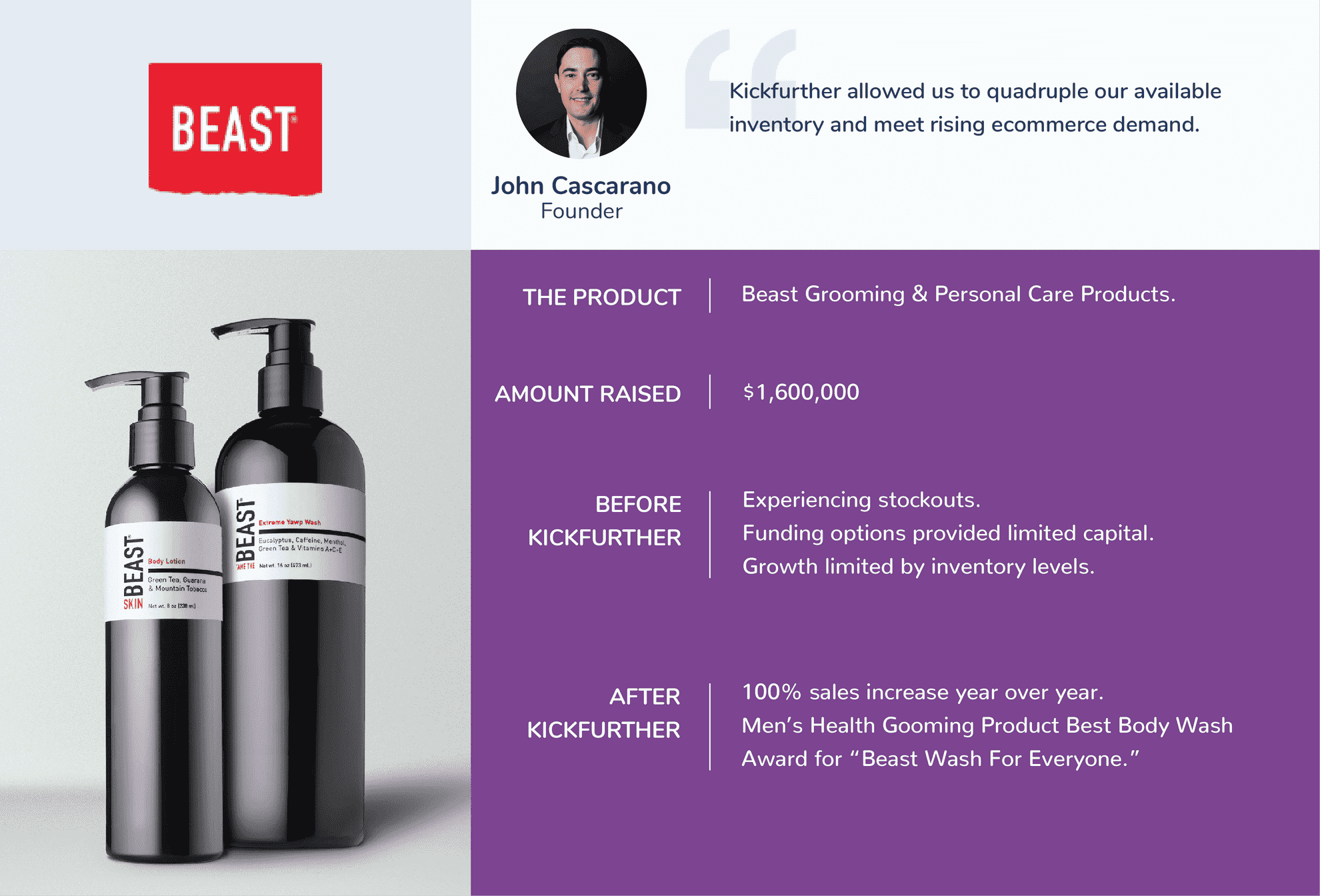 How does Inventory Financing Work?
Connect with consumers across the United States to get your
inventory funded via our marketplace
Create your online account
Create a business account, upload your business information, and launch your deal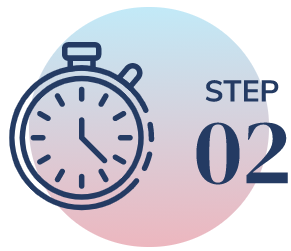 Get funded within minutes to hours
Once approved, our community funds most deals within a day, often within minutes to hours, so you'll never miss another growth opportunity.
Control your payment schedule
We pay your manufacturer to produce inventory. Make the introduction and you're off and running! Outline your expected sales periods for customized payment terms. At the end of each sales period, submit sales reports and pay consignment profit to backers for each item sold.
Complete and repeat!
Complete your payment schedule and you're done! Often once the community knows you, you're likely to get lower rates on your next raise.
Financing Options for Woman-Owned Businesses
Scaling a product business can be challenging. And raising funds to aid in that growth can be one of the most taxing aspects. Without proper funding, you can struggle to invest in growth strategies like expanding your product line, increasing your marketing efforts, and hiring additional talented individuals.
Identifying financial resources to help fuel your expansion can ensure you get and stay on a growth trajectory.
Benefits of inventory financing for women entrepreneurs
By choosing inventory financing, women entrepreneurs can gain added independence and don't have to rely solely on their business or personal credit ratings. Women entrepreneurs with smaller businesses may not have to wager their personal or business assets to secure collateral or financing.
Accessing credit can enable women entrepreneurs to sell more of their products and inventory to their consumers over a significant amount of time. Without this type of financing, women entrepreneurs may need to rely on funding from their own income or assets to gain the purchasing power they need to keep their momentum going.
It may be relevant to know, women entrepreneurs don't need to be fully established to be eligible for inventory financing. Many lenders only require businesses or companies to be operating for a minimum of six months to a year to be considered eligible. Allowing newer business owners to access a line of credit quicker. Accessibility can be considered the top benefit of inventory financing for women entrepreneurs.
Types of financing options for women entrepreneurs
Generally, there are two main types of financing. The two include:
#1. Debt Financing
Debt financing allows businesses to borrow money without giving away equity in the business. With debt financing the principal amount of the loan would be repaid in predetermined installments with interest. You can think of this as a business credit card. While debt financing can be an expensive way to borrow money, it allows you to preserve control of your business.
Short-term debt financing: Short-term debt financing is typically defined as a loan with a term between 1-180 days. Small business loans, working capital loans, and credit cards can fall under this umbrella.

Long-term debt financing: Long- term debt financing are usually loans with terms longer than one year. Furthermore, they may be secured by collateral, which can help keep the cost of the loan down. Examples include car loans or commercial real estate loans. Equipment loans and inventory loans could fall under this category too. 
#2. Equity Financing
Equity financing creates opportunity for less-established businesses. With equity financing, businesses can offer shares of their company in exchange for collateral. Typically, equity financing is used for new businesses that need funding. Equity financing is usually medium to long term.
Medium-term equity financing: Medium-term loans and financing usually fall under terms that are 180-365 days.

Long-term equity financing: As mentioned above, long-term financing usually includes loans with terms longer than 365 days. In equity financing, the equity given away may be permanent while funds are not, so it's important to be cautious. You may need equity down the road to raise working capital again.
Financing can play a crucial role for women entrepreneurs. Financing can be broken down into two primary types: Debt and Equity. There are numerous financing options available based on the type of finance you require. Debt financing is essentially cash obtained to maintain business. In comparison, equity financing involves raising capital through offering their business shares. There are other types of finance available to support business growth and development.
Six ways to realistically grow your business by financing are:
Bootstrapping

Loans from family and friends

Venture capital

Angel investors

Bank loans

Inventory funding
Common uses of women based financing options
Many women entrepreneurs desire additional financing options at some point. The reasoning is entirely their own. Common reasons for seeking financing options include:
Debt consolidation

Inventory expansion/growth

Hiring more staff

Equipment purchasing
Do small business grants exist for women entrepreneurs?
Small business grants do exist exclusively for women entrepreneurs. Women entrepreneurs are often encouraged to seek out these opportunities through networking and research. If you feel it is worth your time and effort, then set your sights on business grants. While grants are ideal since they don't need to be repaid, it can be time-consuming to find grants and qualify. Nonetheless, you should take advantage of as many opportunities as time allows. As a woman-owned business, you may have access to more grants and resources than you think. Connecting with other female business owners is a great way to expand your network and access information and resources. 
What is the best financing option for women business owners?
As suggested earlier, financing is an integral part of entrepreneurship. However, when it comes to small business loans, fewer women apply, receive application acceptance, and obtain the amount of funding compared to men. As a woman entrepreneur, it may feel like the odds are stacked against you when getting the money you need. This speaks to the relevance of being hyper focused on the financing opportunities available to you and how to take advantage of them. The best financing option isn't one size fits all. Any women entrepreneur can benefit from exploring the financing options available to them, from crowdfunding to online lenders to grants.
We highly encourage women business owners to create a Kickfurther profile and pursue inventory funding as needed. Our unique approach to inventory funding can help your business access affordable funding, quickly.
Tips for applying for women-based financing 
As a women entrepreneur, your business can be impacted by access to funding. Depending on your desire to research and connect, there is no limit to options and resources. The primary catalyst for applying for women-based financing can look like discovering what options best serve your financial needs. Learning more about your business goals and pain points can open the door to numerous possibilities.
How Kickfurther can help
Kickfurther funds up to 100% of your inventory costs on flexible payment terms that you customize and control. With Kickfurther, you can fund your entire order(s) each time you need more inventory and put your existing capital to work growing your business without adding debt or giving up equity.
Why Kickfurther?
No immediate repayments: You don't pay back until your new inventory order begins selling. You set your repayment schedule based on what works best for your cash flow.
Non-dilutive: Kickfurther doesn't take equity in exchange for funding.
Not a debt: Kickfurther is not a loan, so it does not put debt on your books. Debt financing options can sometimes further constrain your working capital and access to capital, or even lower your business's valuation if you are looking at venture capital or a sale.
Quick access: You need capital when your supplier payments are due. Kickfurther can fund your entire order(s) each time you need more inventory.
Kickfurther puts you in control of your business while delivering the costliest asset for most CPG brands. And by funding your largest expense (inventory), you can free up existing capital to grow your business wherever you need it – product development, advertising, adding headcount, etc.
Closing thoughts 
Inventory financing is credit obtained by businesses to pay for products that aren't intended for immediate sale and is often used by smaller businesses. Women entrepreneurs can rely on inventory financing  to moderate cash flow, increase inventory, and respond to high demand during peak.
Accessible financing is available. You can discover what works for you and your business, from there you can find the best financing options based on your needs. As you explore various financing options, always remember to consider the cost – not just the monthly payment or profit potential. For affordable inventory funding with flexible repayment solutions, turn to Kickfurther. 
Interested in getting funded at Kickfurther? Here are 3 easy steps to get started:
#1. Create a free business account
#2. Complete the online application 
#3. Review a potential deal with one of our account reps & get funded in minutes
Get funded now