Shopify Store Financing
Do you sell a physical product with sales over $150,000?
The e-commerce space is booming. With platforms such as Shopify, it's no wonder the e-commerce space is attracting so much attention. As a result, entrepreneurs may be on the hunt for Shopify store financing that is affordable. People love the convenience of getting goods delivered to their home. The pandemic boosted the home shopping trend and it's getting bigger as time goes by.
Shopify is a platform that provides the software to create an online business. And while an e-commerce business eliminates some expenses of a brick-and-mortar location, it still requires funding that most people don't have. Therefore, Shopify store financing is often necessary.
This article will review Shopify store financing options so you can determine the best way to proceed with your business.
Get Started
How much funding could your company raise?
Submit this form to see your estimate.
Why choose Kickfurther for Shopify Store Financing?
Don't pay until
you sell.
Your payment obligation only begins once your sales are made. This alleviates the cash-flow pinch that lenders cause without customized repayment schedules. Free up capital to invest in scaling your business without impeding your ability to maintain inventory
Know your rates. When you compare ours, you'll often see that you're saving. We cost less than factoring, PO financing, and many lenders. We also have higher limits than competitors.
Fund up to $1 million
in an hour.
Once approved and the deal goes live, most deals fund within a day (often within minutes to hours), so you'll never miss another growth opportunity.
It's easy, it works, &
it grows with you.
Companies access higher funding limits and often get lower rates as they return to Kickfurther, creating a scalable solution that grows alongside your company.
We fund inventory for direct-to-
consumer & major store brands






"Tough Times Call For Creative Funding — Check Out
Kickfurther's Clever Model"

Join 800+ Kickfurther success stories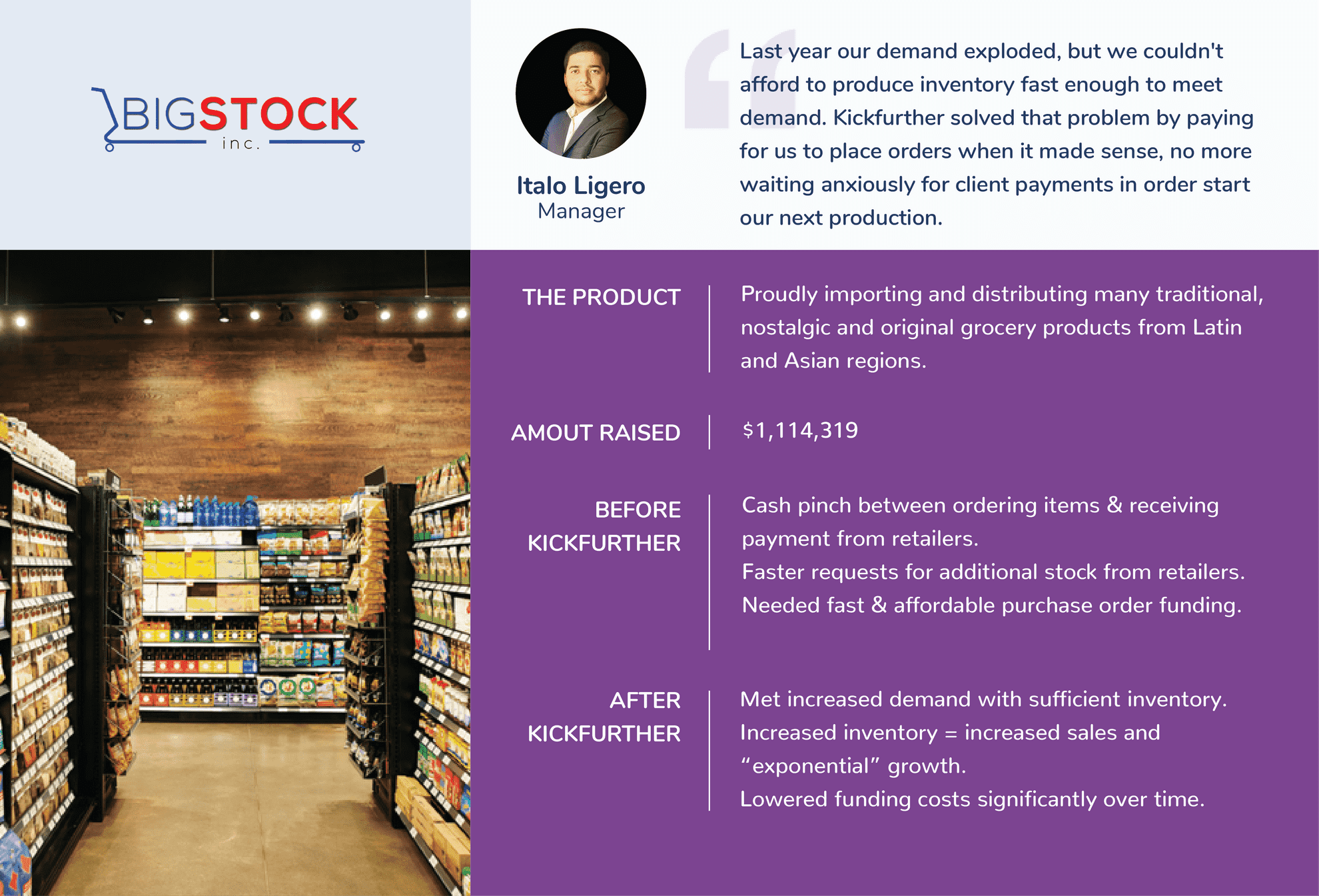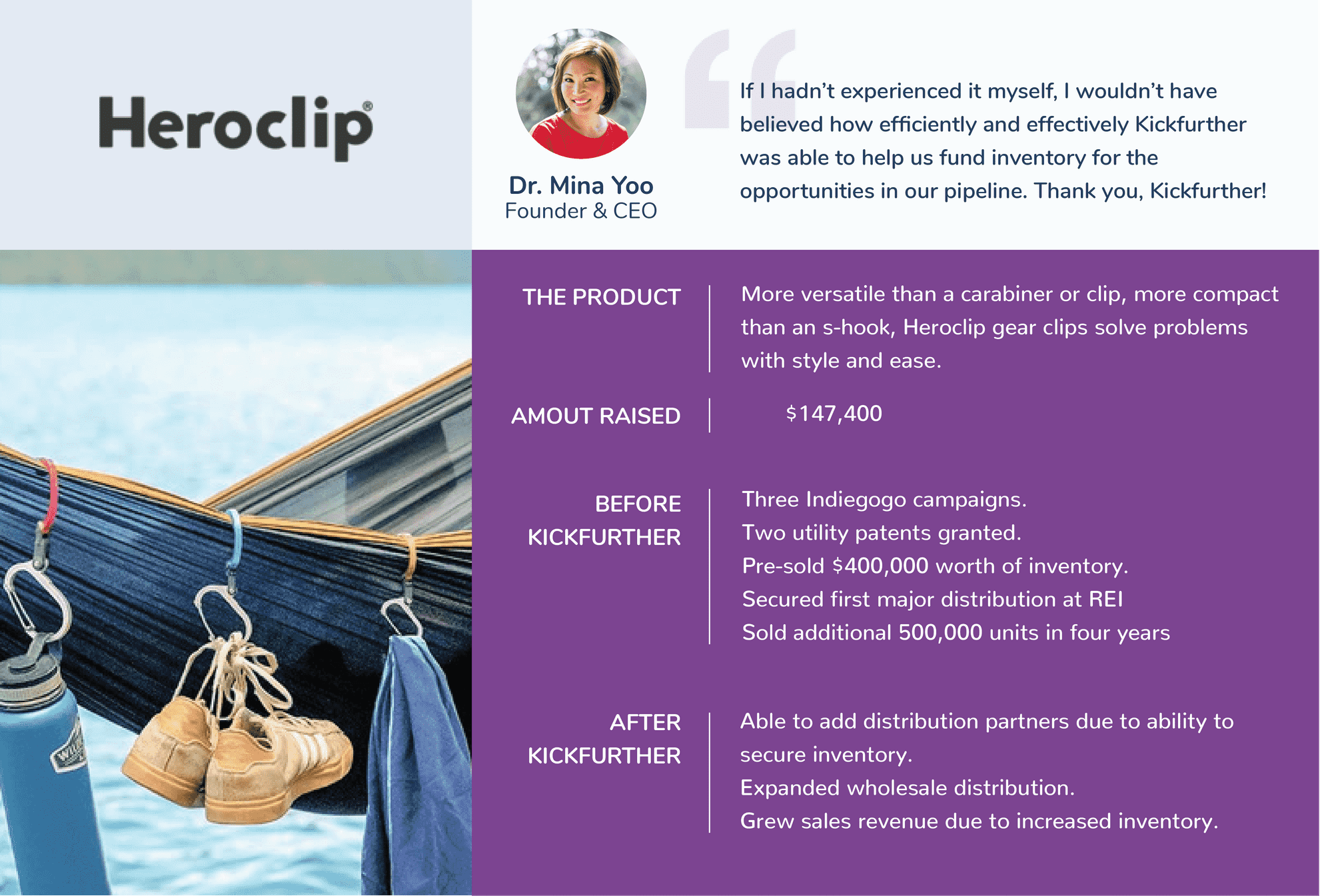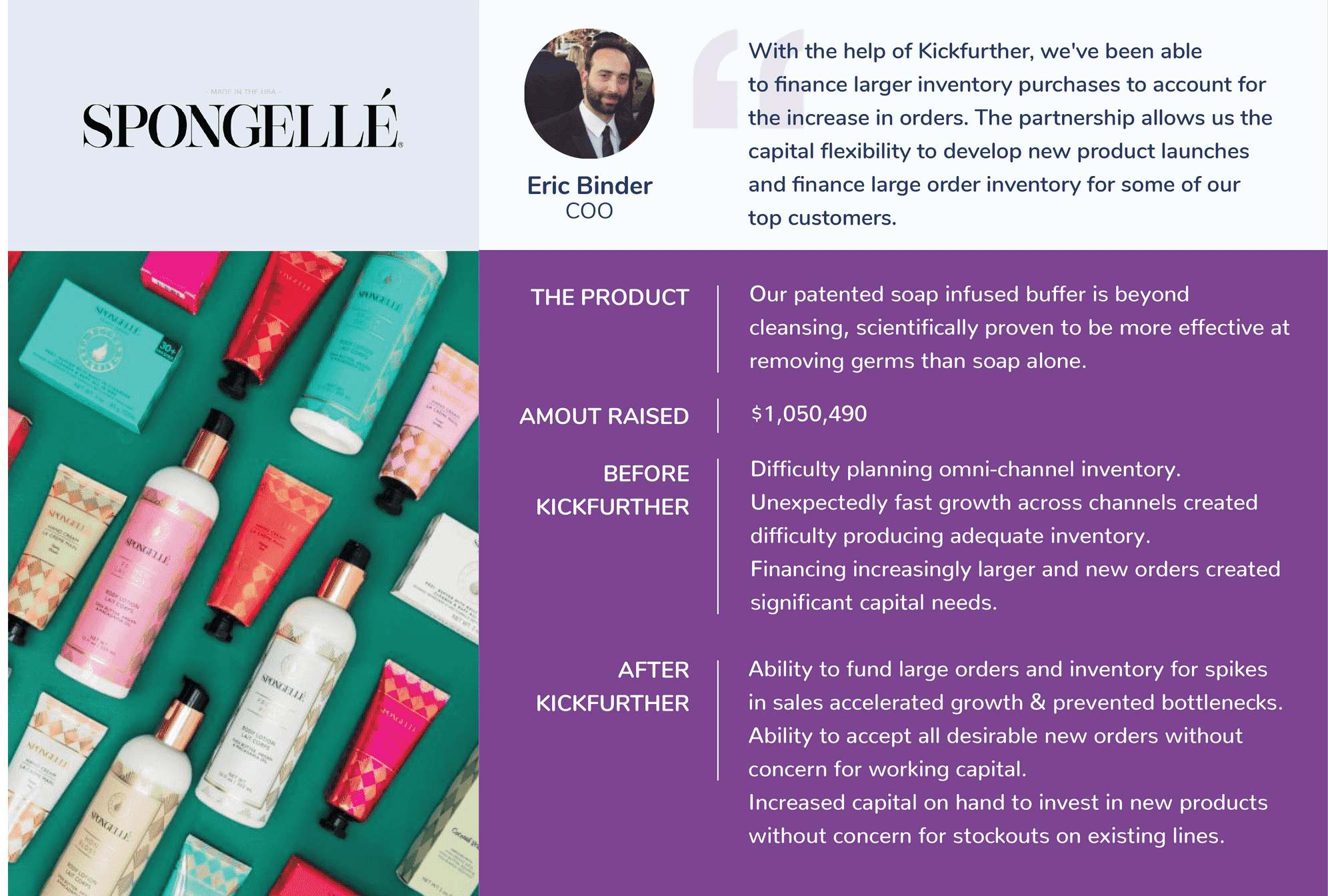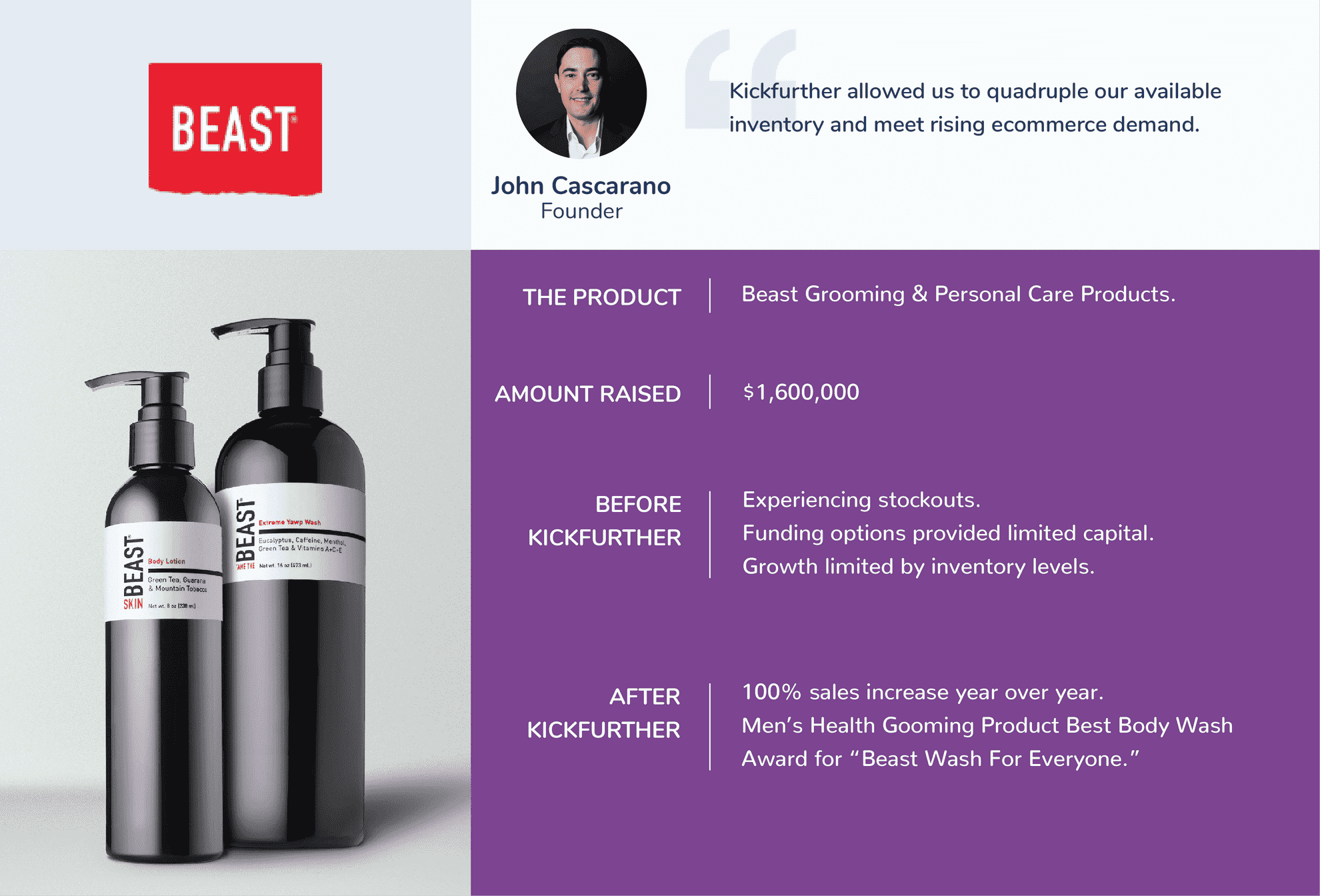 How does Shopify Store Financing Work?
Connect with consumers across the United States to get your
inventory funded via our marketplace
Create your online account
Create a business account, upload your business information, and launch your deal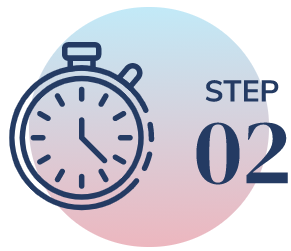 Get funded within minutes to hours
Once approved, our community funds most deals within a day, often within minutes to hours, so you'll never miss another growth opportunity.
Control your payment schedule
We pay your manufacturer to produce inventory. Make the introduction and you're off and running! Outline your expected sales periods for customized payment terms. At the end of each sales period, submit sales reports and pay consignment profit to backers for each item sold.
Complete and repeat!
Complete your payment schedule and you're done! Often once the community knows you, you're likely to get lower rates on your next raise.
How much funding could your company raise?
Submit this form to see your estimate.
Never miss another growth opportunity with working capital as you need it.
Shopify Store Financing Options
What is Shopify store financing?
Shopify store financing is any type of loan or funding used to grow a Shopify store. The money may go towards purchasing inventory, paying a staff, or investing in the software itself. The loan will need to be paid back with interest and there may be fees associated as well. There are several different types of loans and options for funding so you will want to do some due diligence. Financing can benefit your business, but it's not free. You'll want to explore your options to find the most cost-effective solution.
How does Shopify store financing work?
The way Shopify store financing works may vary depending on the type of loan you are getting, but the same general steps will apply.
The lender may want you to provide proof that you are low risk. This may involve submitting documents that show you have good credit and a reliable business history.
If you do not meet these qualifications, you may want to seek out another loan that looks at forms of collateral such as your inventory. Some lenders may overlook the eligibility requirements but charge a higher interest rate.
Once the loan is in place, you will need to make regular payments with interest. Payments may be required on a daily, weekly or monthly basis, but some loans have more flexible plans.
If you take advantage of funding for inventory through Kickfurther, you won't have to pay back funders until you start making sales. This is just one of the many advantages of working with Kickfurther. Keep reading to learn more.
Shopify store financing options
There are many Shopify store financing options to consider. These include the following:
Shopify Capital: Shopify Capital is embedded into the platform. Therefore, the approval amount will be based on store metrics that the system can determine based on your transaction history. The repayment schedule will also be tied to your Shopify revenue.
The platform offers a Shopify Business Loan and a Merchant Cash Advance. They differ in the length of their repayment schedules and eligibility requirements. While the loans may be an easy way for Shopify sellers to get funding, it can be limiting for multi-platform companies as funding can be used for the Shopify store only.
Payability Instant Advance: A Payability Instant Advance is a cash advance based on your previous day's payouts into your Payability account. It is designed to help ecommerce sellers get access to funding no matter how many marketing places they use. It offers up to $250,000 days in funding with a turnaround time of as little as one day.
For a Shopify store to qualify for Payability, the owner must have a nine-month selling history with an average sales record of $2000 a month. The application takes 10 minutes to complete, and no paperwork or credit check is required.
The loan lasts for a maximum of 20 weeks but a rebate is offered for every week you pay it back early. So, if you pay it back in 10 weeks, you will pay fees for 10 weeks instead of 20.
Payability offers Instant Access and next day payouts options as well. These are available when marketplaces pay on terms. So instead of getting paid every 2 weeks or more, you can get paid every day.
A Payability loan can also be used in addition to existing funding. So, if you have Shopify Capital, you can add a Payability loan to tap into even more capital.
Bank Loans: Bank loans offer loans for new businesses including Shopify stores. However, they will usually want the borrower to have a high credit score and a reliable business history which can be difficult for a business just starting out. They also tend to take a month or two to fund.
LOC: A Line of Credit (LOC) is a revolving line of credit extended by a bank or another financial institution that a business may borrow from. Interest is charged as soon as the money is borrowed. It can be paid back immediately or over time. It is usually used to cover an emergency expense or a project where the final cost is unknown. 
Inventory Financing: Inventory financing is a loan used to cover inventory only. The inventory is used as collateral so the lender will not take credit or business history into high regard. However, if the business defaults on the loan, they may lose their inventory. 
Inventory funding: Inventory funding can be accessed at Kickfurther. Kickfurther is the world's first online inventory financing platform that enables companies to access funds that they are unable to acquire through traditional services. Once approved, our community of backers fund mst deals within a day, often minutes to hours. 
Square and Stripe Capital are very similar to Shopify Capital. Lenders will look at how your business is doing on their platform, and if you meet their requirements, they can send you an offer to tap into their financing. If you are approved, you can get funding in as little as 24 hours, and you will need to make payments based on your daily sales.
Fundbox: Fundbox offers a revolving line of credit and net terms for your customers. And unlike Square and Stripe that are invite only, you can apply directly. To qualify, you must make at least $50,000 in annual revenue, you must show three months of invoices, bank account documentation and proof of a FICO score of 500 or better.
Which Financing Option is Best for My Shopify Business?
The financing option that's best for your business depends on your professional situation. The first thing to consider is which you will qualify for.
For example, if you have a Shopify store that makes the required income, a Shopify capital loan may be your best option. If you are interested in funding a multi-platform company, you may want to look into other loans.
You must also consider whether the financial institution requires a good credit score and business history.
Other factors to consider include interest rates and payment schedules.
What are the requirements to qualify for Shopify store financing?
Shopify store financing is by invite only and the requirements are somewhat vague. The uncertainty means the atmosphere can be risky for some sellers. However, it is known that credit score and credit rating will not affect eligibility.
It's likely that the platform is looking at how risky your business is, your daily sales volume, whether your business is growing and if you use a reliable sales provider.
If you need to fund your Shopify store, you can use outside funding sources. 
How to get Shopify financing
If Shopify feels you are a good match for their financing program, they can send you an invitation to apply. The invitation is no guarantee that you will get the Shopify store financing. You will still need to wait 2-5 days to find out if your application is approved. Some Shopify sellers choose to obtain financing elsewhere for a variety of reasons. If you need inventory funding, you should use Kickfurther. At Kickfurther you can get funded within minutes. Here's how to get started:
Create a free business account

Complete the application online

Review a potential deal with one of our account reps 

Get funded in minutes (funding times may vary)
How Kickfurther can help
Kickfurther can help brands that sell physical products with revenue between $150k to $15mm over the last 12 months. We connect brands to a community of eager buyers who help fund inventory on consignment. Brands can benefit from the flexibility to pay that back as they receive cash from their sales. Kickfurther is the world's first online inventory financing platform that enables companies to access funds they are unable to acquire through traditional sources. Kickfurther has 800+ opportunities funded totaling $80mm+ and a 99% funding success rate. 
Conclusion
A Shopify store is a lucrative way to make money, but Shopify store financing may be necessary to get it off the ground. Now that you know what options are out there, you are prepared to choose the one that's right for you. Which do you feel is best for your company?