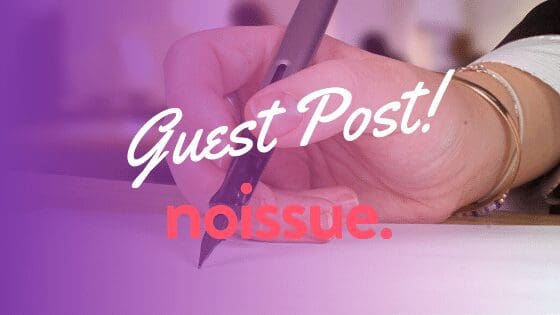 This is a guest post from noissue, which was started with a single intention: to make premium custom, environmentally conscious custom tissue and mailers attainable for brands at any stage of business.
ECommerce has been a breath of fresh air for small business owners. Anyone can set themselves up on an eCommerce platform and get selling quickly, without the logistics and high overheads of brick and mortar retail.
Yet there is a flipside to this accessibility: everybody is doing it. The retail landscape in 2019 is marked by an intensely saturated marketplace of brands, all clamoring for consumers' attention. Even when you have a compelling brand story and a great product range, it's incredibly challenging to outshine your competitors.
This brings us to the missing puzzle piece: The customer experience.
We all know that customer service plays a huge role in brand perception. The odds are virtually nil that you remember every online order you have ever made. So, which are the ones that stand out in your mind? Most likely the times where a brand went the extra mile to make a good impression.
This is where custom packaging provides businesses with that crucial point of difference. Why? Because it's a sophisticated pre and post-purchase marketing strategy that puts your brand front and center in your interactions with customers.

Creating a unique unboxing experience for your customers
The lag between a customer purchasing a product and receiving it can be sizeable in eCommerce. But the power of custom packaging allows you to make this anticipation work to your brand's advantage.
We've all heard of the 'unboxing video' trend. But its underlying consumer psychology applies to eCommerce businesses just as much as it does to luxury brands.
Online retail and delivery have become an increasingly standardized and one-size-fits-all experience (the ubiquitous Amazon box is a classic example). Naturally, this doesn't do your brand any favors! If your brand is going to make an impression upon delivery, the experience needs to be memorable.
It's here that custom packaging can make all the difference in creating a curated brand experience. By turning delivery into a moment to be cherished, you are identifying yourself as a retailer who cares about the customer experience. A custom-branded box or bespoke tissue paper wrapping adds meaningful flourishes to this piece of theatre!
When consumers feel valued by the brands they support, they are far more likely to make repeat purchases in the future. In sum, creating a unique unboxing experience, beginning with custom tissue paper, is the key to building lasting customer loyalty!

The power of social sharing
In the past, your custom packaging would have had a pretty narrow reach. It would be seen and admired by the recipient of the delivery, but that's basically it.
In 2019, it's a very different story. Social media and the following of our favorite brands has created some great opportunities for online marketing, particularly user-generated content.
Custom packaging provides a clever and attractive value proposition to those who receive a purchase – and also to those that they share the image with! According to Dotcom Distribution, almost 40% of consumers have shared an image of a purchase on social media due to its packaging!
So, there's a good chance that your packaging isn't only going to be seen by your customers. It can also be shared with thousands of consumers who were previously unaware of your brand!
Furthermore, coming up with unique content that resonates with your audience is a challenge that every brand faces when it comes to social media. When you are sandwiched between multiple brands on someone's feed, you need to get creative. Sharing some images of your fetching custom packaging design is a great twist on regular product photography!

What custom packaging options are available?
Branded product packaging often brings to mind custom printed boxes, but there are additional options available. Businesses need to use a variety of different packaging elements in the order fulfillment process, so high-quality custom alternatives are a must!
Custom tissue paper – Custom printed tissue paper is great for businesses who are looking for versatility in their custom packaging solution. As well as using it to gift wrap products, it can also be used as packing filler or to line the inside of shipping boxes. It's an easy way to give your brand a more high-end image!
Custom stickers – Custom stickers are a great place to put logos and brand names, as they provide a strong point of focus within packaging design. You could also consider giving them away with orders as a low-cost gift with purchase!
Custom mailer – Some businesses don't need larger boxes for their mailings. If you generally fulfill small orders or sell small lightweight goods, consider shipping in custom mailers. Mailers have a low cost per unit and because they reduce bulk, they also result in lower shipping costs!
Custom packing tape – If you want to maximize your investment, custom packing tape is a great option. If you are sealing up your packages for safe shipping, it only makes sense to brand this as well! (noissue's custom packing tape is making its debut very soon, so keep an eye out!)
You can also get custom boxing from our partners at Arka!
The importance of sustainability
When it comes to fulfilling your packaging needs, there are now other considerations besides cost and functionality. The sustainability of your custom packaging has become a matter of importance to consumers. People are more aware than ever before about plastic pollution and packaging waste, and are taking steps to avoid contributing to these issues. This means making an effort to support brands who use sustainable packaging materials. According to a study by McKinsey, consumers rated packaging as the 'green premium' they were most willing to pay extra for.
So, sustainable packaging isn't just about protecting the planet. It's also a major asset for your brand!
At noissue,  we don't think that businesses should have to choose between branding opportunities and being eco-friendly. All of our packaging is printed with 100% renewable soy-based inks, which can be easily de-inked and recycled. We also ensure that our raw materials are sustainably sourced through the Forest Stewardship Council.
With some of the lowest MOQs on the market and fast turnarounds, noissue is the ideal custom packaging solution for businesses. Businesses can also be reassured that they are making the greenest decision for their packaging needs!