Prime Day 2023 was a success for shoppers and sellers alike – no surprise there! Last year's event saw customers purchase over 300 million items, making it the most successful Prime Day in Amazon's history. Will this year's event exceed that record? Only time will tell.
In the meantime, you have more work to do. We know that you put a ton of time and effort into preparing for Prime Day, but the days and weeks afterward are just as important. Now is the perfect time to ramp up your review requests and position your products as best sellers heading into Q4.
Keep reading to discover how to continue your review momentum post-Prime Day.
The Relationship Between Reviews and Prime Day
In the leadup to Prime Day, many sellers have more than just sales on their minds. They're also very eager to gather more product reviews. Participating in Prime Day means your products will be given prime real estate on Amazon's homepage and other high-traffic locations, which translates to increased visibility and a wider reach.
To make things even better, when customers buy your products at a lower price (hopefully you ran a few coupons!), they're more likely to be satisfied with their purchases because they feel like they got a good deal. This happiness often results in better reviews, as happy buyers are more prone to leaving positive feedback.
Following the usual surge in order volume during Prime Day, it's essential to have a well-planned strategy for acquiring more reviews from buyers. (Need more proof? Just a few short years ago, we saw a 32% increase in the number of reviews received by a random selection of FeedbackFive users.)
Key takeaway: Take advantage of the sales boost during Prime Day and set yourself up for future success by actively seeking reviews for your orders. 
3 Tips for Maximizing Your Review Potential Post-Prime Day
Prime Day is over, but your review potential is not. Here are three tips for maximizing your post-Prime Day reviews.
Be Proactive with Your Review Requests 
You may have already seen a natural uptick in the number of reviews that you're received, but by being more proactive, you can turn that slow trickle into a steady stream.
All third-party Amazon sellers have the right to proactively request reviews (and seller feedback) from buyers. You can reach out to them through various channels in Seller Central, including Amazon's Buyer-Seller Messaging Service and the Request a Review button. You may also use third-party software that integrates with the Amazon API and automates your review requests for you.
No matter what choice you make, it's important to streamline the process for customers to leave reviews. Without guidance, they may overlook the opportunity altogether or struggle to figure out how to proceed. By sending a courteous review request to their inbox, you'll likely receive more responses from satisfied shoppers who appreciate the ease and convenience provided.
Follow Amazon's Review Guidelines
Now is not the time to get suspended by Amazon because you didn't abide by its review policies. Here are the biggest rules to remember:
Send one product review request per order within 30 days of the order being completed.

Always include the order ID in your requests and translate the message into the buyer's preferred language.

Do not offer any incentives in exchange for a product review, including 
monetary compensation, freebies, significant markdowns, coupons, or other rewards.
You, your family members, and your employees are prohibited from reviewing the products that you sell and those of your competitors.

Never explicitly ask buyers to leave a positive review. Requests should always be neutral in manner.

Requests shouldn't contain marketing messages, promotional language, or links to any websites.

Never create a variation relationship between products in an attempt to manipulate reviews.

Do not divert customers with negative reviews away from Amazon while asking those who've had a positive experience with the product to leave a review.
Be sure to brush up on Amazon's review policies and Communication Guidelines to stay compliant and keep your account in good standing.
Send Your Review Request at the Right Time
Timing is everything when it comes to requesting reviews. Even if you've been diligent in following Amazon's guidelines, sending your request at the wrong time can be counterproductive. To ensure optimal open rates and conversions, the timing of your review requests should be tailored to the type of product and the average time it takes for buyers to form an opinion of it.
Here are some general guidelines that have proven to be successful.
For larger items like furniture and appliances, it's best to give buyers time to get comfortable with their purchase and see how it performs. Waiting two weeks to a month after delivery is recommended. 

When it comes to products with long-term benefits, such as vitamins and supplements, it's crucial to take into account the time it takes for buyers to notice results. To increase the likelihood of receiving a review, it's ideal to wait for a period of one week to a month before sending a review request.

If your product falls under the category of outdoor supplies or leisure items that people enjoy in their spare time, it's helpful to ensure that at least one weekend has passed before requesting a review. 

For seasonal items like holiday decorations and costumes, try sending your request between delivery and the relevant holiday or event, or just after the holiday, if possible.

If you sell small, everyday products like dishes, office supplies, toiletries, phone accessories, or food items, requesting a review 5-7 days after delivery is usually sufficient. You want to reach buyers when they're still thinking about the product.
If you sell across a wide range of product categories, it's highly recommended to segment your buyers and tailor your review campaigns based on the specific SKUs or ASINs purchased. 
FeedbackFive Makes Sending Review Requests Quick and Easy
Having a post-Prime Day strategy is just as vital as prepping for the big day itself. Make sure that you continue to run review request campaigns in the days and weeks after the event. This helps you secure additional sales and make the most out of the brand exposure you gained from Amazon's biggest sales event.
Leveraging Amazon email automation is the ultimate strategy for requesting reviews efficiently. Whether you prefer crafting customized templates for your customers or relying on Amazon's Request a Review feature, FeedbackFive by eComEngine streamlines the process for you by scheduling and automating review requests to maximize your chances of getting more ratings.
With just a few clicks, you can personalize your messages to target audiences, including repeat buyers or everyone who purchases a particular SKU. FeedbackFive also helps you manage your seller reputation by excluding orders that didn't meet expectations. The tool's auto-exclusions tab allows you to exclude orders that are late or sent out of the country with just a few clicks.
Finally, in addition to automating review and feedback requests, FeedbackFive also sends listing alerts for negative feedback, listing suppression, content changes, and possible hijacker activity.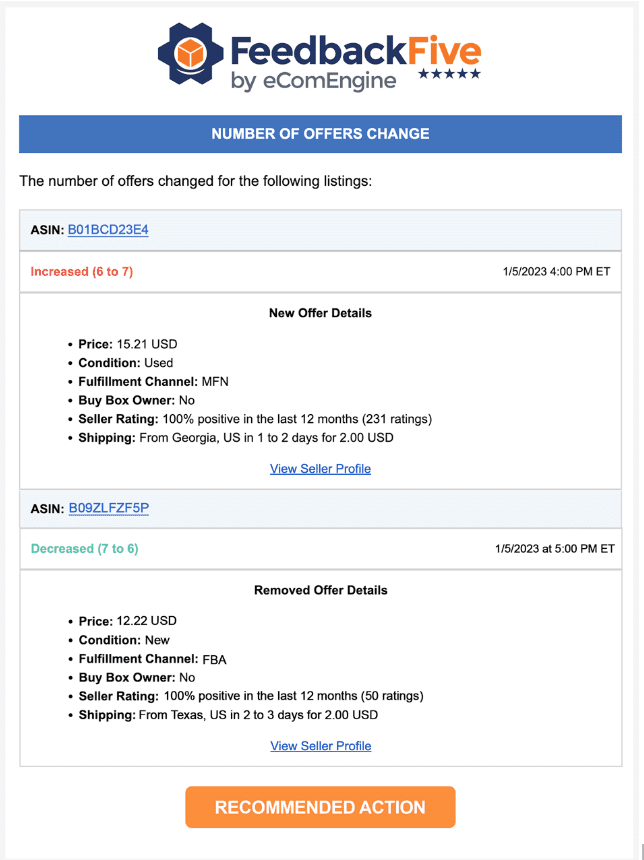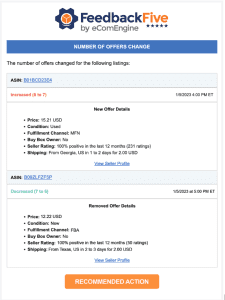 See what else FeedbackFive can do for you by starting a free trial today. Free 60 day trial for our Kickfurther community. Use coupon code KICK60 to redeem the exclusive offer!